The History of Online Communications
First, a little background… how did we get here?
In a matter of seconds, an online search will find hundreds of communication applications you can install on your smartphone, computer, or tablet. Each service promises to be the best, most intuitive solution for online communication with family, friends, and business partners. It's never been easier or more convenient to send a message, share a picture, or connect face-to-face with other people around the world. But it wasn't always this way. The communications tools of today are the result of an evolution of technological innovations that spans several decades.
Early Online Communications
The earliest online chat messaging and email applications, like AOL, MindSpring, and Yahoo, were initially only available to small groups of computer owners. Try imagining a time when sending an instant message or email between two computers was new and exciting. Once upon a time, the only way to send an instant message (IM) was by telegram, Telex, or fax. Are you old enough to remember? Likely, millennials and Gen Z have never even heard of these methods.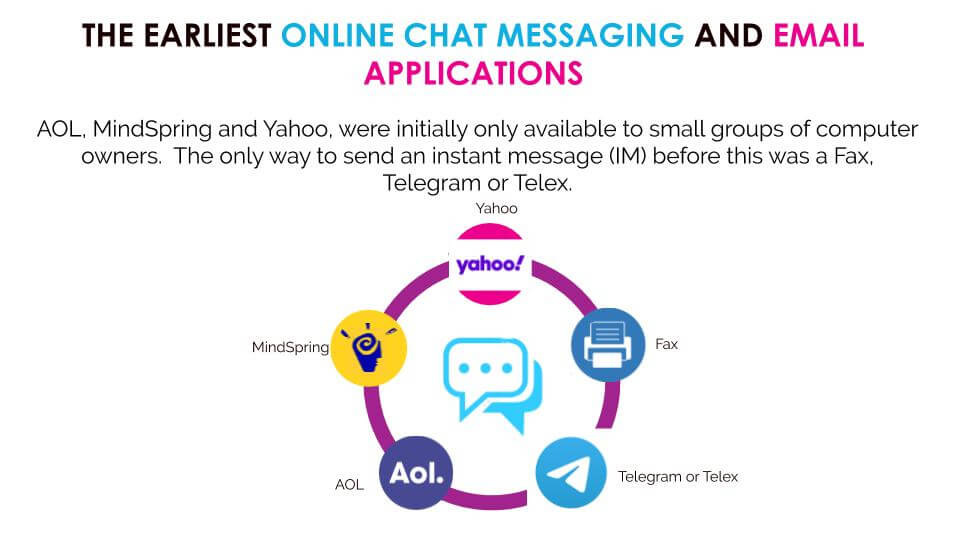 Instant messages (IMs) and email represented the first wave of online communications. Instant messaging predates the internet and unlike many other technologies, IMs and email remain important today. These two methods of communication were important building blocks of the "technology stacks" (lists of services built to run on a single application) for online communication and collaboration. Like an old-fashioned phone call, instant messaging and email which essentially function the same, with a few added bells and whistles, have been modernized but never replaced.
The Internet's Influence
The internet (a global system of interconnected computer networks) has transformed the global communications landscape more than any other technology. In 1993, two-way communications on the internet represented only one percent of all communications. By 2000, that number increased to 51 percent and by 2007, that number had climbed to 97 percent (Hilbert, 2011). When the world's communications moved online, many new business opportunities emerged. From social media to digital advertising, economies around the world have flourished as benefactors of this massive movement.
SaaS and Cloud Computing Changes the Industry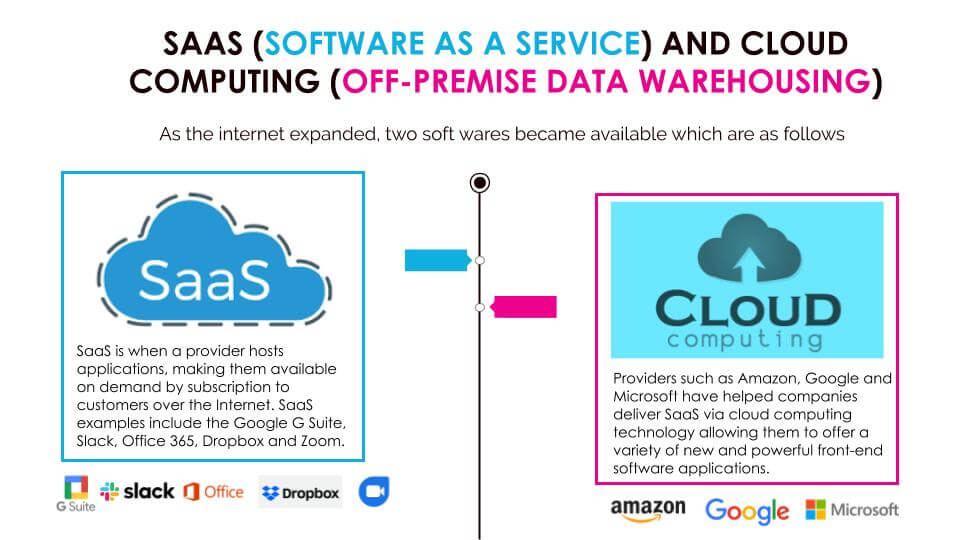 For the consumer, cloud solutions eliminate many barriers to entry where personal and enterprise software are concerned. The migration to the cloud allows providers to leave expensive, one-time purchases in the history books while offering customers more affordable monthly subscriptions. This also allows consumers to adopt products more rapidly and in ever-increasing numbers. As a result of cloud computing, SaaS providers can update their products with unprecedented speed, allowing them to keep up with changing consumer demands. The flexibility of cloud-based solutions has changed consumer expectations. Providers now must streamline the deployment of new products and services to offer seamless device cross-compatibility to compete. Managing software solutions in the cloud also enable companies to combine their services to form multipurpose platforms like, for example, creating a Google Meet integration directly within Gmail. Furthermore, Application Programming Interfaces (APIs) give companies the ability to integrate third-party software into these services for limitless customization and the development of truly unique software solutions.
Concurrently with SaaS developments, both IM and email continued to grow in popularity as businesses went "paperless." Then, in 2003, Skype video conferencing launched and quickly became one of the first video solutions to enjoy worldwide adoption. Skype featured the ability to host audio and video communications between as many as 25 callers which was a game-changer. Skype's innovation is also historically significant due to its innovation user-friendliness. By 2004, Skype had logged 1.5 million downloads and 100,000 concurrent users (Skype, 2012).
Microsoft acquires Skype & Google Starts Hangouts
Following seven successful years of growth, Microsoft acquired Skype in 2011. Two years after the purchase, Google entered the market with "Hangouts." Hangouts was Google's first video communication tool and it was designed to run inside any web browser on a SaaS model. By the time Hangouts launched, Google's Gmail had 500 million users, and Hangouts, built directly into the Gmail platform, became instantly accessible to a massive user base.
Google soon added new services to the platform, integrating Gmail with other web-based services such as Google Calendar, Google Drive, and a suite of document creation tools (Docs, Sheets, and Slides). Gmail has achieved astounding growth, and it all began by offering free email services. Google has used the email service. Google has used the service as the gateway for over 1.5 billion users to access Hangouts. To put this into perspective, in January of 2012, there were 350 million Gmail users. By October of 2018, just six years later, Gmail reported over 1.5 billion users.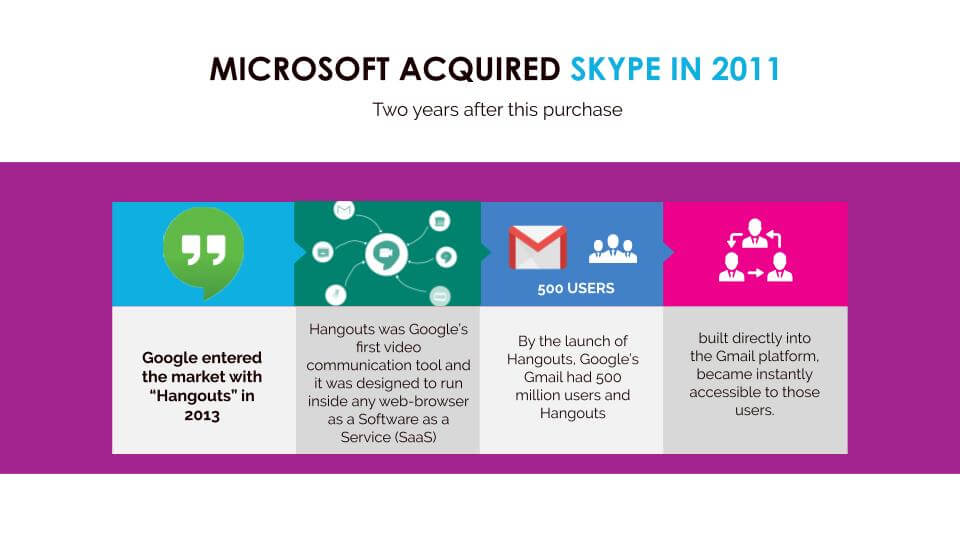 Microsoft's Skype and Google's Hangouts have consistently led the online communications industry since the beginning of the 21st century. Microsoft and Google each offer a similar suite of online collaboration tools. In 2006, Google released its "G Suite" subscription service, a central cloud-based workspace for collaboration, storage, and communications. Five years later in 2011, Microsoft released its cloud-based productivity suite, "Office 365." By 2019, Microsoft reported its Office 365 product had reached 180 million users. In 2020, Google's G Suite user base had surpassed two billion.
Since acquiring Skype in 2003, Microsoft has seen many iterations of video conferencing services. Microsoft continued to redesign its online communications tools for business purposes with Skype for Business, a retooling of Microsoft Lync. Then, in 2017, Microsoft announced it would phase out Skype for Business and replace it with Microsoft "Teams."
Teams combines the best elements of Skype's video conferencing solutions with a more robust team-based approach to online communications that includes threaded conversations and channel-based project collaboration. These changes essentially mark the division of Microsoft's conferencing solutions into a consumer version of Skype with Teams as the main video conferencing solution for business.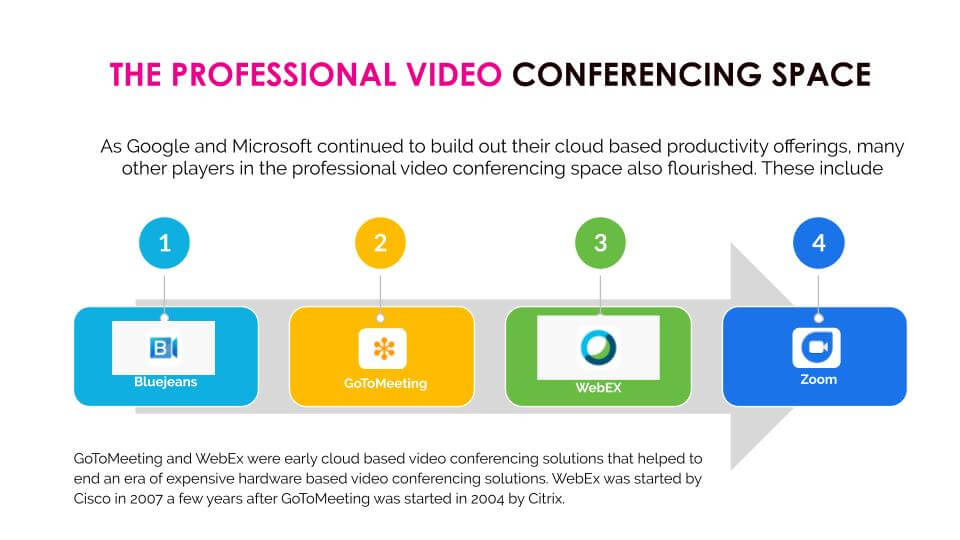 Introducing Cloud-based Video Conferencing
Google's video communication solutions have also gone through significant changes. Google announced that it would phase out Google Hangouts in favor of Google Meet starting in 2020.
As Google and Microsoft continued to expand their cloud-based productivity offerings, many other players in the professional video conferencing space also flourished. These include Bluejeans, GoToMeeting, WebEx, and Zoom among others. GoToMeeting and WebEx were early cloud-based video conferencing solutions that helped to end an era of expensive hardware-based video conferencing solutions. Cisco launched WebEx in 2007 a few years after Citrix debuted GoToMeeting in 2004.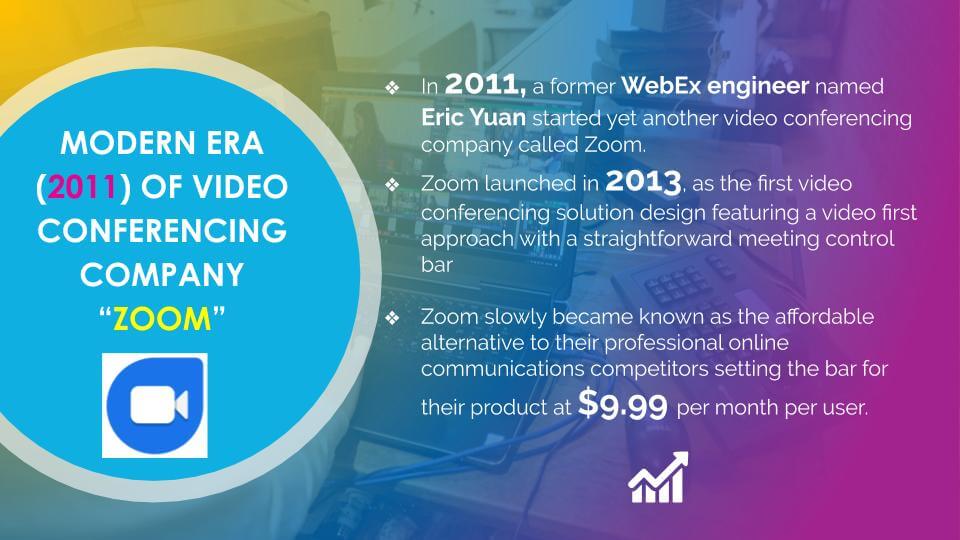 Enter Zoom Video Conferencing
In 2011, a former WebEx engineer named Eric Yuan formed yet another video conferencing company called Zoom. Zoom launched in 2013, as the first video conferencing solution design featuring a video-first approach with a user-friendly meeting control bar. Zoom gradually became known as the affordable alternative to its professional online communications competitors with pricing set at $9.99 per month per user. In 2015 for example, a GoToMeeting license cost $39.99 per user per month, while Zoom pricing was less than $10 per month for a comparable product.
But it wasn't just its price that would make Zoom the dominant video conferencing software provider by 2020. Zoom's reputation for ease of use and reliability helped grow its market share, as more companies and individual users switched over from alternatives. In the tech industry, an application like Zoom is called "sticky" because once users try it, they stick with it and share it with others.
Sticky Zoom was ideally positioned when the world's largest work-from-home project exploded brought on by a global pandemic. Zoom's "freemium" license model allows people to start using the product free for one-to-one calls while enticing them to upgrade to paid plans to access additional features. When the third or fourth caller enters a meeting without a paid account hosting the meeting, the meeting is restricted by a 40-minute time limit. Zoom's product positioning and "freemium" model has taken the world by storm. Currently, a Zoom professional account starts at $14.99 for groups of nine users or less and $19.99 for groups with more than 10 users.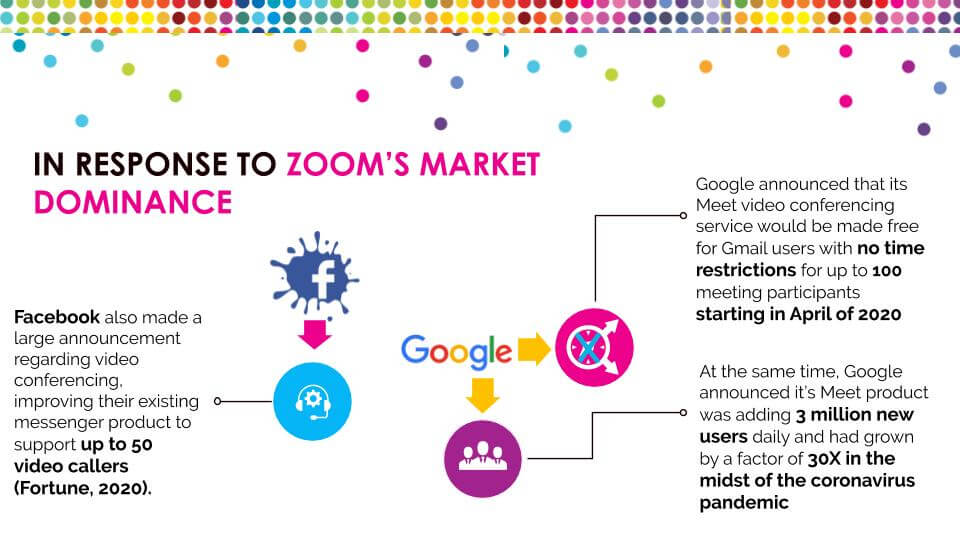 In response to Zoom's market dominance, in April 2020 Google decided to make it's Meet video conferencing service free for Gmail users with no time restrictions for up to 100 meeting participants. In the same month, Google said it's Meet product added three million new users daily, growing by a factor of 30x during the coronavirus pandemic. Not to be left out, during this time Facebook improved its existing Messenger product to support up to 50 video callers with a new product launch called Rooms (Fortune, 2020).
Conclusion
In general, however, online communications have seen relatively slow but steady growth in user adoption over the past few decades. More recently, the benefits of shared online workspaces and low monthly user costs have pushed many organizations to the cloud with record growth in adoption. While early technology adopters certainly helped spread the value of online communications, nothing could've pushed the industry forward more rapidly than mandated shelter in place orders around the world which forced millions of people to work from home. This immediate and total need for efficient online communication and effective collaboration is driving innovation to every corner of the modern workforce.
[xyz-ihs snippet="Online-Meetings"]