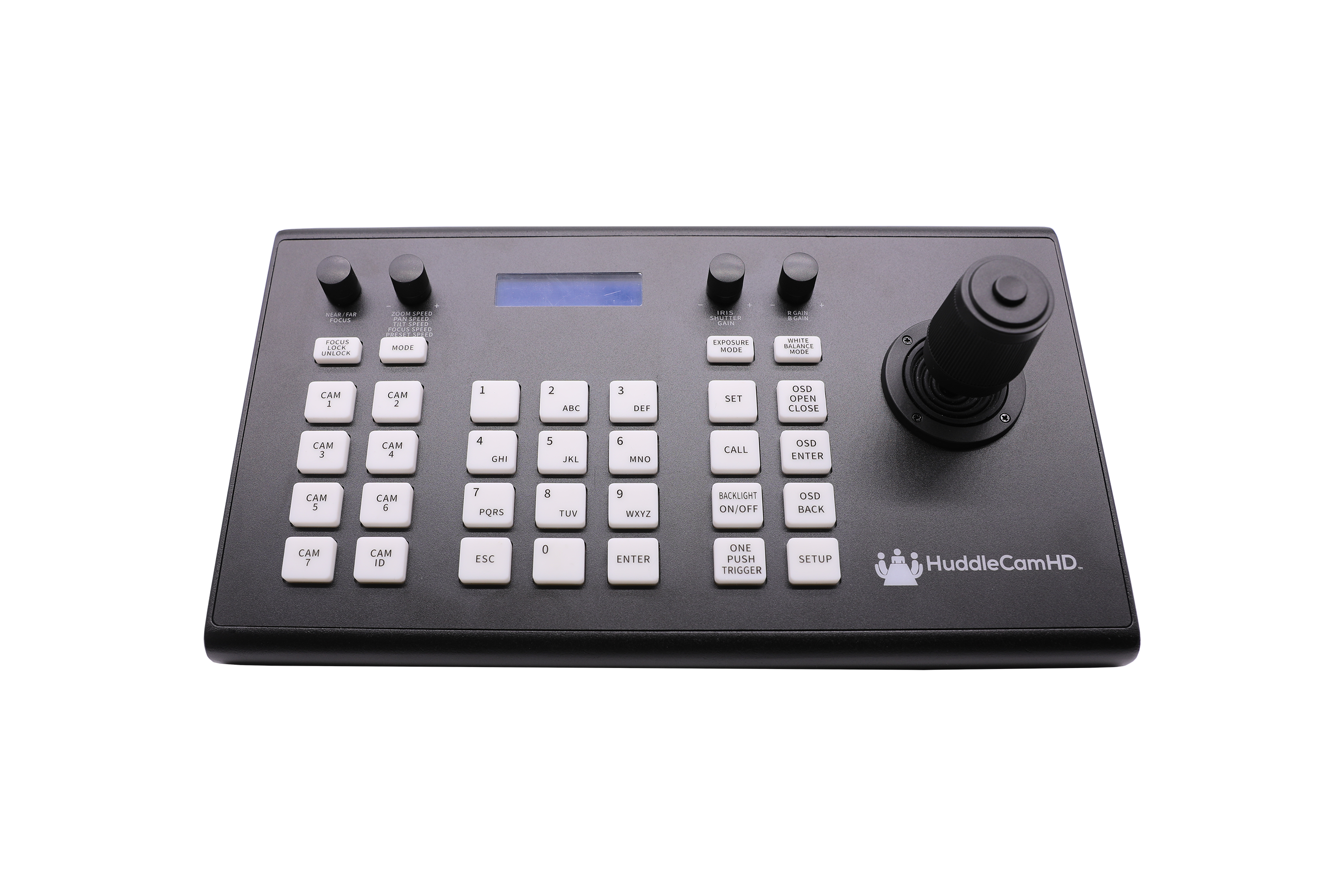 HuddleCamHD HC-JOY-G4
Now Shipping: The Next Generation of Serial PTZ Control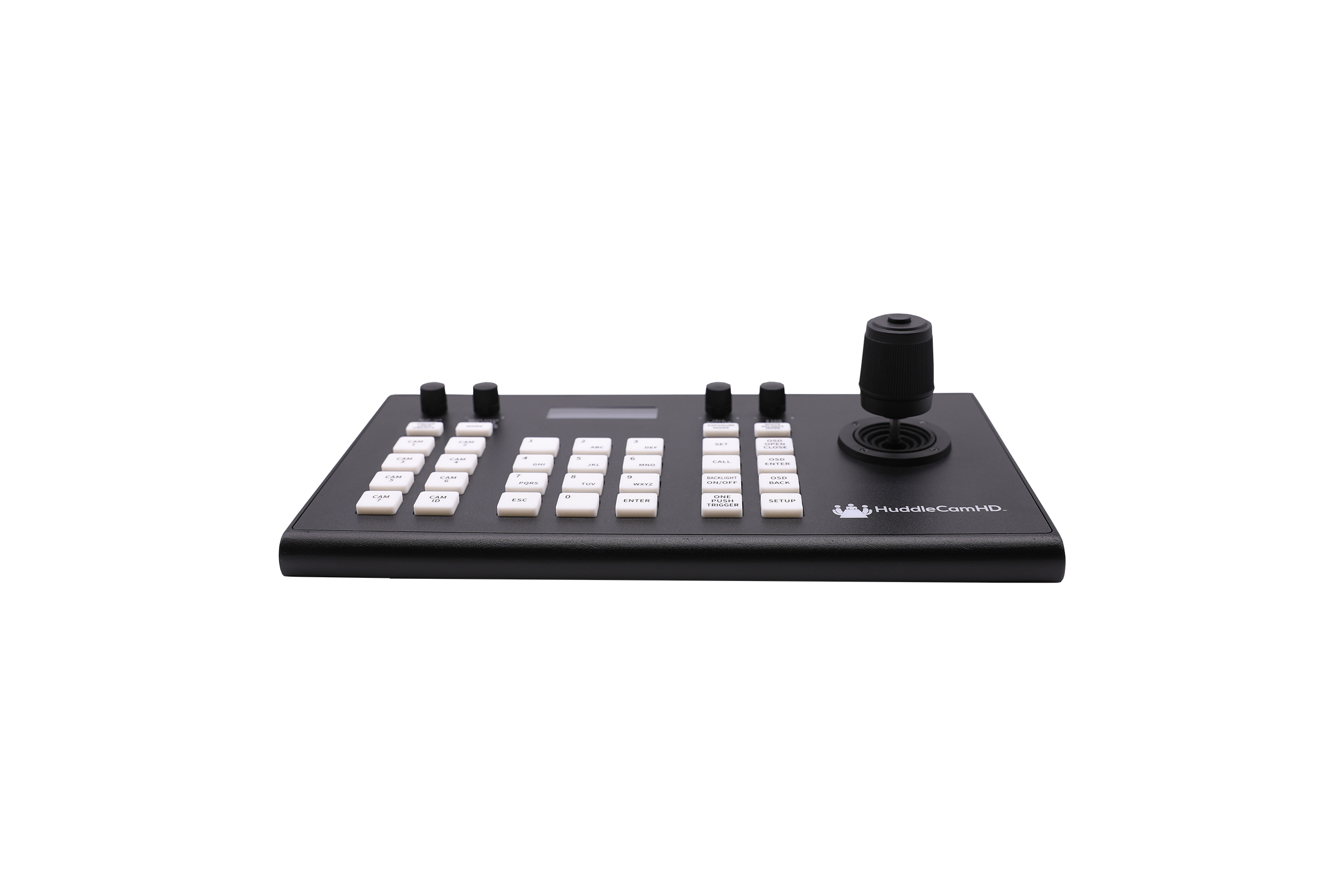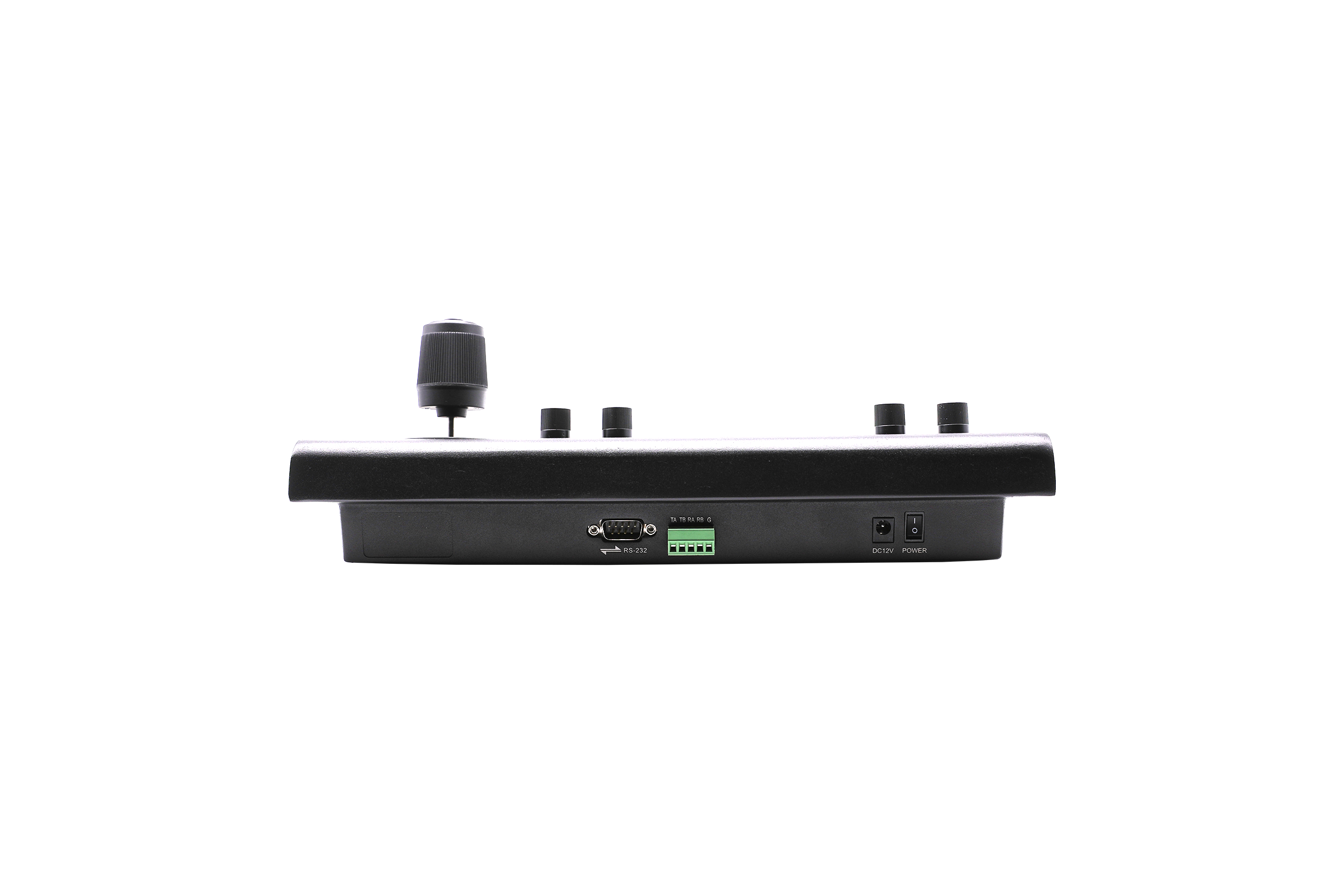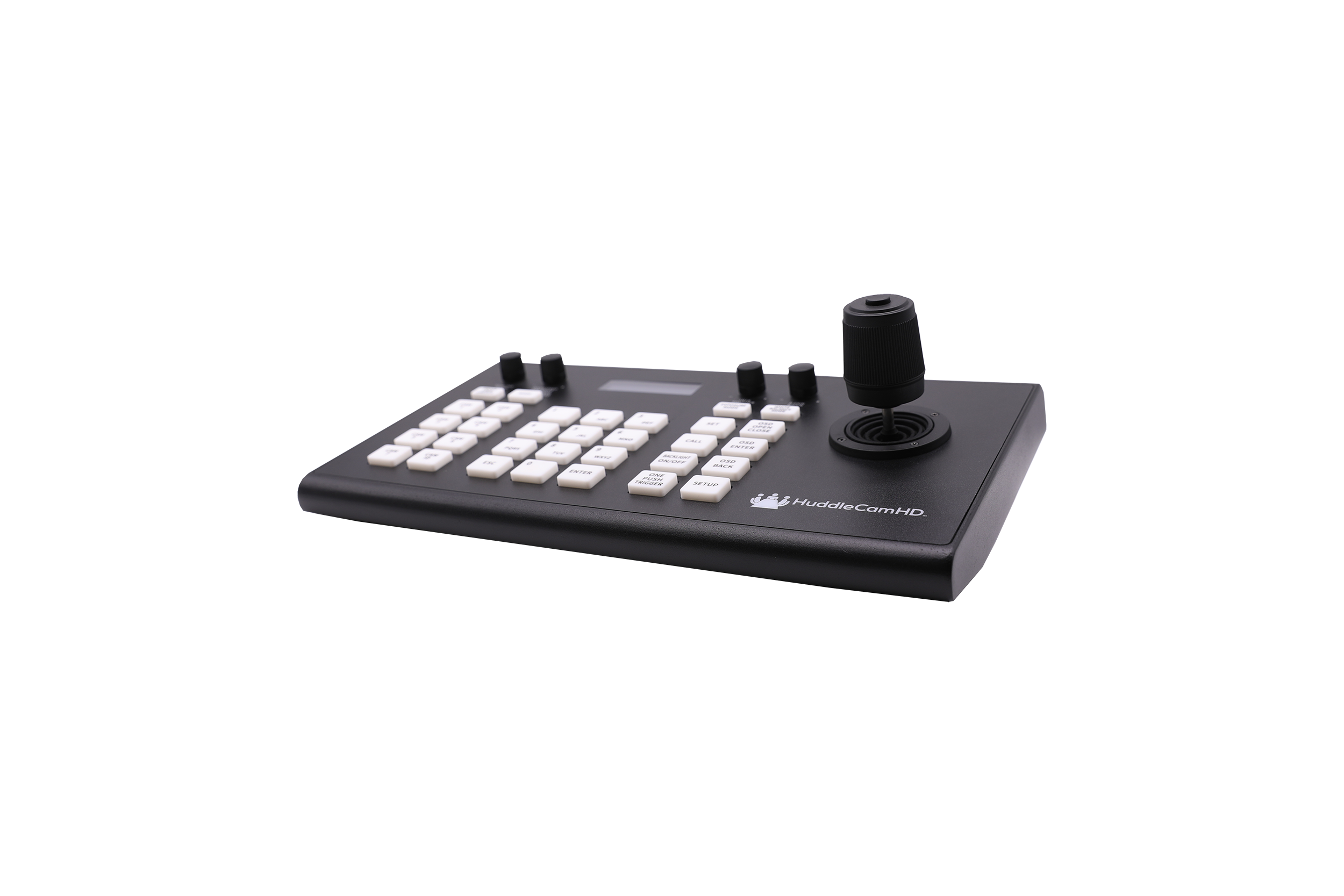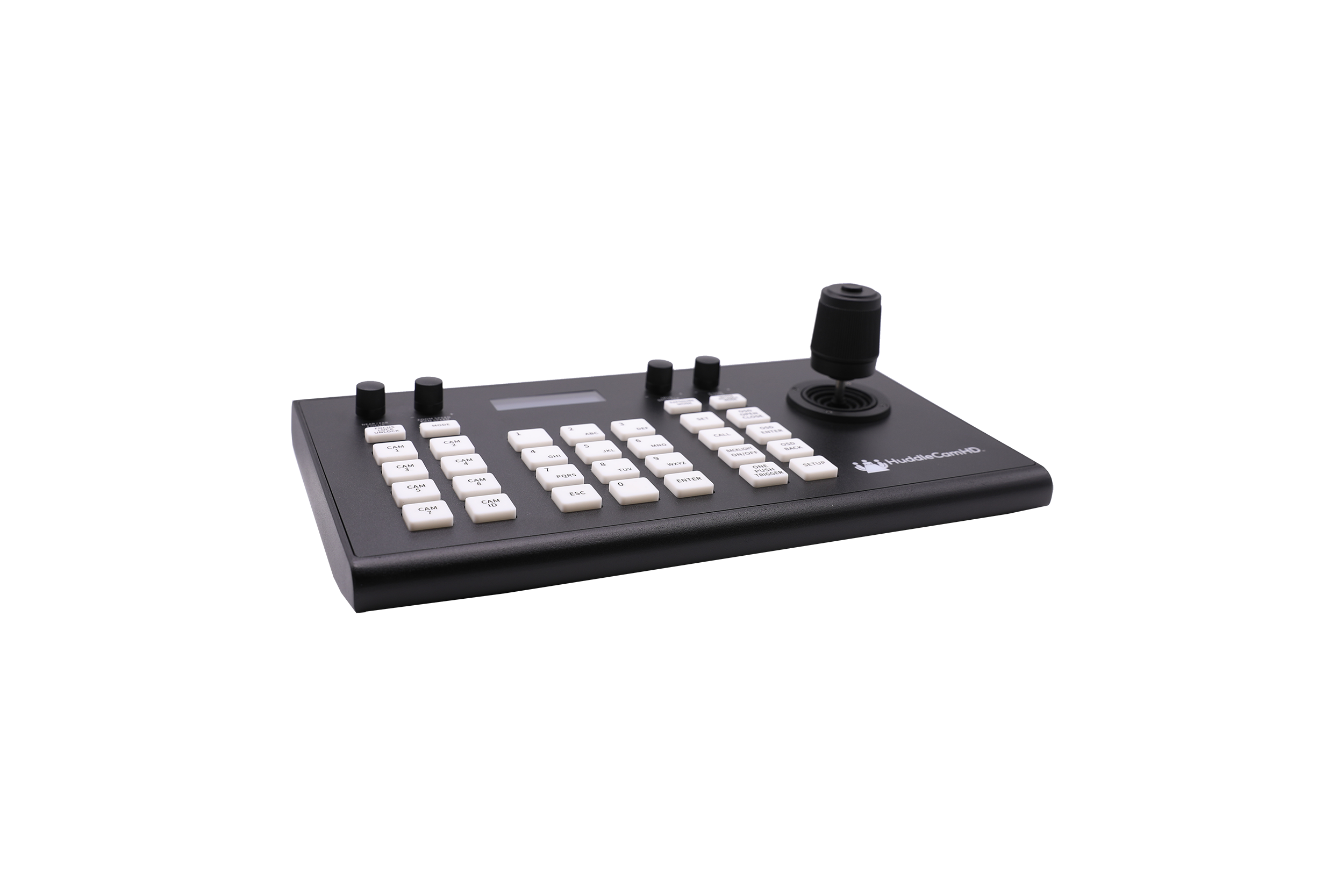 Your Serial Production Workflow
Deserves an Upgrade
Built on the same platform as the award-winning PTZOptics SuperJoy, the HuddleCamHD HC-JOY-G4 offers everything you love about serial control in one simple, reliable, super-sleek package, including:
7 Camera Quick-Select Buttons
Iris, Shutter, & Gain Knobs
Focus & PTZ Speed Knobs, Plus Focus Lock
OSD Menu Control
10 Quick-Call Presets via Alphanumeric Buttons
Modes for all users, including Basic, Basic PTZ, and Matrix mode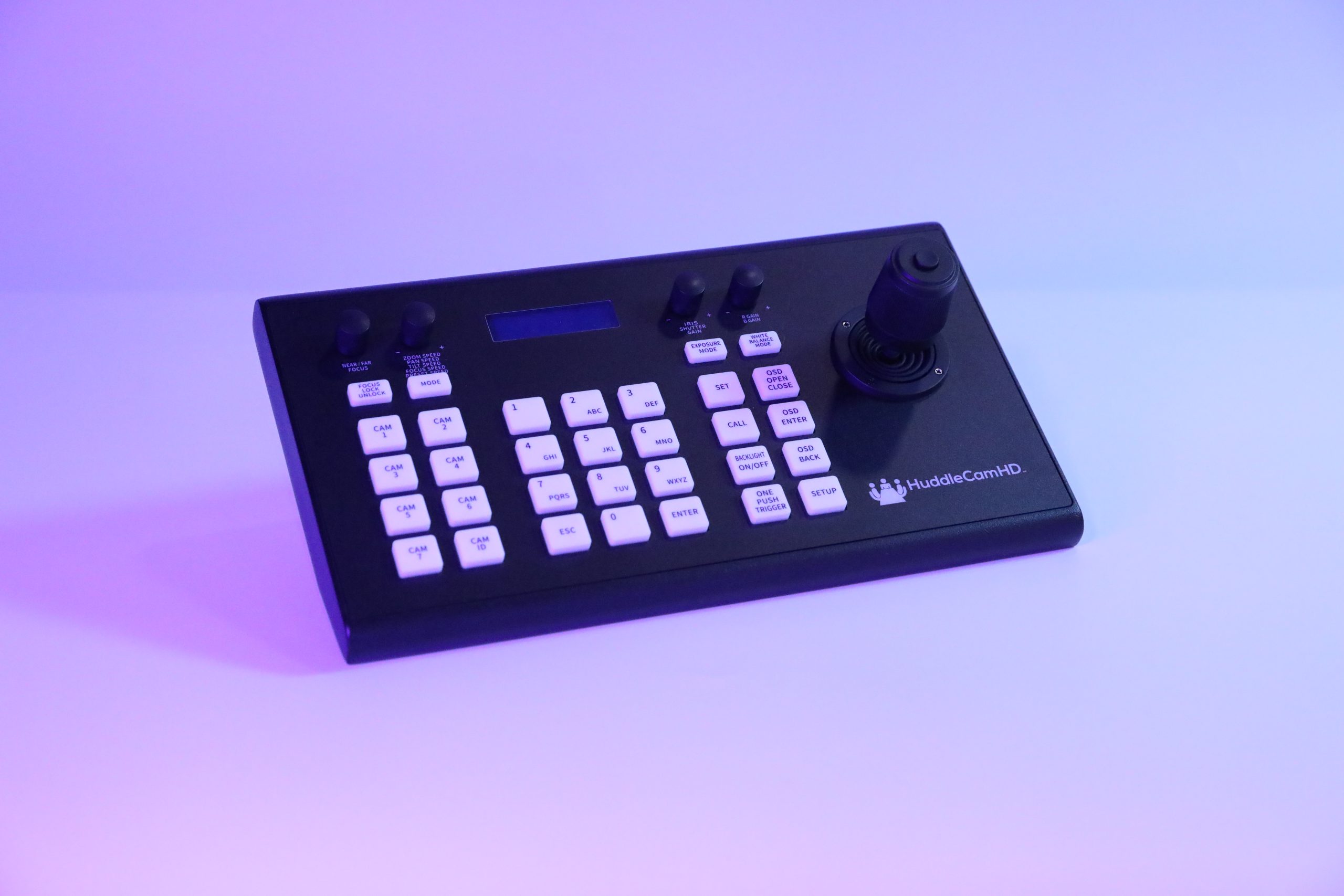 Enhanced User Experience
& Control
The HC-JOY-G4 Serial PTZ joystick controller delivers a seamless user experience and is designed to adapt to a wide range of PTZ camera operation environments. With its intuitive layout, featuring seven camera quick-select buttons on the left side of the controller, users of all skill levels can easily switch between cameras. Plus, the controller's three-axis joystick offers precise control over pan, tilt and zoom functions, while the on-screen display allows users a simplified view of settings and functions. And with user modes including Basic, Basic PTZ, and Matrix, beginners and experts alike can use the HC-JOY-G4 to easily produce professional-quality video – regardless of their experience level.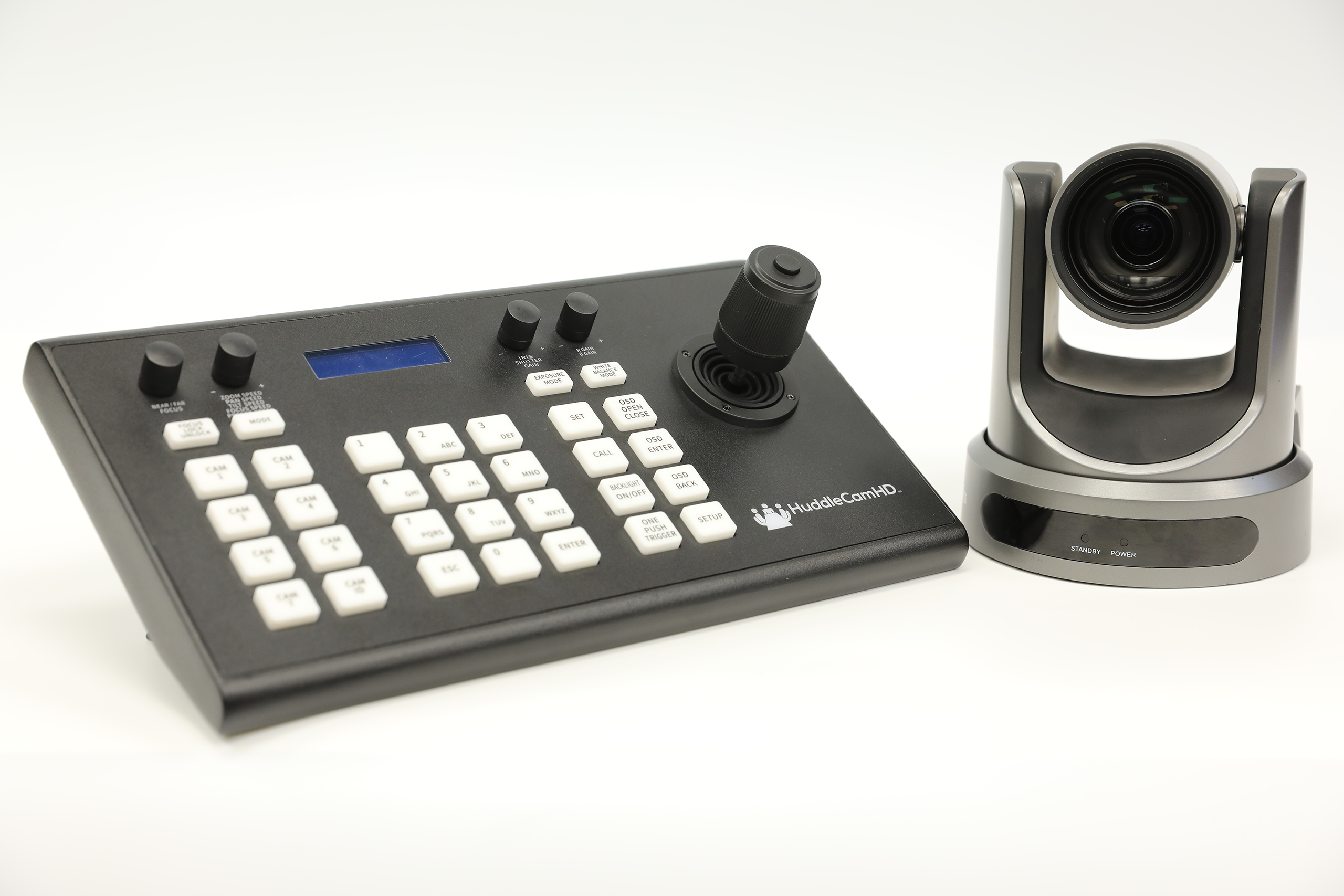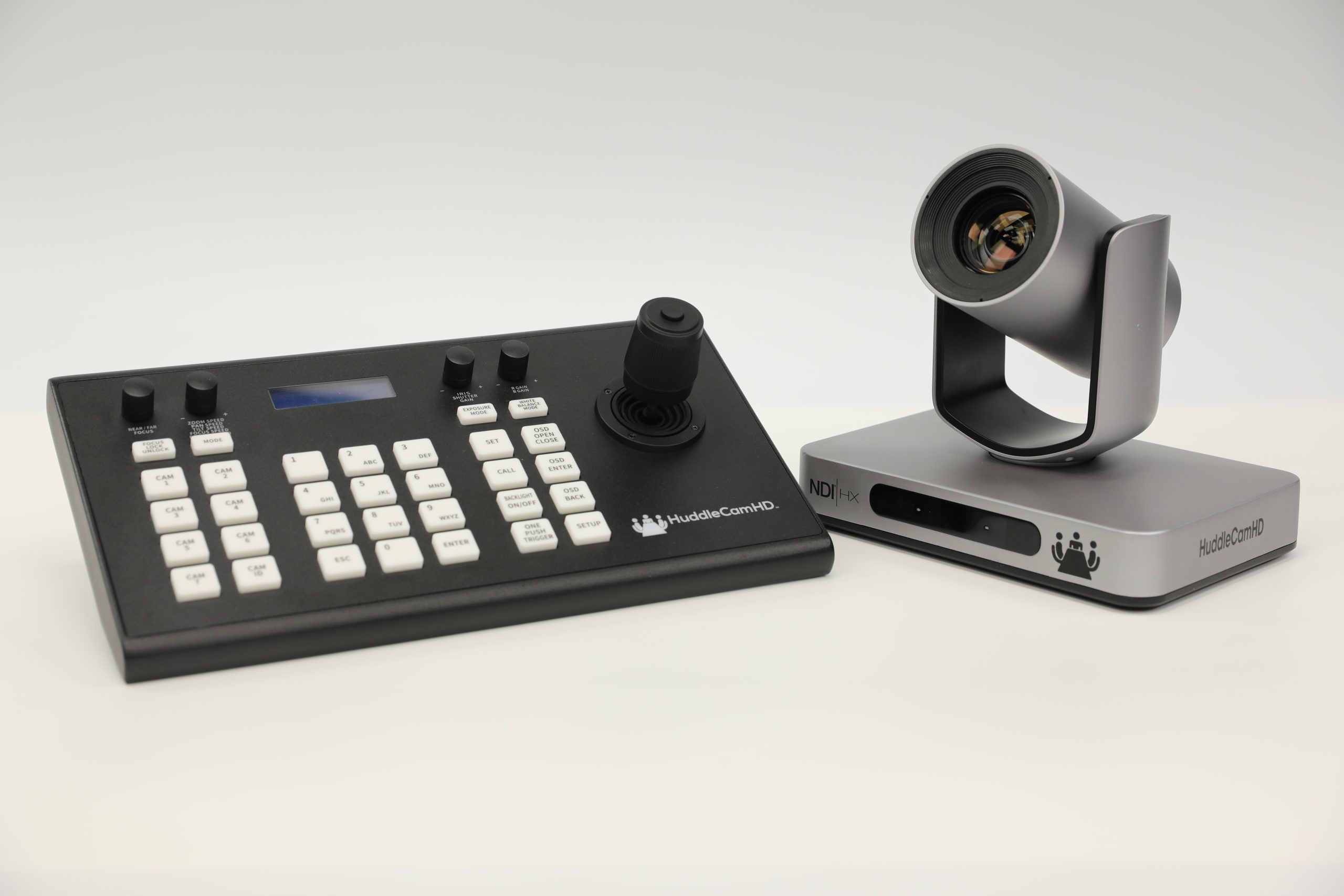 Built for Versatility,
Compatibility & Durability
With support for VISCA, PELCO-P, and PELCO-D protocols, and RS-232, RS-422, & RS-485 wiring methods, the HuddleCamHD HC-JOY-G4 is designed to perform with a broad range of serial production environments. It can integrate seamlessly into your existing workflow, or serve as the control center for your latest setup. Plus, redesigned with all-new premium metal housing, the HC-JOY-G4 is built to stand up to the wear and tear of even the most intense production schedules, making it perfect for long-term use in professional environments.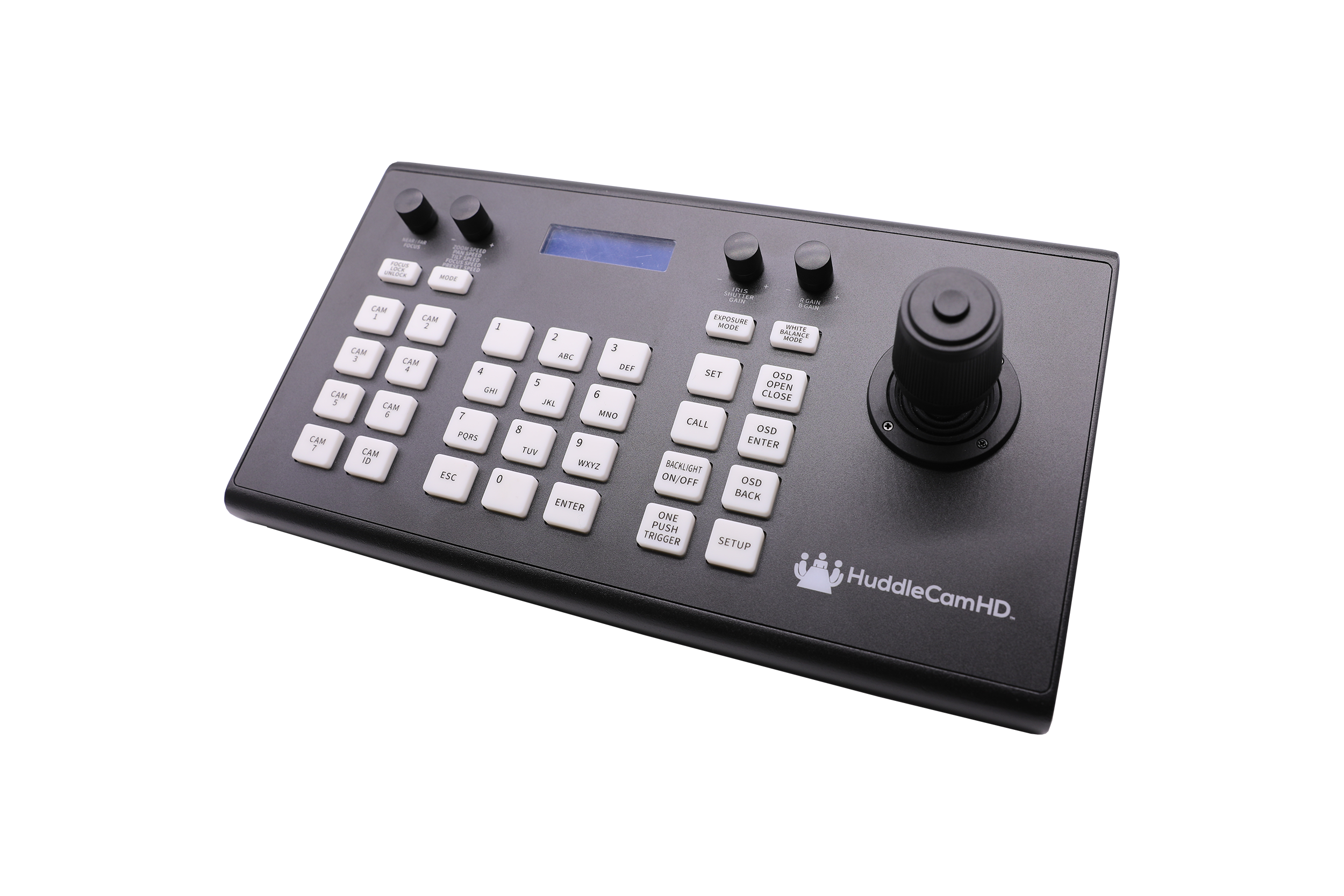 Advanced Tactile Interface
for On-the-Fly Tuning
Get ready to take your production's precision to the next level. The HuddleCamHD HC-JOY-G4 features ergonomic, rubberized controls and pressure-sensitive, multifunctional knobs for precise, real-time fine-tuning. Intuitively adjust parameters like far and near focus, ensuring optimal image clarity. Control pan, tilt and zoom speeds, as well as the speed with which cameras travel between presets, for smooth and seamless camera movements. Perfect your lighting and exposure on the fly with iris, shutter-speed and gain settings, and use red and blue gain settings to refine your color balance – all with just a turn of your fingers. Plus, with a simple click on each knob, operators can effortlessly switch between parameters, making the HC-JOY-G4 an ideal tool for achieving professional-grade results with any serial PTZ camera setup.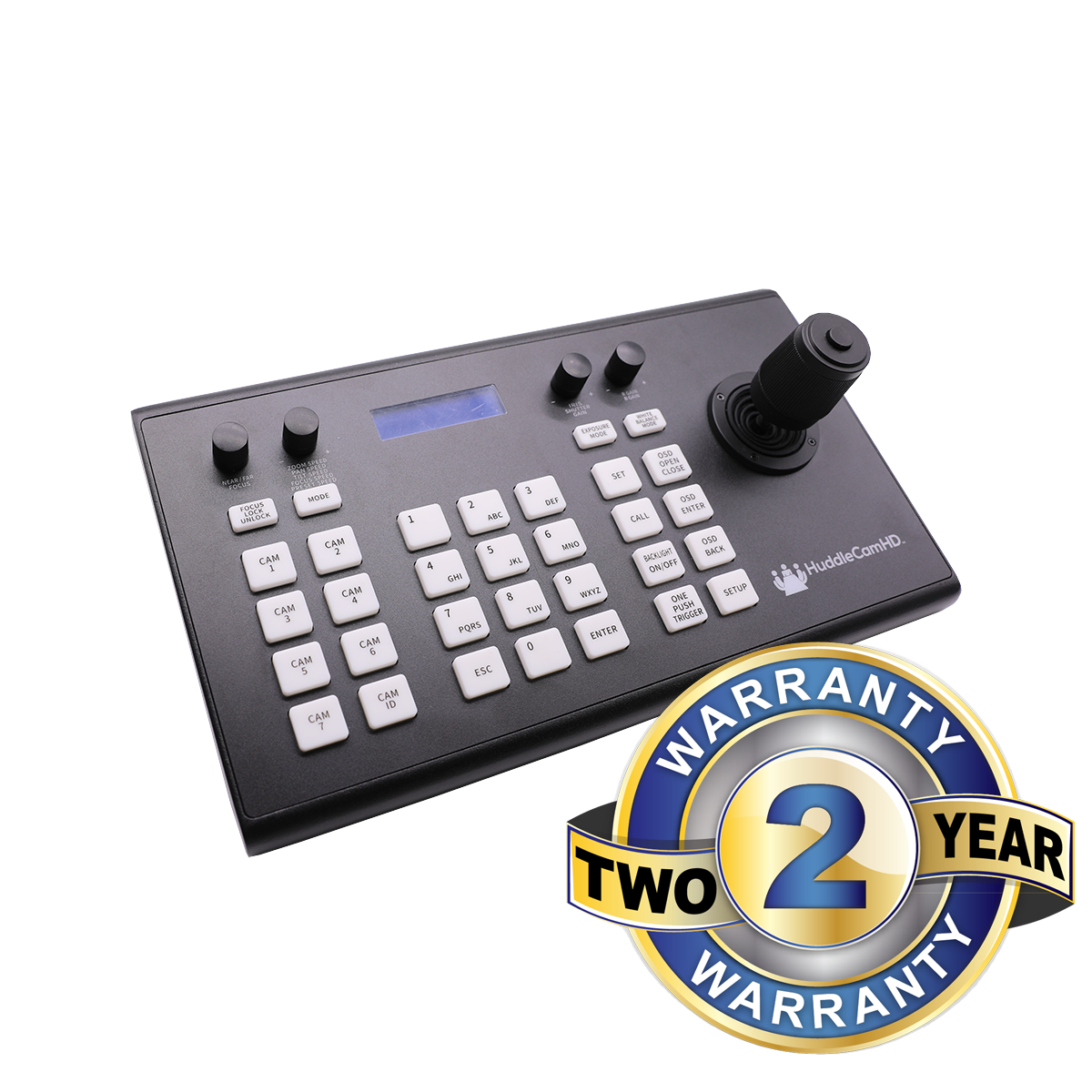 With robust warranties included standard on every product, you can trust HuddleCamHD solutions to deliver high performance from day one, and for many years to follow.
Our HC-JOY-G4 joysticks come with a 2-year limited parts and labor warranty. HuddleCamHD stands by our promise to protect your investment by providing repairs or replacement products for the duration of your warranty. For more information, view our complete warranty documentation here.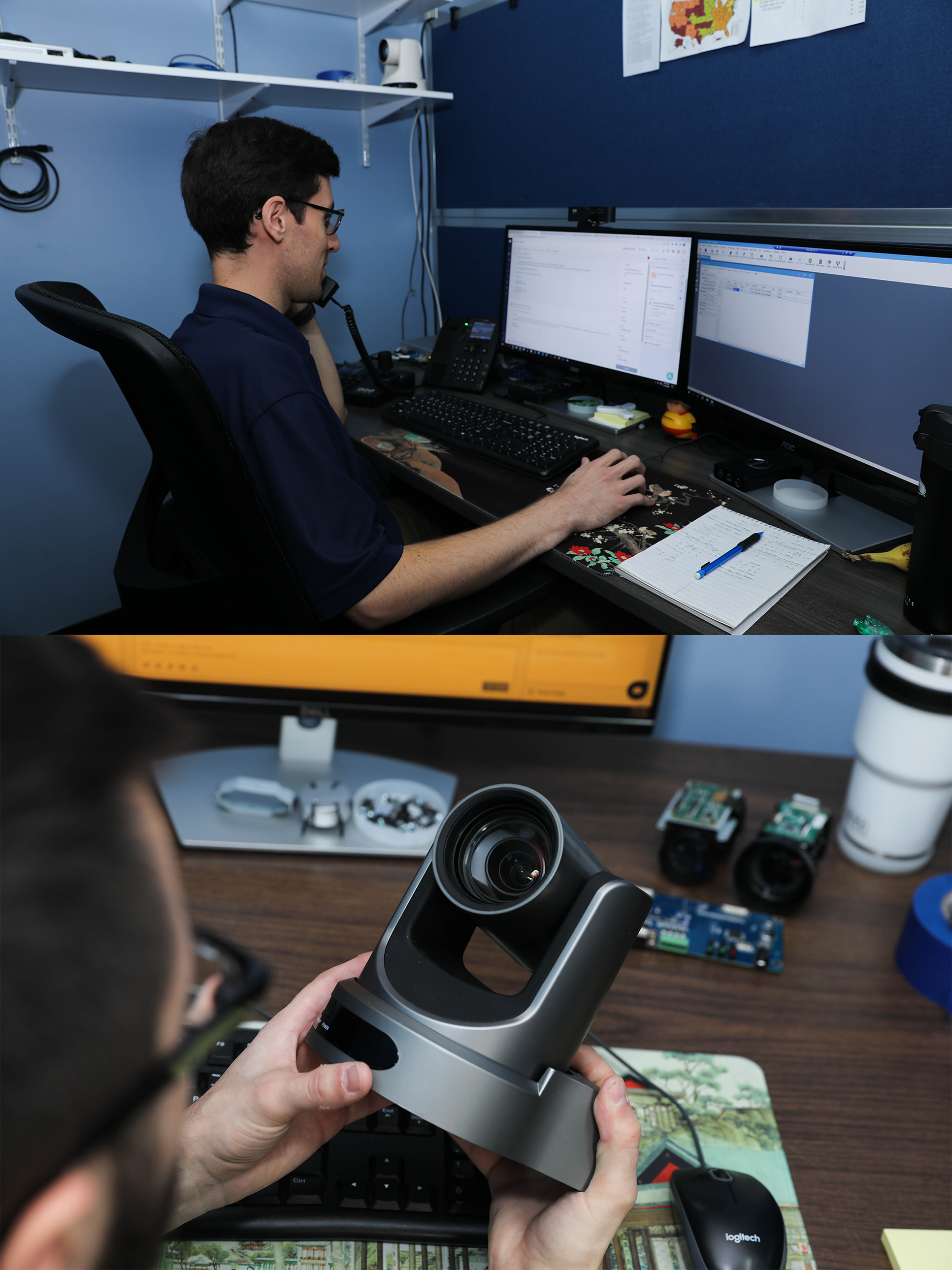 Unparalleled Value,
Award-Winning Support
When you reach out to HuddleCamHD for support, you won't get an automated system — you'll get a team of in-house, US-based experts ready to help. Connect with us via:
Compatible with RS-232, RS-485, RS-422, VISCA, Pelco-D, Pelco-P
7 Quick Camera Select buttons
3-Axis Joystick Control
Camera OSD Menu Control
Exposure and White Balance Mode Cycle buttons
Focus Lock Toggle
Iris, Shutter, Gain, Red Gain, & Blue Gain knobs
Basic, Basic PTZ, and Matrix Modes for users of all skill levels
Durable metal housing and rubberized precision controls
Ready to get started? Just fill out the form below and we'll be in touch shortly.
Future Proof Your Technology
Backed by HuddleCamHD's 2-year warranty, plus full support from HuddleCamHD's technical team, the HC-JOY-G4 is an ideal choice for video production crews looking to improve their workflows and streamline their production processes. New innovations are regularly delivered to our customers via free and convenient product updates. Whether you are setting up a live stream or a video conference space, the HC-JOY-G4 is able to deliver on your project specifications for today and tomorrow.
Connections: RS-232, RS-485, RS-422

Baud Rate: Variable 1200 to 19200 bps

Supported Protocols: VISCA, PELCO-D, and PELCO-P

Maximum Cameras: Control up to 255 Cameras

Maximum Presets: Up to 255 Presets

Maximum Distance: 3,937′ (1200m) using 24 gauge twisted pair
Power: 6W (12VDC voltage)

Working Temp: 14°F ~ 122°F (-10°C ~ +50°C)

Working Humidity: 10 ~ 90% (non-condensation)

Weight: 3.4 lbs | 1.6 kg

Dimensions (in.): 12.6″(W) x 7.1″(D) x 4.3″(H)

Dimensions (mm.): 320mm(W) x 181mm(D) x 110mm(H)
HuddleCamHD cameras are the perfect cameras for professional video conferencing. Designed with a wide variety of conferencing setups in mind, there is a HuddleCamHD solution for nearly every situation. Offering superior quality at an affordable price, the entire HuddleCamHD line of cameras is easy to setup and ready to use in a matter of minutes.
PTZ Camera Operation

2 Year Warranty

Low Latency

Power Supply Included

Plug and Play

Universal Compatibility