EXPECT MORE FROM YOUR WEBCAM
With an ultra-crisp 4K sensor, this webcam will take your video conferencing and live streaming projects to the next level. Want to pan, tilt and zoom with a webcam? No problem! Capture beautiful video in 4k and zoom in just like a broadcast PTZ camera with loss-less digital zoom. Zoom in to and create digital ePTZ presets that you can recall with the click of a button, using the included IR remote. Also included in its sleek design is an array microphone, enabling a complete solution.

A WEBCAM THAT CAN ZOOM IN
Imagine the possibilities of a webcam with these features. For those hosting YouTube or Facebook Live shows or instructional videos, the opportunities are limitless. Share your expertise with the world!


For those interested in creating engaging video recordings, online presentations and live streams, consider the HuddleCamHD 4k ePTZ webcam for:
Presentations
Teaching / Lectures
Esports
Fitness Classes
Cooking demonstrations
A SOLUTION FOR INDIVIDUALS AND BUSINESSES

Whether you're a sole proprietor running a business, part of a remote video production team or an individual who just wants to have greater video conferencing and production capabilities, the HuddleCamHD 4k ePTZ webcam is ideal. This is a plug-and-play solution that will be a great addition for either scenario.





SEE HOW ePTZ WORKS
| Zoom level | Pixel width | Pixel height | HFOV | VFOV | Epan range | ETilt range |
| --- | --- | --- | --- | --- | --- | --- |
---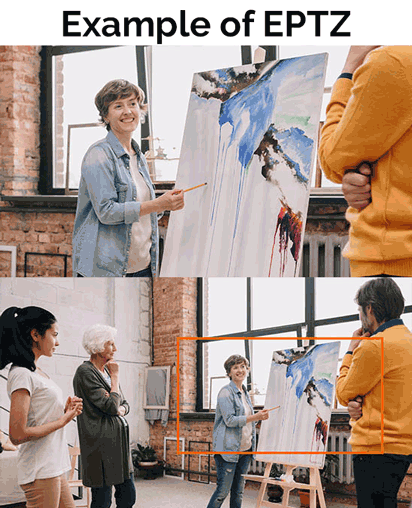 SIMPLE CAMERA CONTROLS
Take control of your camera with the included IR remote perfect for framing your look on a video call or producing a live stream online. This camera even supports Zoom PTZ camera controls for ZoomRooms and Far End Camera Control. Did you know the PTZOptics Camera Control app announced support for our ePTZ cameras?

EASY SETUP
Find the perfect place for your 4K webcam. You can easily clamp this webcam to any monitor for an online meeting at your desk. Once you are done, attach this camera to a tripod and set up for recording an awesome 4K video or live stream. Want to mount this camera permenantly in a meeting space? We suggest the HCM-1-BK wall mount.

Wall mount picture here is the HCM-2-BK.
Ultra-wide 4K camera lens (108° Field of View).
Two microphones with beamforming capabilities.
Plug and play USB 3.0 capabilities.
Webcam clamp mount with 1/4-20 mounting screw for tripods and wall mounts.
A TURN-KEY SOLUTION
This is truly a "future-proof" solution. Ultra-HD lens… check. Dual-microphone array… check. Plug and Play USB 3.0… check.

GO LIVE ONLINE
Let the 4K video sensor go to work for you, taking your video productions to the next level with easy controls anyone can use. Easily use this camera directly with Facebook or YouTube live with the need of any additional software. Like fancy software? No problem. This camera works with all the best video production software including OBS, vMix, xSplit, Livestream Studio, Wirecast and eCamm live.

ULTRA HD VIDEO
A large UHD CMOS image sensor and camera lens make close up details more realistic on video. Whether you are recording a video, live streaming, or video conferencing details will look crisper and sharper than 1080p webcams.
SIMPLE SETUP PLAN
This video takes you through the entire setup process. It's easy to setup, and it offers advanced video features you can leverage with your favorite video software.
AUTO-FRAME MEETING ATTENDEES
Turn auto-framing on to allow the camera to automatically use EPTZ presets to frame subjects in view. The new auto-framing feature takes full advantage of the 4K image sensor and applies intelligent decision making for the camera to call PTZ presets based on the location of moving objects. This feature is designed to work in meeting room environments. A demo mode is provided for simple set up.
REMOTE CAMERA CONTROL INTEGRATIONS
Give a friend or co-worker control of the PTZ camera functions through popular video conferencing software such as Zoom Video Conferencing. In Zoom for example, you just need to enable "Far End Camera Controls". If the video conferencing software supports UVC, you can give pan, tilt, and zoom controls of your camera to anyone in the world. This also works with ZoomRooms.
HuddleCamHD Pro™
This camera is perhaps the most powerful 4K webcam available today. It has been designed with a monitor clamp that can easily attach the camera to any LCD or laptop display. The webcam also includes an industry standard quarter-twenty connection which can attach the camera to any tripod or camera mount. With a single USB connection this 4K webcam can be used with your favorite computer video software on any Mac, PC or Linux computer. When in use the webcam features an LED indication light letting you know the video stream is being accessed by an application on your computer.

High Definition
5 Year Warranty
Wide Angle Lens
Power Supply Included
Plug and Play
Universal Compatibility
Left to Right: Colin Bolehala, Andy Chatfield, Matthew Broglie, Sean Regan
HELPING YOU FROM BEHIND THE SCENES
Our support team knows what it's like to get stuck on a project. While the engineers are off designing better products… our support team is always ready to help you complete your project on time.
Connect with us via:
THE ONLINE MEETING SURVIVAL GUIDE

Survive and thrive in shared online work environments with the Online Meeting Survival Guide by Paul Richards. This book will bring you up to speed on the latest online communication and collaboration technologies available to increase your personal and professional productivity.



Author Paul Richards, is also the Director of Business Development for HuddleCamHD

Download the Book Here
WHAT SOFTWARE DOES IT WORK WITH?

Video Conferencing Software
Live Streaming Software
Lecture Capture / Recording Software

Zoom*

Facebook (Live Now)

Adobe Connect

Skype for Business

YouTube (Live Now)

Kaltura Personal Video Capture

Adobe Connect

Open Broadcaster Software

Panapto Lecture Capture Software

Google Meet

vMix*

TechSmith (Camtasia, Snagit)

Microsoft Teams

Wirecast

Echo360

TeamViewer

xSplit

Epiphan Pearl

*Supports PTZ controls.
4K Resolution
Crystal clear Ultra High Definition 4k video can create 2X lossless zoom in 1080p and 3X in 720p. Digitally zooming into 1080p and 720p create digital pan and tilt areas up to ±33 additional degrees.
Easy Set Up
With HuddleCamHD you are getting the easiest solution possible. Simply plug your camera into your computers USB port and start your video conference.
EPTZ
EPTZ functionality provides the ability to quickly cut between camera presets using an IR remote or multiple IP connected software and hardware solutions.
Plug-and-Play USB Connectivity
Easily connect your camera to a PC, Mac, Android or Linux computer without the need for additional software. For best results use a quad-core processor.

HDMI 1.4
Use the HDMI 1.4 output for resolutions up to 4K at 30 frames per second.
Ideal Field of View
Our new 4K webcams feature a wide 108° Field of View lens. This is perfect for small huddlerooms or streaming spaces.
Use your favorite software

Works with virtually every video conferencing, recording or streaming software with no need for additional drivers or proprietary connections.
Camera Presets
Access camera presets with the included IR remote control. Easily control your cameras pan tilt and zoom along with other fine tuning setting from your remote control.
Frame Rate: 30fps
Resolutions:3840×2160, 1920×1080, 1280×720, 1024×576, 960×540, 960×480, 640×360
Lens Zoom: 8X Digital Zoom, EPTZ
Video CMOS Sensor: 1/2.5" CMOS 8.51M Mega Pixel
Compression: MJPEG, YUY2
Min Lux:0.05 Lux @ F1.8, AGC ON
Connections: USB 3.0, HDMI 1.4
Working Environment: Indoor
Power LED: Blue LED to signal power
Color: Gray
Warranty: 5 Years parts and labor
Dimensions: 7.63"W x 2.36"H x 3.66"D – 194mmW x 60mmH x 93mmD
Box Dimensions (in): 9.375"W x 4.3125"H x 4.625"D
Box Dimensions (mm): 238mmW x 109.5mmH x 117.5mmD
Boxed Weight: 2.4 lbs | 1.1kg
Input Voltage: 5V (USB 3.0 Power)
Windows 7/8/8.1/10
Mac OS X
Acano
Adobe Connect
Blue Jeans
Cisco Jabber
Cisco WebEX
EasyMeeting.net
Facetime
Fuzebox
Google Meet
GoToMeeting
Lifesize
Microsoft Lync
Polycom RealPresence
Radavision
Spontania
Skype
TurboMeeting.US
Vidyo
VSee
Zoom.US
Universally Compatible
All HuddleCamHD cameras have been designed for plug and play compatibility with web-based video conferencing software such as: Skype, GoToMeeting, WebEX or Zoom. Enjoy seamless integration even with live streaming applications such as Facebook Live.
EPTZ – (Electronic Pan Tilt and Zoom)
With electronic pan, tilt and zoom functionality, camera operators can simulate camera pan and tilt movements between areas inside the 4K resolution area between digitally zoomed presets. EPTZ functionality provides the ability to quickly cut between camera presets using an IR remote or multiple IP connected software and hardware solutions. EPTZ camera presets are saved locations inside the wide-angle 4K image using digital zoom with pan and tilt coordinates. This technology is made even more effective because our engineers have paired a wide field of view and extended focal length that keeps objects in view up to 25 feet away.

WEBCAM COMPARISON
---
| | | | | | | | | |
| --- | --- | --- | --- | --- | --- | --- | --- | --- |
| | HuddleCamHD Pro | HuddleCamHD Pro IP | Huddly Go | Huddly IQ | Logitech MeetUp | Logitech Brio | Mevo Start | Mevo Plus |
| Maximum Resolution | 3840 x 2160 | 3840 x 2160 | 1280 x 720 | 1920 x 1080 | 3840 x 2160 | 3840 x 2160 | 1920 x 1080 | 3840 x 2160 |
| Maximum Frame Rate | [email protected] | [email protected] | [email protected] | [email protected] | [email protected] | [email protected] | [email protected] | [email protected] |
| Field of View | 108° HFOV | 108° HFOV | 120° HFOV | 120° HFOV | 120° HFOV | 82° HFOV | 75° HFOV | 120° HFOV |
| Connections | USB 3.0 & HDMI | IP/ NDI | USB 3.0 | USB 3.0 | USB 3.0 | USB 3.0 | WiFi | WiFi |
| Remote Control | IR Remote & UVC | IR Remote & IP / NDI | App(s) & UVC | App(s) & UVC | RF Remote & UVC | App(s) & UVC | App(s) | App(s) |
| EPTZ | Yes | Yes | Yes | Yes | Motorized Pan & Tilt | Yes | Yes | Yes |
| Digital Zoom Limit | 8X | 8X | 4X | 4X | 5X | 5X | 4X | 4X |
| Auto-Focus | Yes | Yes | Yes | Yes | Yes | Yes | No | No |
| Auto-Framing | Yes | Yes | No | Yes | Yes | No | via App | via App |
| NDI®|HX | No | Yes | No | No | No | No | Yes | No |
| Microphone | Microphone Array | Microphone Array | Microphone Array | Microphone Array | Microphone Array + Expansion | Microphone Array | Microphone Array + Expansion | Microphone Array + Expansion |
| Speaker | No | No | No | No | Yes | No | No | Yes |
| Tripod Mount | Yes | Yes | Yes | Yes | No | Yes | Yes | Yes |
| Monitor Mount | Yes | Yes | Yes | Yes | No | Yes | No | No |
| Wall Mount | No | No | No | No | Yes | No | No | No |
| Power | USB | PoE or Power Supply | USB | USB | Power Supply | USB | USB or Battery | USB or Battery |
| Web Price | $299.00 | $499.00 | $448.00 | $849.00 | 899 | $199.99 | $399.00 | $399.99 |
| MSRP | $329.00 | $549.00 | $499.00 | $849.00 | 899 | $199.99 | $399.00 | 399.99 |
| Warranty | 5 Years | 5 Years | 2 Years | 2 Years | 2 Years | 3 Years | 1 Year | 1 Year |
---
This camera captures an 8' span at 4'. That's incredible!

Don Pawlowski from Lakewood, OH United States
Camera works great and picture is very clear. PTZ is very quiet. Note: Use Siig 3.0 USB cable to extend USB cable lengh. 15m works

Roberts AV Solutions from Jupiter, FL United States
Best 3x wide camera out there for the money. The 3x wide is idea for larger conference rooms so you can see the width of the room. It really gives you a clear image and the ability to pan tilt and zoom is fantastic.

Garon Smith, Olathe, KS United States
I have tried other PTZ cameras. This camera has a very wide field of view and can connect to nearly any computer with a USB2. No additional software is required. I can't complain with 720p resolution. It can mount upside down to a ceiling if needed. I highly recommend this camera.

Doug Blagriff, Kaneohe, HI United States