Latest House of Worship Topics
HuddleCamHD is quickly becoming a House of Worship favorite for its "plug-and-play" features and affordability. Because HuddleCamHD PTZ cameras have USB 2.0 and USB 3.0 options they become an ideal choice for the House of Worship market. HuddleCamHD cameras are used for live streaming church events and can capture multiple directions by using the cameras 64 presets, thanks to Pan, Tilt, and Zoom. For example, many churches may have various focus points during a live show such as a podium, pews, and stage. With camera presets you can easily choose your set locations, call the presets and fade between multiple cameras for a professional-looking live stream!
When looking for a camera for live streaming church services, the options can be overwhelming. There are inexpensive webcams, consumer-grade camcorders, and professional video cameras with a wide range of prices and options. Things can become even more confusing when you add in the multiple options for capture cards and encoders. Each option comes with different connection possibilities, such as HDMI, SDI, and ethernet. Most people looking for a camera for live streaming church services simply don't have the time or expertise to wade through these equipment options to make a decision that will work in the short and long term. But, what if there was one camera that would handle almost any church application, was easy to set up, didn't take a lot of space, and had features not found on most consumer and professional cameras? The HuddleCamHD is the perfect camera for live streaming church services. There are several features that make it an affordable, easy to use, high-performance solution for live streaming.
There is no need to worry about getting the right connection with HuddleCamHD's plug and play USB interface. It is as easy as setting up a webcam but with the power and features of a powerful PTZ (pan, tilt, zoom) camera. Just plug the camera directly into your computer's USB port and get ready to stream with popular software like OBS, Ecamm, or vMix.
Easy and Discreet Mounting
One of the most challenging aspects of live streaming church services is figuring out where to place cameras. Most churches don't want the addition of cameras to impact the look and feel of the sanctuary. HuddleCamHD's small form factor means it doesn't require much space. Most people won't even notice one or more cameras. And thanks to the available 10X, 20X, and 30X optical zoom, you can get clear, tight shots even from extended distances.
PTZ-Joystick-Controller-RS232 2
Finding volunteers to operate cameras can be difficult. It can be distracting to have camera operators in the worship space. The HuddleCamHD's pan, tilt, and zoom features can be run from anywhere using the joystick remote. Control one or more cameras from the soundboard, balcony, or wherever you want to set up your video control.
Simple and Easy Operation
Training volunteer operators couldn't be easier thanks to HuddleCamHD's 64 built-in presets. Presets can be set for different focus points of the worship service. Shots can be set up for the sermon, scripture reading, sacraments, and music. Operators can then quickly move to another camera shot with the press of a button. These presets can be accessed from the HuddleCam Joystick controller or via computer using Serial RS-232, which is converted to USB and connected to a PC.
No matter the size or budget of your church, HuddleCamHD has cameras and complete setups to fit your needs. With HuddleCamHD, you can save yourself the time and hassle of sorting through camera types and connection standards. Simply plug it in and get streaming faster.
Small Church Streaming System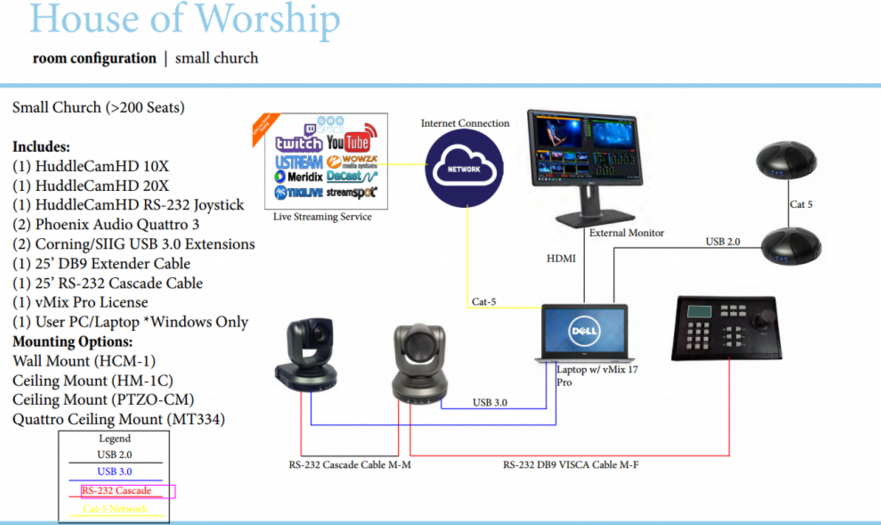 HuddleCamHD provides an easy way to connect multiple PTZ USB cameras to a regular laptop. With vMix you can create professional live streams (just like our Friday Webinars) with lower thirds, video overlays (perfect for lyrics) and much more. A simple connection to the internet and you can stream to your favorite CDN such as ChurchStreaming.TV or SundayStreams.com.
Large Church Streaming System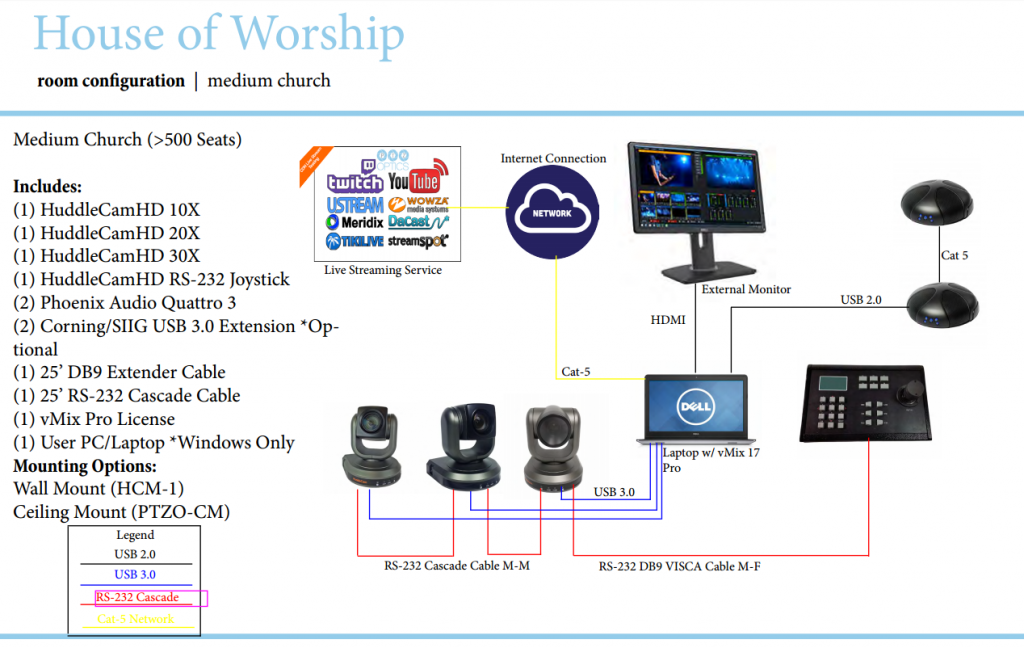 It is extremely easy to add an additional camera if needed. Just make sure your laptop has space for all the USB ports you are planning to use. Also, as you can see we are using some of the RS-232 VISCA cables from our pre-cut cables available here. The first RS-232 DB9 VISCA cable is male to female and it connects to the supplied cable with the RS-232 Joystick Controller. You can then use the RS-232 IN & OUT ports to cascade cabling from each unit in succession.
Consider using our Preset Visualizer to map out your live broadcasts!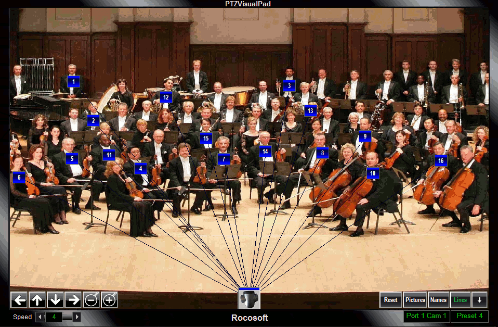 – Automatic configuration of COM Ports

– Pan/Tilt/Zoom/Focus with variable speed control

– Control up to 7 cameras in a daisy-chain connection, and 16 cameras in home run mode from one computer

– Easy camera switching

– WebRemote – far-end camera control from computer or smartphone with a web browser

– IP Remote – far-end camera control from computeror smartphone with a IP Remote Controller app

– PTZVisualPad— Remote camera control using visual layout of camera presets

– Video Monitor for quick camera view and for taking pictures for PTZ Visual Pad

– Supports all USB Joysticks

– Keyboard Hotkeys

– Configure up to 256 Presets*

– Auto Pan

– Preset Scan

– Advanced Video Settings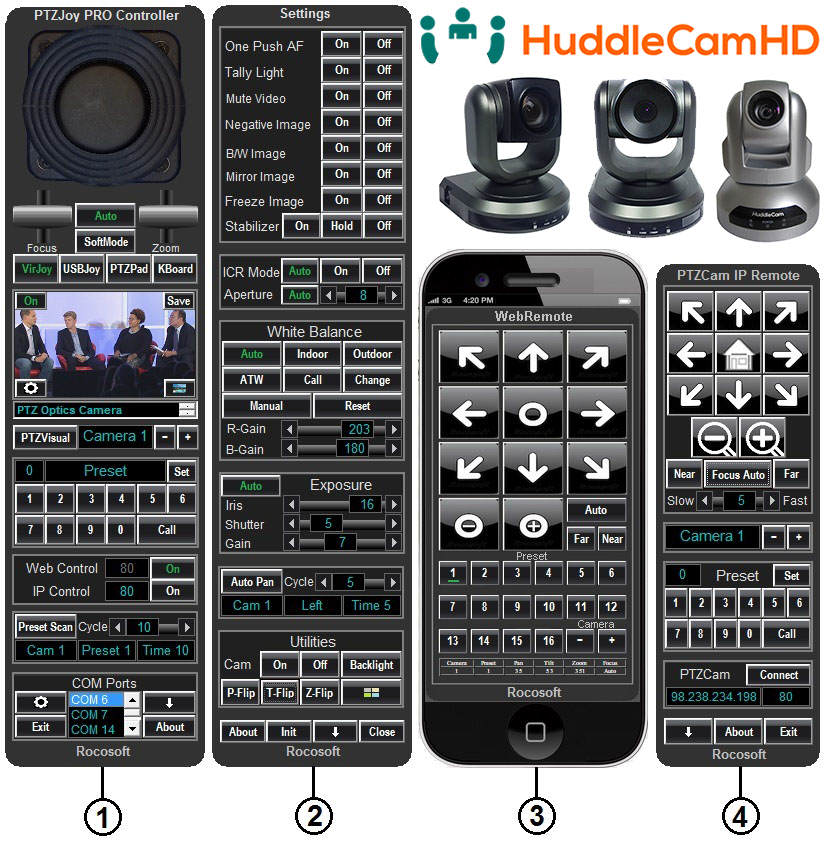 1. Main Controller – The main remote control interface provides convenient pan, tilt, zoom controls along with access to more advanced features such as Presets, WebRemote, IP Remote, PTZVisual Pad, and Preset Scan.
2. Settings – The Settings screen shows additional video and control settings such as Exposure, White Balance, Auto Pan, Start with Windows, Camera ON/OFF, and more.
3. WebRemote – The WebRemote is accessible from the web browser of any PC, Mac, Smartphone, or tablet. This allows for quick and convenient far-end control of cameras on the go.
5. IP Remote – The IP Remote provides access to the main controller over a secure connection allowing control of the camera connected to the computer with the Main Controller installed. Control the pan, tilt, zoom, focus, and recall presets of a far end cameras with the remote interface.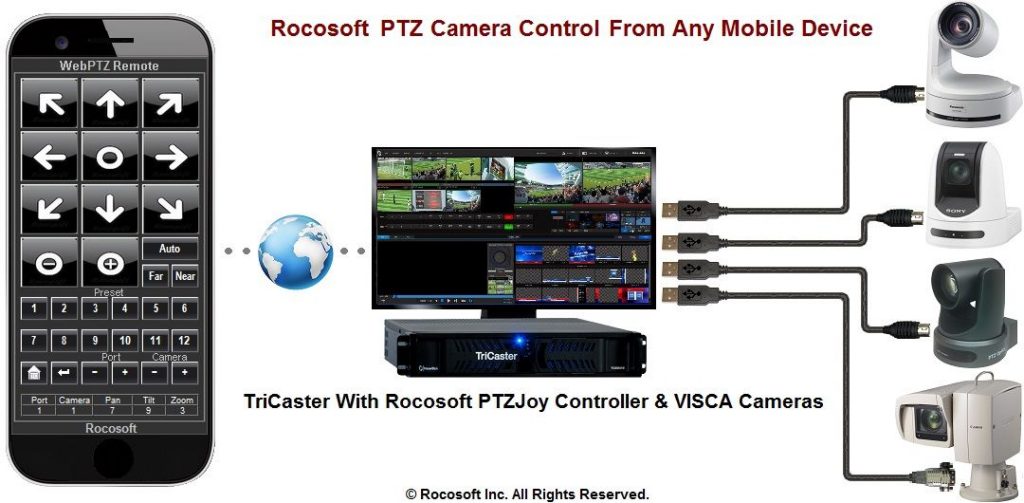 Far-End IP Camera Control with WebRemote
Control PTZ cameras from any mobile device over any LAN, Wi-Fi, and WAN IP network. Simply turn ON Web Control access via IP on the main program and open the WebRemote in the web browser of any mobile device and use it to switch between cameras, control pan, tilt, zoom, and focus, change the speed settings of camera movements, and call on presets. This feature provides two-way communication between the distant WebRemote and the main program, so you can easily see what commands the cameras are receiving as well as the speed settings directly on the WebRemote.
The PTZ WebRemote works with iPhones, iPads, Android phones and tablets, Windows phones and tablets, Google phones and tablets, and all other mobile devices with a web browser. Supports all web browsers such as Internet Explorer, Google Chrome, Safari, Mozilla Firefox, etc.
PTZVisualPad™ is a customizable graphic user interface for controlling a PTZ camera and is designed to simplify the logistics of preset switching during a video conference meeting. Totally customizable, users can set seat positions, camera positions, add pictures to represent people, add custom room layouts, and designate presets to specific locations in the room. Use this feature locally or open it from a remote computer on the IP Remote for far-end camera control using the visual layout.
– Up to 16 position presets – memorizes the pan, tilt, and zoom positions of the camera

– Easy preset recall – recall presets with the click of a button

– Room layout – chose from our included room templates, import any custom image, or snap your one on the spot using the built-in Video Monitor

– Character Generator – each member of a meeting can be allocated to a seat and represented with a character graphic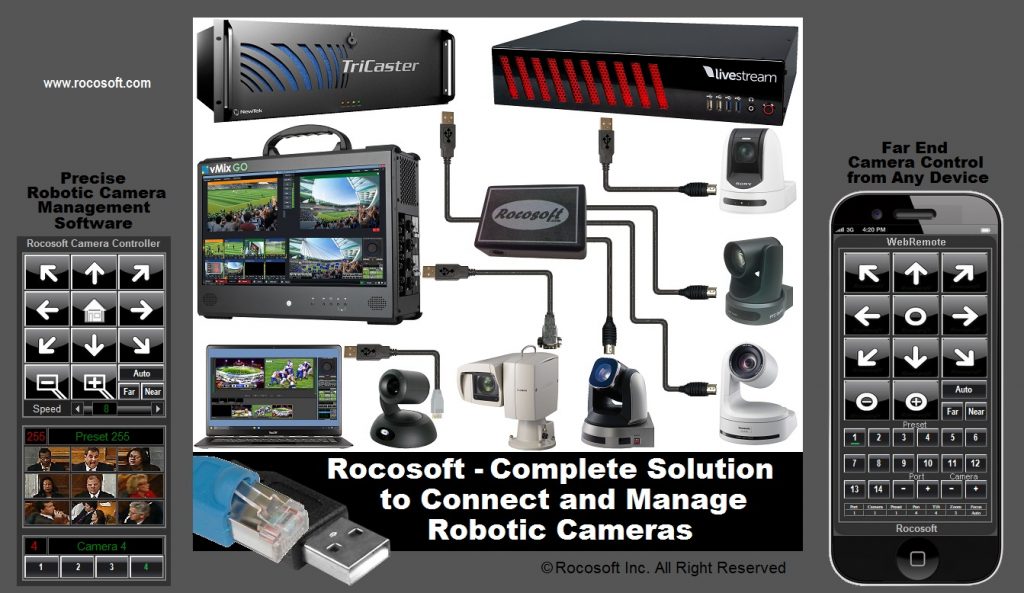 Snap a picture of the room layout with the built-in Video Monitor

Set up camera position in the room

Visually assign presets to desired locations in the room

Align your camera presets to the corresponding locations of the screen

Done!
The ideal control software for any HuddleCamHD or VISCA camera
SKU
UPC
MSRP
HC-CNTL-SFT
737993157724
$250
PTZJoy™ PRO is a VISCA PTZ Camera Controller that allows users to control pan/tilt/zoom directly from a computer when connected via Serial RS-232 and converted to USB.
Control cameras cameras locally with virtual controls, any USB joystick, and keyboard hotkeys or use the WebRemote, IP Remote, or PTZVisual Controller for far-end camera control from any mobile device or computer with a web browser over a LAN, Wi-Fi, or WAN IP Network. Features such as Preset Configuration, Camera Name Setup, Auto Pan, Preset Scanner, and advanced video settings makes PTZJoy PRO the most comprehensive and advanced professional PTZ control software for a PC available on the market today.