PTZ Camera Mounts from HuddleCamHD
The installation of your audiovisual equipment is not an easy job. That is why HuddleCamHD has designed PTZ cameras mounts with detailed documentation and all the necessary hardware for end-users and professional audiovisual integrators to install PTZ cameras with ease. As for pan–tilt–zoom (PTZ) camera mounts, HuddleCamHD and PTZOptics engineers are committed to simplifying the planning and installation of top-notch hardware designed for professional camera mounting. Reliability for camera mounting hardware, especially when ceiling and wall mounting professional audiovisual devices is of utmost importance. HuddleCamHD has camera mounts designed for nearly any installation situation, be it pole-mounted, wall or ceiling mounted PTZ cameras. ProAV companies are able to easily work with our universal designs for camera mounts because they have been designed for specifically for ProAV installers. Many companies that focus on expert audio visual installation have made all HuddleCamHD hardware for camera mounting a standard due to these reasons:
Reliable Camera Mounting Hardware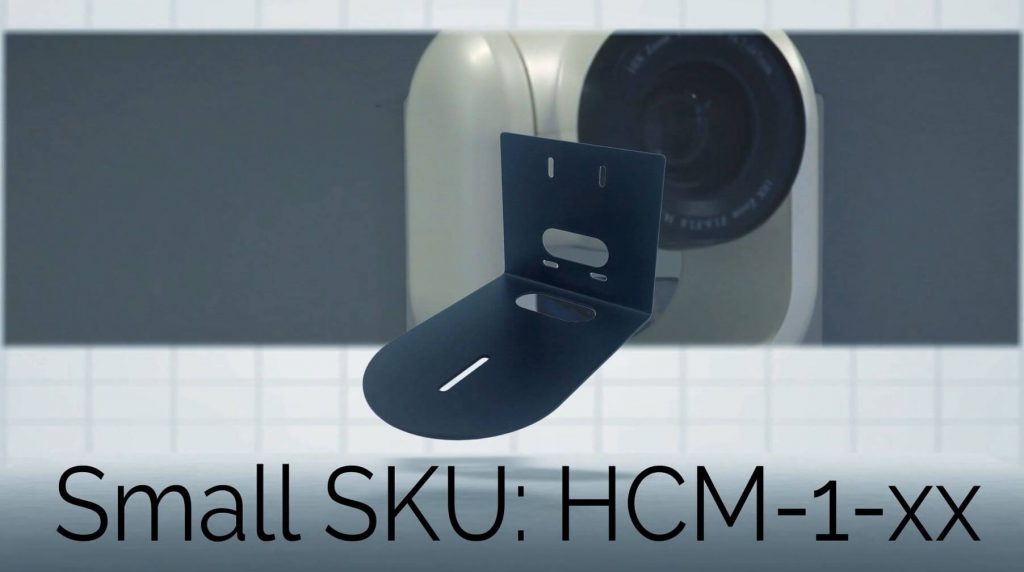 Each of our HCM (HuddleCam Camera Mounts) mounting hardware is manufactured in Pennsylvania (Lancaster, to be specific) and features a very sturdy heavy-gauge steel construction. All of these mounts come out of the box with a comprehensive range of the necessary mounting hardware for drywall, wood and masonry mounting, as well as for standard electrical US or EU box mounting. You'll also get a printed manual containing easy-to-understand information to help the installation crew proceed on without having to contact support. Every unit has mounting slots that are designed to help the installation team level and adjust mounts properly before mounting a PTZ camera. Camera wall mounts might appear simple but these advanced mount designs make the AV installation more efficient and less complicated.
Ceiling Mounts for Constantly-Changing Presentation Settings
For ceiling mounting HuddleCamHD cameras, we suggest a product from PTZOptics called the PT-CM-1. AV integration specialists appreciate the easy installation process that enables secure attachment of the majority of PTZ cameras to a ceiling surface of any kind. These ceiling mounts come with all the hardware required for camera installation to masonry surfaces such as wood, drywall, brick as well as acoustic ceiling tiles. These ceiling mounts are often used for installation directly to US and EU electrical ceiling boxes. The ¼-20 screw mount that conforms to the industry's standard enables secure mounting of the majority of the professional quality cameras such as PTZOptics, HuddleCamHD, and Panasonic cameras to nearly any ceiling surface and all horizontal orientations.
The demand for ceiling-mounted cameras is increasing, particularly because of the increasing need to have more cameras installed on presentation areas, studios and conference halls. When mounted flush to a ceiling area these cameras do not obstruct and usually offer very clear vision lines to the targeted focus area.
Pole Mounts for places that aren't easily reachable
Audiovisual integration specialists are used to hanging equipment such as projectors, huge speakers and flat panel displays from a pole suspended from the superstructure of a building. When it comes to a PTZ camera, a pole mount comes in handy to enable customers to get clear views of a live-streamed event, a broadcast or a video conference, whereby a tripod, a flush ceiling mount or a wall mount isn't possible. The HuddleCamHD pole mounts fit on a standard one-inch NPT threaded pole, and this provides ProAV installation experts with an installation process they can use to securely mount PTZ cameras to nearly any building superstructure. Pole mounts are mostly used in worship places and corporate spaces with open ceilings. You can place pole-mounted cameras right beside confidence monitors for proper eye contact maintenance with the presenters facing an LCD screen mounted on a pole, for instance.
Wall-Mounting Big and Small PTZ Cameras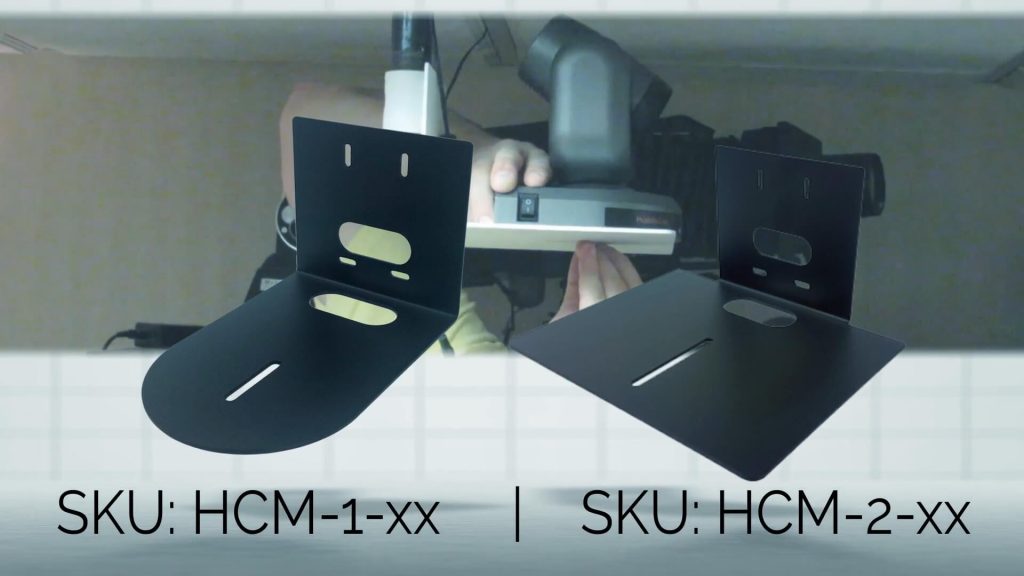 A wall mount is the most commonly used mount for PTZ cameras. HuddleCamHD makes wall mounts for cameras with small and large bases and these mounts have rapidly turned to be the industry standard. The work of ProAV installers has become pretty easy and effective, thanks to the simple ¼-20 camera connection hardware and the comprehensive kit of universal mounting hardware offered.
Final Words
Are you designing an area for video conferencing or a studio for live streaming? You should ensure that your cameras are securely mounted to offer the best viewing experience. Every camera mount from HuddleCamHD comes with cable entry points for running through the back as well as the bottom of the mount. Bulky cables like power cables, SDI cables, HDMI cables, USB cables, and Ethernet cables can fit through these entry points. These camera mounts offer you the clean installation appearance you want for an exquisite boardroom or an elegant broadcast studio. They are the best solution for your client's needs. HuddleCamHD camera mounts come in black or white to complement your camera's color and to make your ProAV installation design more attractive. White cameras and camera mounts are mostly common in worship spaces and contemporary indoor meeting spaces. Most importantly, camera mounts from HuddleCamHD are of high quality and have premium features. However, their price is affordable for modern ProAV projects. They are some of the lowest-priced professional mounts you can get. Considering that each of these camera mounts has a warranty of three years, the audiovisual integration expert has nothing to worry about when they recommend these mounts to customers.
Learn more about HuddleCamHD's professional PTZ camera mounts here.