What You Need to Know About Learning Management Systems
What You Need to Know About Learning Management Systems
In 2020, learning is no longer confined to a classroom in a school with a teacher standing in front their students sitting in desks. Today, the desk may be your kitchen table at home or the back seat of a car. The classroom can be your laptop, tablet, or even your smartphone. And the school may still be a physical school but it is just as likely to be your on the job training, project in the garage or MBA program.
Learning has changed in incredible ways in recent times and much of that is thanks to eLearning and Learning Management Systems (LMS). These systems are designed specifically to deliver a full-scale educational, training, or development program to a learner wherever they are. There is a range of incredible benefits that these systems deliver from cost savings to delivering higher quality learning for all types of different learners.
The best part is that with a few simple tools, they are easy and affordable to set up for your organization. Many students in K-12 classes today are already used to working with learning management systems. As students graduate high school, they are very likely to take full advantage of online learning in higher education. On the other side of learning, older generations are going back to school from home. Online learning is helping spread professional education to anyone willing to learn. Here is what you need to know about setting up an LMS for live or pre-recorded education or training.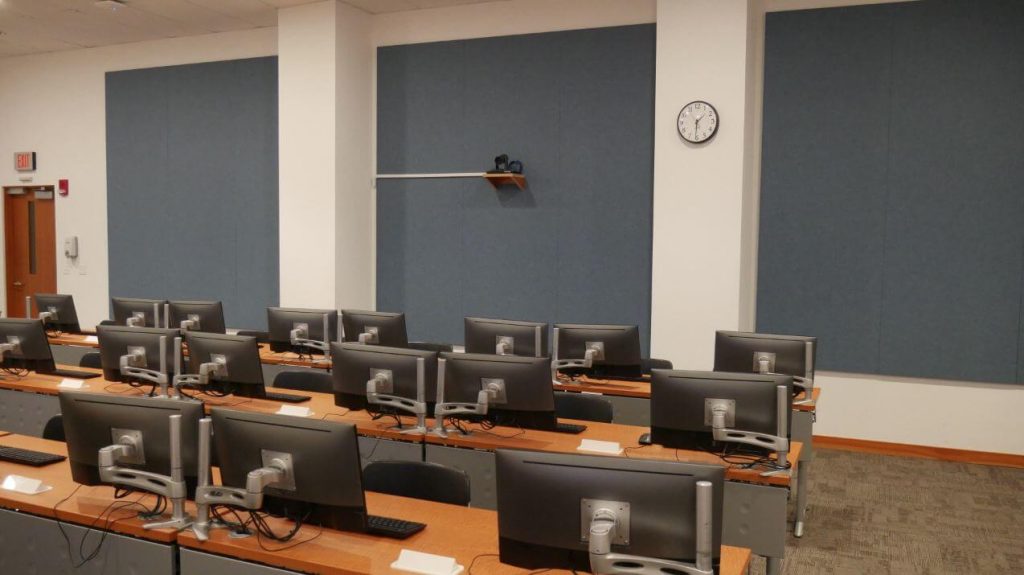 What You Need
One of the things that is so great about learning management systems is that you do not need a ton of equipment or tools to get set up and get your LMS program started. In fact, you only really need two things. One is a camera to capture the lecture or training session. You could use any type of web-enabled camera but you want to make sure you have something that is simple to set up, delivers high quality, dynamic video and does not require someone to operate it. This is why the best digital video camera to pair with an LMS is an auto-tracking camera. The next item you will need is an audio system to capture the presenter. Ideally, you will have a simple microphone that the presenter can wear as they walk around the room. More advanced lecture capture solutions also include screen capture options allowing presenters to use PowerPoint presentations and other digital annotation solutions to their lecture capture recordings.
The other thing you really need to start your virtual learning journey is LMS software. There are a number of full-service programs available that provide you with all the features and abilities you need to deliver incredibly professional eLearning to your audience. Depending on your specific needs, you can find software that fits you best and be up and running in no time.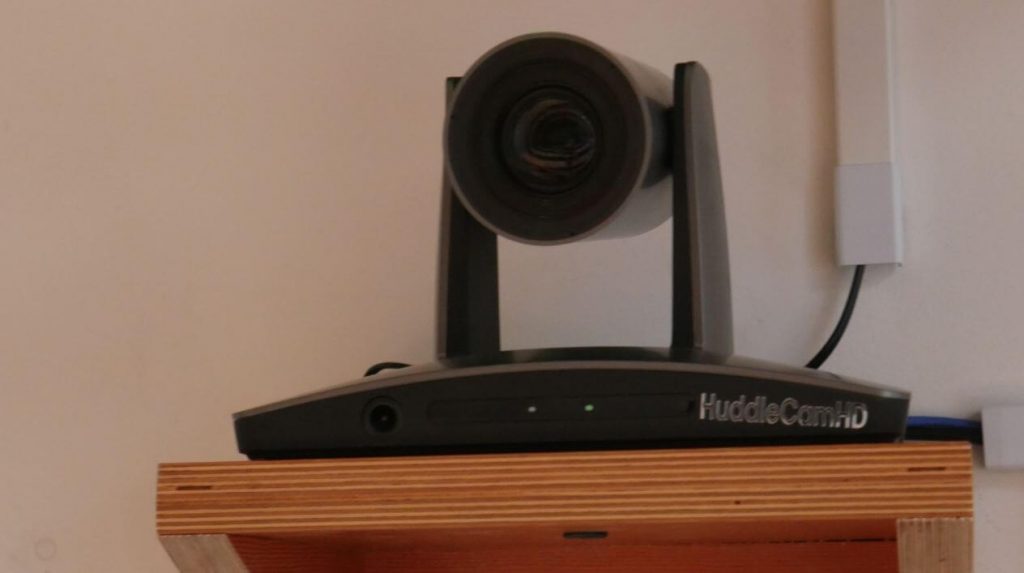 Auto-Tracking Cameras
An auto-tracking camera is a digital video camera that moves by itself to follow a speaker or a teacher around a room as they give a presentation. This not only delivers high-quality HD video but also replicates the natural movement of a spectator in the room. It is what makes eLearning in the 21st century so popular. You can get everything from a session that a physical attendee does and really feel like you are there. AutoTracking cameras like the SimplTrack2 allow viewers of the recorded video a better zoomed-in view of the whiteboard than many students will get with a seat in the classroom.
When looking for an auto-tracking camera for your LMS you want to make sure it has a few main features. You want to make sure it has publishing automation, that works seamlessly with any technology or LMS software you plan on using, and that it is able to integrate with any other presentation technology you have. An auto-tracking camera like the HuddleCamHD is perfect for this kind of set-up because it can integrate directly into most lecture recording solutions like Echo360, MediaSite and Panopto which feed directly into LMS systems.
What are the Top LMS Software Solutions?
As mentioned above, there are several very good LMS software programs available on the market today. There are a lot of these programs that are very good and you should have no problem finding on that fits your organization's individual requirements well. Here are some of the best LMS software solutions.
Founded in 2006, Kaltura offers "the most powerful and flexible video platform in the market." They were the first to initiate an open-source video platform project and today, provide a range of off-the-shelf SaaS products that are flexible, modular, and easy to integrate. Kaltura is a centralized location for all of our online course materials and recorded videos. Kaltura supports on-demand video playback with enhanced learning solutions for document sharing and student collaboration. You can also leverage Kaltura to deliver live presentations to audiences.
Since 2001, Moodle has been an open-source eLearning platform that allows users all over the world to develop and manage courses online. It is a modular system based on plugins that can be stacked in any way to build whatever you need. The project is supported by a rich community of educators who add tools specific to their needs which create a library of plugins designed specifically for education. Moodle allows IT, managers, with the ability to save money when deploying a learning management system because you can deploy the system on your own server.
A flexible learning platform that allows users to extend online learning, increase employee engagement and optimize learning outcomes. They say they are "Personal, intuitive, always-on, and connected." Blackboard provides solutions for teachers from K-12 all the way up to higher education. The intuitive system is used by schools all around the world to deliver classroom materials online for students to enjoy. Teachers can provide students with access to online files and they can also see their grades.
An LMS that is used by organizations and institutions of all shapes and sizes, they provide a full-service platform that allows users to manage videos, record, and edit, live stream, and integrate with nearly any technology you use. Panapto is one of the most advanced learning management systems available today. The engineering team at Panapto is always announcing new hardware and software integrations for their customers to enjoy. Panapto is definitely one of our favorite learning management systems based on the design and functionality/feature list.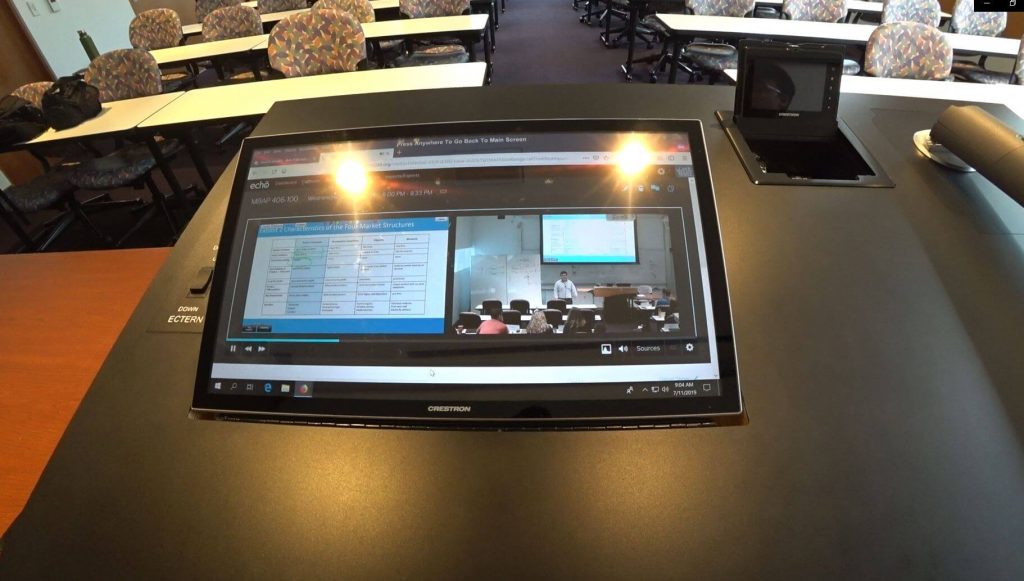 Conclusion
With just an auto-tracking camera and the right LMS software, your organization can create the perfect eLearning program for your needs. It will not only change the way students or employees learn but also add to the success of your organization. Education is the key to many important facets of life. Finding a learning management system that will fit your unique needs could be the key that unlocks many future opportunities.