The Flipped Classroom for Online Education
The "Flipped Classroom" is a proven form of blended learning that flips the traditional educational process. For example, instead of giving students homework to complete between class meetings, teachers engage students by doing homework and blended learning activities in the online classroom. Many teachers report that they're seeing students rewatch lectures and presentations and taking the time they need to fully digest the course content. Then, when students come to collaborative exercise sessions in the online classroom, they are more engaged because they are already familiar with the subject matter.
At the University of Southern California, the faculty prioritize pre-recording lectures via video so that they can produce the content they need to build engaging online courses like the ones you will learn how to create in this book.
In 2019, I visited the Keck School of Medicine at the University of Southern California (USC) to find out how it's "flipping the classroom one video at a time." But what is the flipped classroom? And how does this concept help students learn by bringing hands-on "homework" back into the online classroom?
As you might imagine, the need for lecture capture solutions is growing fast as teachers race to create video content to supplement student learning online. As the demand for video content has increased, the University of Southern California decided to create a studio space where professors could go to have professional videos created. I interviewed Gary San Angel, a Distance Education Operations Specialist at USC, to learn more about his program designed to "Flip Classrooms, One Video at a Time."
Outside of the studio, Gary often works with teachers in classroom and auditorium environments. Using a remotely controllable PTZOptics camera, Gary has developed a practical plan to extend the school's capabilities for capturing lectures and increasing their "production value." At a high level, Gary has a decent budget to work with but it's worth noting that not all K-12 schools have access to studio spaces, or dedicated employees who can handle video production.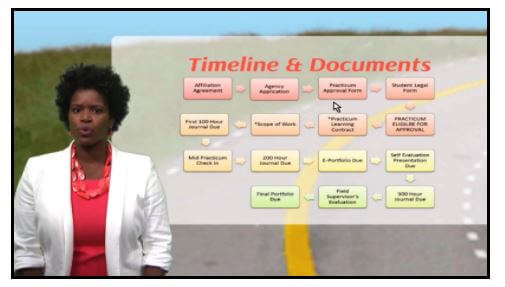 flipped classroom example
(Example of a college-level course. Teacher is outlining a timeline and documents included in her course.)
Gary helps teachers produce content that combines education and engagement and provides a space where they can come in to record online video content quickly and easily. It can be challenging for educators to find a natural teaching cadence when they are on camera. Adapting your educational style from the physical classroom to a digital one may require you to work within some limitations. For example, you may need to stay close to the microphone you're using in order to be clearly heard throughout your recorded videos when you're accustomed to walking around a classroom. But that doesn't mean your videos have to be boring. In this book, you will learn easy ways to create engaging content on your own, without the help of video production experts. It's important to gain familiarity with video creation technology in order to become comfortable when you capture educational content via video. Ideally, you will become comfortable enough to make and capture content that combines educational value with entertainment value — a concept known as "Edutainment."
(Example use of chroma key technology which can make the green screen background of a teacher transparent. Using a video production software like OBS, you can create dynamic backgrounds that include whiteboarding tools.)
Pro Tip: Even if you do not have a green screen, you can create picture in picture scenes that draw student attention to specific content of interest. Consider purchasing a green screen and using the chroma-key filter in OBS to create a scene like you see above.
Finding a happy medium between education and entertainment will help you increase engagement in the online classroom. This process allows you to segue from lecture or explanation mode, to think deeply about collaborative learning in the flipped classroom.
As hybrid learning environments become more essential in modern education, a mix of synchronous and asynchronous teaching and learning tactics will be built on a foundation of compelling online educational materials. You can easily create this type of online education material with a basic working knowledge of content creation, live production, and post-production, all of which you will learn in this book and my online course.
For K-12 students, flipping the classroom can be more challenging due to budget constraints. K-12 educators will need to create content for the flipped classroom knowing their students' short attention spans and that they can be easily distracted.
A worthwhile exercise for K-12 educators is to research what their students watch on YouTube. For example, many pre-K children enjoy videos made by a creator named Blippi. His videos are educational because he points out words and numbers throughout the content. His video-making style focuses on an engaging story where children watch an exciting story unfold.
Throughout this book and online course, you will learn simple tools and workflows that will allow you to create educational videos that your students will want to engage with. Meeting your students "where they are" and creating content that they are already used to consuming will help you connect with your students. Emulating leading video makers is a great way to skip the research and development process, and get right to what works.s.
The good news is that technology continues to become more affordable and easy to use. The following chapters in this book and the online course will walk you through using almost any webcam, smartphone, or consumer camera to capture the content you need to make professional online courses that will flip your classroom and teaching style for good. So what are we waiting for? Let's learn how to create immersive videos so we can place your presentations where they belong – in your flipped classroom.
1. The flipped classroom concept focuses on experiential and interactive learning and is important to understanding online teaching.
2. The flipped classroom and blended learning environment bring homework into the online classroom, and "lectures," presentations, and talks home so that students can engage with the content at their own pace.
3. Learn how to set up the virtual classroom and strategies for content creation, live production, and the post-production process.
More Technology Tools for Online Education