Video Communication Tools for Online Education
Being able to communicate effectively with your students using video communication tools is essential for modern education. Video communications can strengthen the connection between teachers, students, and parents to foster supportive learning environments.. When you use software such as Zoom, Big Blue Button, or Google Meet, you are leveraging video communication tools to extend the boundaries of your teaching. Simple class discussions can happen via online meetings which can transform into interactive activities and learning sessions leveraging two-way communication tools.
Moving to a virtual classroom
Many teachers have been forced to transition from an in-person classroom to a virtual one. Through this process, students have lost the structure imposed by the normal school environment. The first step to making online communications effective for your virtual classroom involves laying ground rules and expectations. Students benefit from structure especially during a time when they are adapting to a new environment for distance learning. Two way online communication tools can enhance the overall learning experience for your students in ways that a one-way learning journey via recorded video cannot. Two-way communications almost allow teachers to reach out of the screen in comparison to recorded videos that can be paused by students at any time.
Example of Teaching Online
Drake Finney, an elementary school teacher from Lake Havasu, Arizona says his students enjoy "Motivational Mondays." During Motivational Moday's Drake plays a video on YouTube from a famous motivational speaker, to start class. Finding a structured cadence to your class routine will help students look forward to their time online with classmates. Other examples include, live trivia days, competitive class competition days, and funky Fridays.
Pro Tip: When you share a video with your class in a screen sharing session, be sure to select the "share with audio" option.
Beyond the obvious injection of fun, and a foundation of structure, another important part of online communications is engagement. It may be challenging to get students to engage with you or each other in the online classroom. The College of Education at Minnesota State University, published a report in 2007 entitled "93% of all communications are non-verbal." Considering the importance of non-verbal communication can help you orchestrate positive student participation during online lessons. For example, just asking students turn on their webcams, will allow you to get non-verbal reactions just by seeing their faces. You can use non-verbal cues, to help you judge when it's appropriate to ask for student participation during your lessons.
Other popular tools in the virtual environment include the chat and messaging functions, and emoji reactions. For example, emoji reactions are available in both Zoom and Google Meet, yet many students might not know how or when to use them. Consider showing your class how you would like them to use built-in tools for "thumbs up" and "thumbs down" and prompt your students to use the tools at various times throughout the online meeting. This is a great way to enable students to provide non-verbal feedback without interrupting the lesson.
Other forms of engagement that work well in the classroom include live polling and trivia. Consider using Kahoot to host interactive quizzes. Kahoot can also be used to organize your students into teams where they work together to answer questions. Polls are a great way to gather information about what your students know and what they do not know, before and after an online meeting. Consider sending Kahoot polls to your class a few hours prior to your next online meeting and use the results to improve your lesson planning and teaching.
Ask students to share their perspectives with the rest of the class. When you ask students to share their thoughts you serve as a moderator and should consider giving every student an equal chance to participate. This process can include short or long pauses, but it's important to offer opportunities for students to feel comfortable speaking up.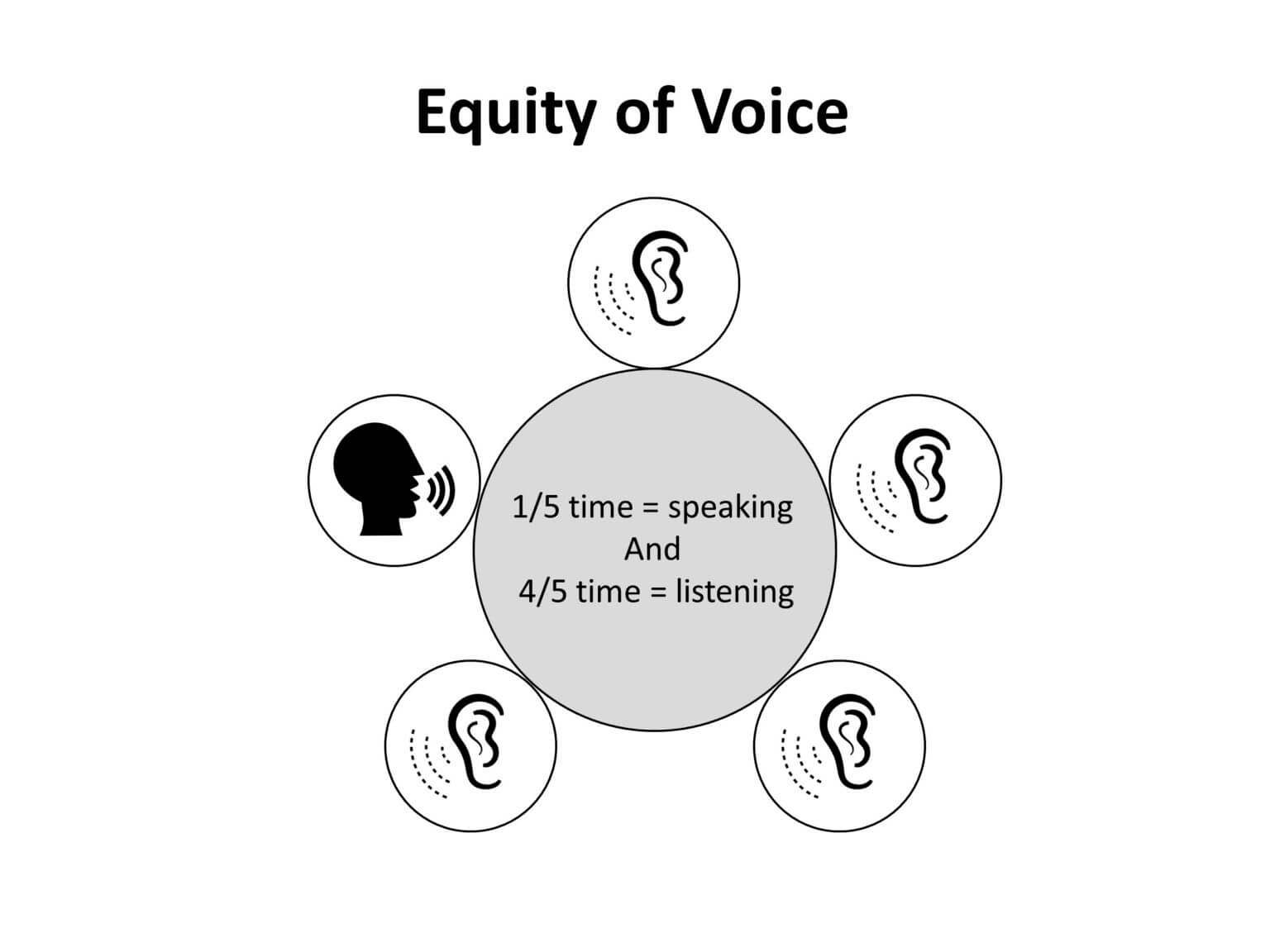 As a moderator in the online classroom, aim to achieve something called "Equity of Voice". Equity of Voice is a concept that refers to the process of giving everyone in a meeting or classroom an equal chance to speak and participate. Consider starting an online class with a moment to engage each student. Perhaps ask each student to suggest one topic of interest or question that can be included in the day's presentation. Equity of voice is also about listening — students learn the value of listening to others and respecting others' opinions.
Student Equilibrium of Voice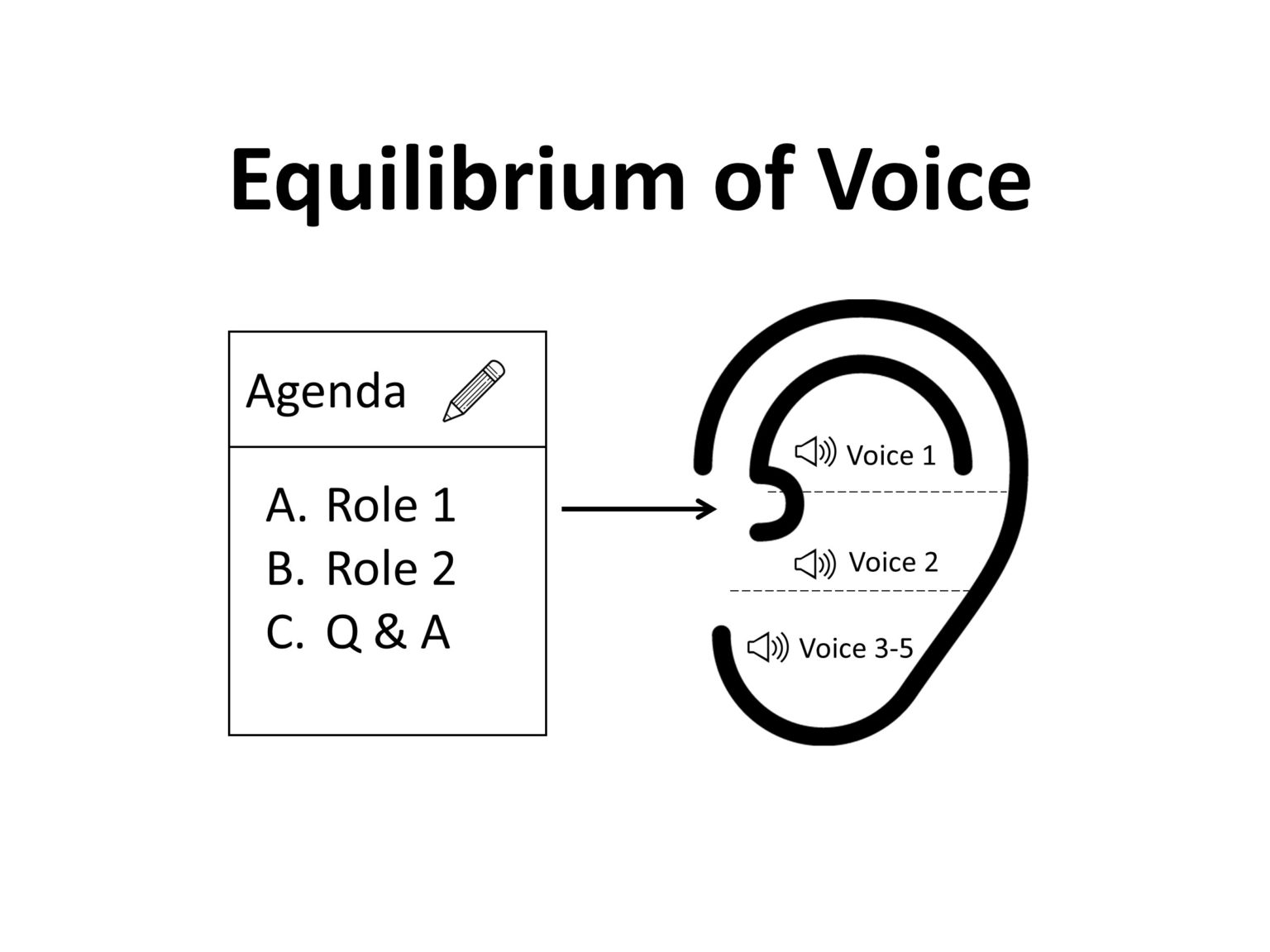 Another way to look at managing online classroom engagement is called "Equilibrium of Voice". Teachers can embrace Equilibrium of Voice to promote collaboration on projects without requiring every student to participate equally. Equilibrium of Voice is a communication strategy that attempts to maximize online classroom performance based on goals set by an established agenda. A class with ideal equilibrium of voice optimizes the most relevant speakers in a group based on the established agenda and the participants' roles in the overall group. An example of this might bet student presentations where a small group of students makes a presentation to peers.
Equity of Voice is ideal for team collaboration during brainstorming sessions in class. During the early stages of class projects, it's important for everyone to be heard during crucial team-building exercises. It's also important to give students the feeling of being part of the overall class by being listened to and respected. Once your class reaches more in-depth topics of interest, subsequent meetings will benefit from an equilibrium of voice where students respect the importance of taking turns within collaboration projects. Equilibrium of Voice is a tool that offers subject matter experts additional focus based on the agreed-upon agenda.
Online communication tools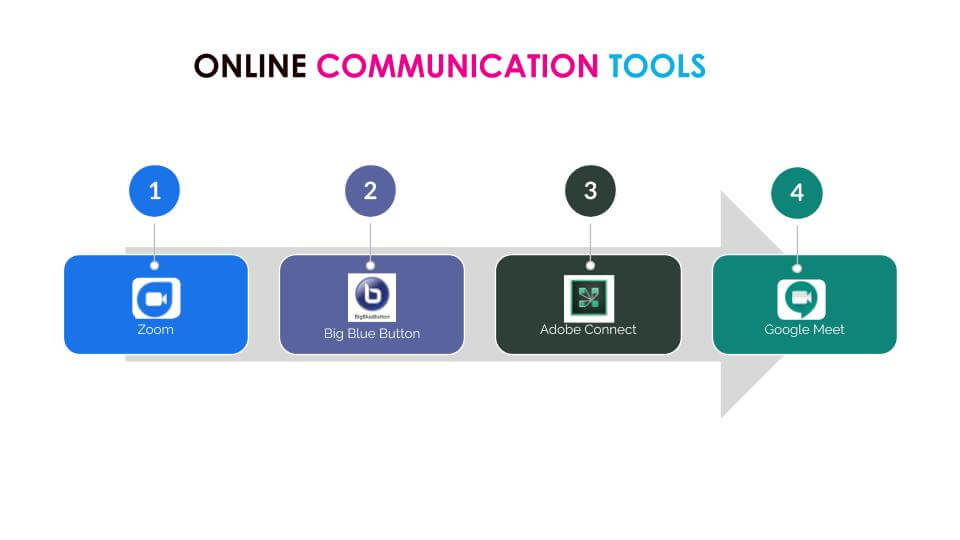 VIDEO COMMUNICATION TOOLS FOR EDUCATORS
It can take time to adjust your classroom teaching style to make the most out of online communication tools. Online communication tools like Google Meet and Zoom will allow you to give students real-time advice and guidance. These platforms can be used for one-on-one sessions or group collaboration projects. Carefully consider your role as a moderator so that students can get the most out of the group experience. The teacher's role as a "moderator" also extends to proper management of "breakout" rooms. As the teacher, you can move in-between virtual breakout sessions that you set up outside of the main Zoom meeting, for example. It's important to check in regularly to help students stay on track and make sure one student does not dominate conversation in the break out rooms. The benefit of breakout rooms in an educational setting is that students get more time to speak, listen, and collaborate with others. But watch out for groups that veer off course — a good reason for teachers to pop into break out rooms!
Pro Tip: When you set up Zoom breakout rooms, you will be asked if you would like to manually or randomly assign students. If you are concerned about breakout groups going off course, consider creating groups ahead of time so that you have a good mix of student personalities for collaboration. You can then prioritize which breakout groups you will visit to make sure everyone stays on track.
1. Zoom is free for K-12 educators. Other platforms include Big Blue Button, Adobe Connect, and Google Meet. Google Meet is heavily integrated into Google Suite and Google Suite for Education.
2. Learn about video discussion tools and the types of video collaboration tools for distance learning that enable you and your students to watch videos together, chat, and create time-stamped notes. There are also features for grading and quiz-style voting. Turn quizzes and tests into games (gamify them).
More Technology Tools for Online Education