Versatile Lighting Gear for Any Video Solution
Optimize your video communication with professional lighting
No need to sacrifice size for function — you can have it all with Lume Cube. Flexible mounting options, portability, and professional quality at an affordable price make Lume Cube the perfect fit for your video delivery setup.
Whatever your lighting needs, Lume Cube has a lighting solution that works well with your existing camera system. Check out some of our favorite pairings of PTZOptics/HuddleCamHD and Lume Cube products for your unique setup.
If you're a remote or hybrid worker, chances are you don't have professional studio lighting in your home office. You likely need a system that can easily travel with you, from home to the office, without sacrificing quality. Pairing the HuddleCamHD Webcam 104 with the Lume Cube Video Conference Lighting Kit is a great way to enhance your Zoom calls or virtual speaking engagements at an affordable price.
The Webcam 104 features a wide angle lens, 1080p resolution video, and an on-screen display menu to control lighting, color, and more. This webcam can easily travel with you and has everything you need for professional video conferencing.
With the Lume Cube Video Conferencing Lighting Kit, you get a conveniently small light, about the size of a credit card, but don't let its size fool you. The Panel Mini LED comes with everything you need for low-light settings, including adjustable color temp, brightness, and a mounting system that won't hurt your computer. And, with a 14 hour battery life, you're never limited by a lack of ports on your device.
The Webcam 80 offers professional video control options, allowing you to control white balance, contrast, shutter speed, iris, and more. The Webcam 80 works with just about any conferencing software via USB connection, making it a great option for any office.
Pairing the Webcam 80 with Broadcast Lighting Kit 2-Pack Bundle gives you double the lighting, taking your video conferencing to the next level. Included in the bundle are two telescopic tripods (12"-30") with rubberized feet, so you can adjust the lighting to suit any office setup. With two-point lighting, you can eliminate shadows, reduce the glare on your glaces, and get a truly professional-grade production.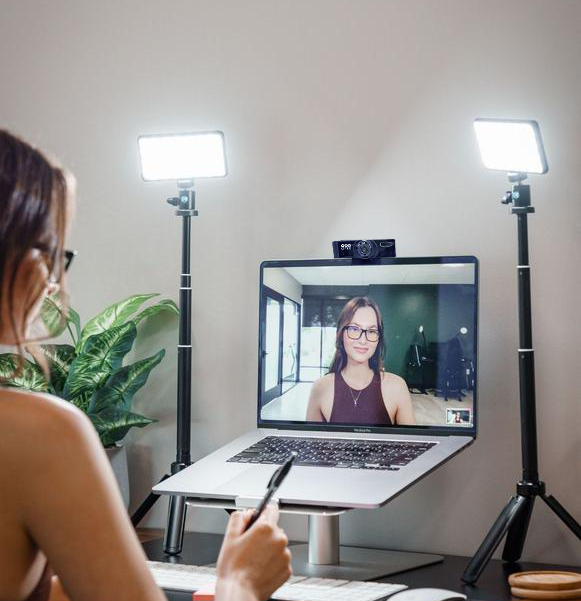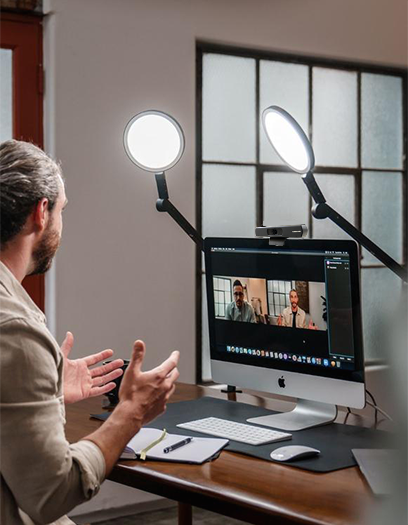 Professional Content Creation
Are you interested in upgrading your video delivery setup to create more professional-looking live streams or recorded video productions? The HuddleCamHD Pro & Pro IP and the Edge Light 2-Pack are the perfect combo for experienced and novice streamers, influencers, and content creators.
The Huddlecam Pro looks like a webcam, but delivers beautiful video in 4k and electronically pans, tilts, and zooms just like a broadcast PTZ camera. Choose between the Pro (USB) or the Pro IP (NDI®) options for the ultimate control over your studio.
Complete your professional content solution with the Edge Light 2-Pack. This two-light solution is perfect for any professional streaming or production environment. With five pivot points on each arm, these lights are flexible enough to adjust to any situation, and can easily be mounted to a desk or table with an adjustable clamp (included). The two-light combination reduces shadows and glare, and includes adjustable color temperature options, so you can produce professional-grade content at any level of experience.
Your broadcast or video production studio solution doesn't have to be bulky and complex to yield high quality results. The combination of our PTZOptics EPTZ ZCAM and the Lume Cube Cordless Ring Light can change the game for your studio setup.
The EPTZ ZCAM provides ultra HD video, providing you with crisp, realistic shots for your content. With dual SDI outputs and a series of built-in sensors and presets, the EPTZ ZCAM does the work of multiple cameras by taking advantage of the large resolution pixel space. Seamlessly switch between shots using only one camera using the electronic pan/tilt/zoom functionality.
Paired with the Cordless Ring Light, you have an unstoppable combination. Run the light endlessly through the power adapter or take it on the go for a 1.5 hour run time at full power on Li-Ion batteries (included). The ring light features an array of warmth and brightness levels, and boasts flicker-free lighting with up to 97 CRI. It can be mounted to a range of cameras or mobile devices, as well as the included 6.5' stand, for maximum flexibility in all studio situations.