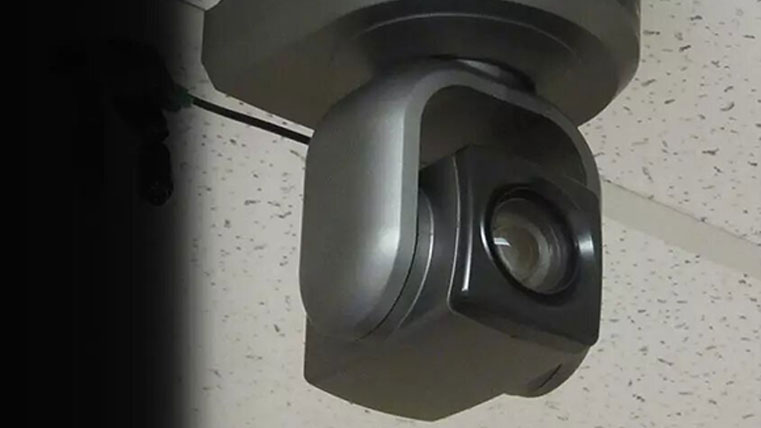 Advanced Web
Conferencing Camera
The HuddleCamHD USB 3.0 camera series is built to provide superb 1080p quality. Ten times faster than USB 2.0… you will notice the difference right away…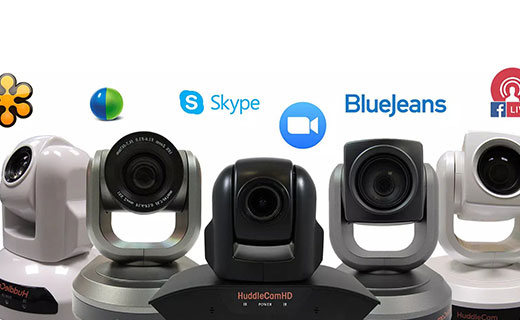 All HuddleCamHD cameras have been designed for plug and play compatibility with web-based video conferencing software such as: Skype, GoToMeeting, WebEX or Zoom. Enjoy seamless integration even with live streaming applications such as Facebook Live.
Frame Rate: 30fps 1920 x 1080p, 30fps 1280 x 720p
Lens Zoom: 20X Optical Zoom, 12X Digital Zoom f=4.7-94mm
Video CMOS Sensor: 1/2.8" CMOS 2.1 Mega Pixel
Pan Movement: 0-355°
Tilt Rotation: Up: 90°, Down: 45°
Presets: 64 Presets
Video Signal: USB 3.0
Field of View: 5° (tele) to 58° (wide)
Power LED: Blue LED to signal power
Control: IR, RS-232, & RS-485
Color: Gray or White
Warranty: 2 Years parts and labor
Technical Specifications:
Baud Rate: 9600 bps

Controller Signal Config: Dip-Switch Pin 6/TTL Signal

Input Voltage: 12V DC (10.5-14V DC)

Input Power: 24W (Max)

Power Supply Adapter: 12V DC 2A

Material: Aluminum, Plastic

Weight: 2.52 lbs (1.14 kg)

Dimensions (in.): 5.68"W x 5.63"H x 5.88"D (7" H w/ Tilt up)

Dimensions (mm.): 145mm x 143mm x 150mm (178mm H w/ Tilt up)

Boxed Weight: 5.8 lbs (2.63 kg)

Box Dimensions (in.): 13.25"x9.25"x9.5"

Box Dimensions (mm.): 337mm x 235mm x 242mm
Windows 7/8/8.1/10

Mac OS X

Acano

Adobe Connect

Blue Jeans

Cisco Jabber

Cisco WebEX

EasyMeeting.net

Facetime

Fuzebox

Google Hangout
GoToMeeting

Lifesize

Microsoft Lync

MeetFree.US

Polycom RealPresence

Radavision

Spontania

Skype

TurboMeeting.US

Vidyo

VSee

Zoom.US
SKU
UPC
MSRP
HC20X-GY-G2 (Gray)
615953137378
$1,209
HC20X-WH-G2 (White)
737993157830
$1,209
The combination of advanced USB 3.0 connectivity and the re-designed 20X optical zoom lens makes the HuddleCamHD 20X-G2 ideal for high powered webinars and online presentations. Perfect for medium to large sized rooms where the ability to zoom in and share detailed video is important.
High Definition

2 Year Warranty

Optical Zoom Lens

Power Supply Included

Plug and Play

Universal Compatibility

The camera was excellent, just more than we needed. The 20x covered the job quite well.
- John Wilson from Ventura, CA United States

I love this camera. My clients love this camera. The students love this camera. Therefore, I love the camera even more. We use this with Adobe Connect, Skype, and GoToMeeting.This camera is incredible. It's also incredibly slick and looks REALLY good setup in a classroom. The only problem is that everyone wants one now and keeps asking me where I bought it!
- Brian Da Silva from Toronto, ON Canada