How to use Facebook Rooms
You could argue Facebook is the single largest platform used for online communications. Facebook originally started as a social networking tool for groups of college students and has since morphed into an all-inclusive online universe. Facebook offers three main solutions relevant to online communications: the social media platform itself, the Facebook Workplace, and Facebook messenger.
Quick Facts about Facebook
| | |
| --- | --- |
| Feature: | Details: |
| Date Started | Launched in 2004. Started Messenger in 2011. |
| Price | Free product, supported by Advertisements. |
| Meeting Participants | Maximum of 50 |
| Estimated Monthly Users | 2.3 billion total users base. 1.3 billion Messenger users. |
| Screen Sharing | Yes |
| Instant Messaging | Yes, the service includes file sharing, games, and ability to send money |
| Unique Feature #1 | The largest world user base |
| Unique Feature #2 | Integrated into the world's largest social media network |
Facebook's social media platform has become a phenomenon that has shaped the way our world understands online communications. Facebook has over 2.5 billion active monthly users connecting with friends, family members, and business contacts throughout the world on their platform. Facebook supports sharing digital content in almost every way spanning video, image, emoji, text, live streaming, and more. Facebook's platform is monetized through its advanced advertising solutions that reported revenue of $16.6 billion in 2019.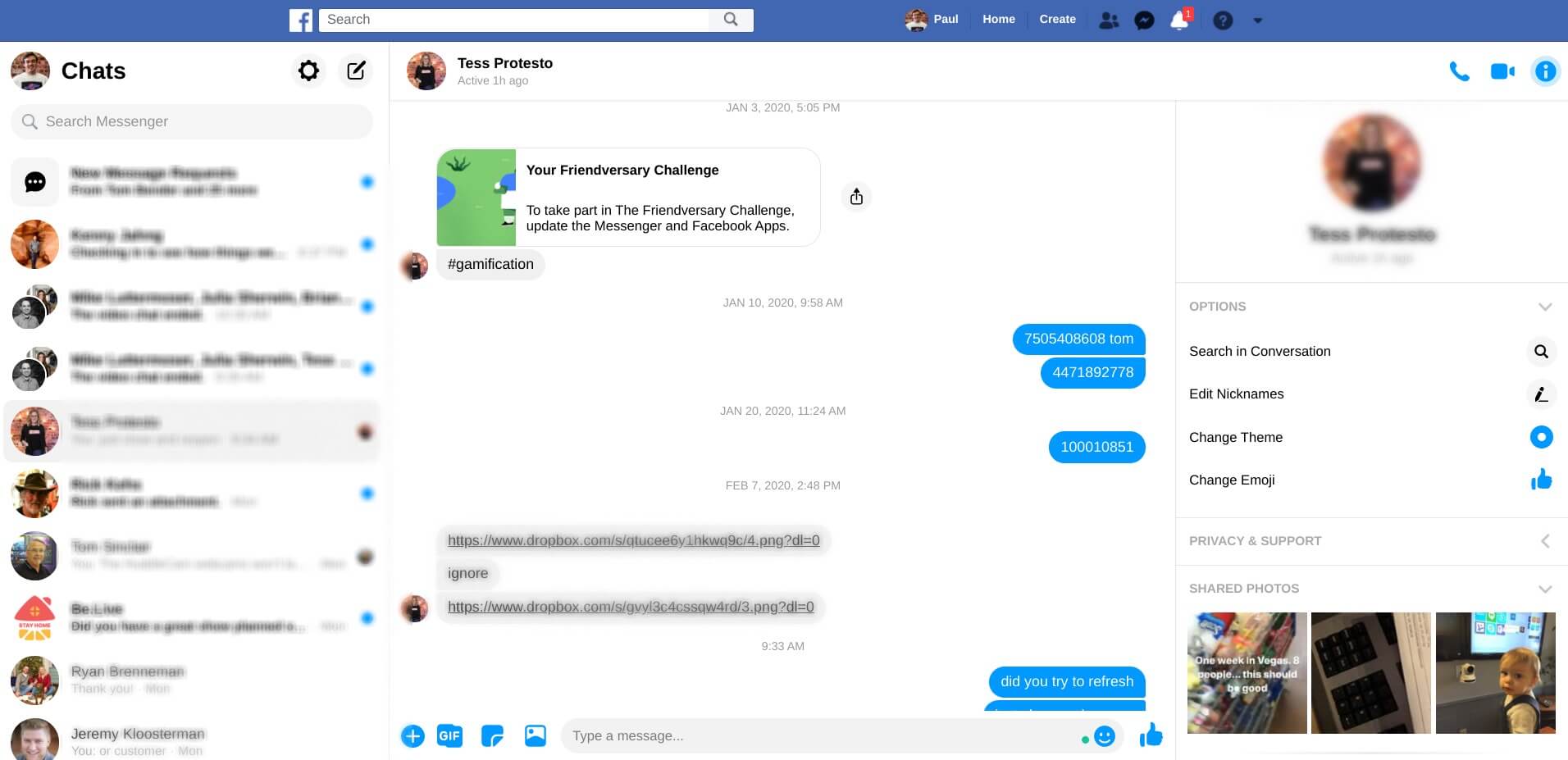 Facebook Messenger
Facebook's Messenger service has been naturally integrated into its social media platform allowing users to quickly instant message other users they are friends with. Group conversations can be used for small teams to communicate and video calling is available as well. In April of 2020, Facebook announced a new feature for Messenger called Rooms. Rooms is a feature that provides video conferencing experiences for groups up to 50 callers. Facebook's video conferencing solutions also provide simple screen sharing, audio/video controls, and meeting layout formats.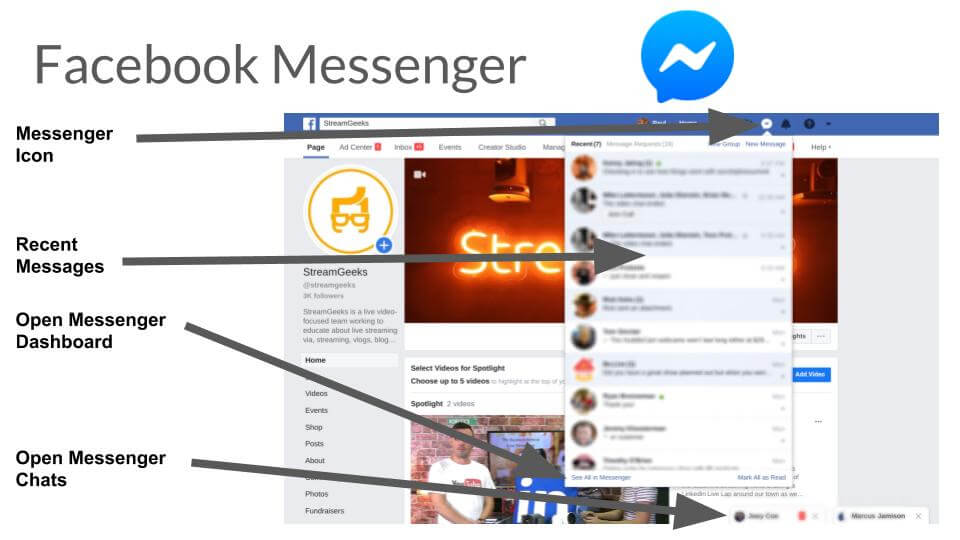 Facebook Live
Until April of 2020, Facebook's main focus in the video communications space has been one-way live streaming. After a 2016 launch, Facebook's dominance in the live content delivery market has been rivaled only by Google's YouTube and Amazon's Twitch platform. Facebook developed several innovative features for live and on-demand video such as watch parties and interactive live audience polling. In 2017, the company's founder Mark Zuckerberg called video a "mega-trend" which would be on par with the move to mobile. Zuckerberg has also said Facebook would become a "video first" company in many subsequent interviews.
For some time in between 2016 and 2020, Facebook was viewed as a walled garden when it came to video content in comparison to top competitor YouTube. While YouTube has become the best search engine for video content, Facebook has become the best social media system for video. YouTube is the world's second-largest search engine.
In April of 2020, Facebook announced people would not have to be logged into the platform to watch live and on-demand videos hosted on the platform. This move brings Facebook's video content to viewers without a barrier to entry similar to YouTube. Facebook also announced that it would allow creators to charge viewers for access to exclusive live streams.
Facebook's dominance in the social media space has allowed the company to spread into other areas of online communication easily because the service acts as a central for online activity. Facebook is the world's fourth-largest website and in 2019 the average users spent almost one hour every day on the platform. The lines between consumer and business use on Facebook are also becoming less important.
A user may use Facebook to stay connected with friends and family one moment, and then use the same service to connect with business partners over an instant message or video call. Facebook's massive user base makes the tools more effective for communications because so many people are already connected. Facebook also benefits from the familiarity users have with the platform, allowing users to experiment with new services easily (Metev, 2019).
Negative Public View of Facebook
While Facebook remains a very attractive solution for many, it faced unprecedented negative public attention from 2017 to 2019 due to privacy concerns. The company ended up paying a record $5 billion in fees to settle privacy concerns with the FTC (Federal Trade Commission). The allegations cited that Facebook had improperly obtained private information from over 87 million users. Because some of this data was used by advertisers during the 2016 United States Presidential election, the negative press has been estimated to cost Facebook $37 billion (Fortune, Kelleher).
Facebook Workplace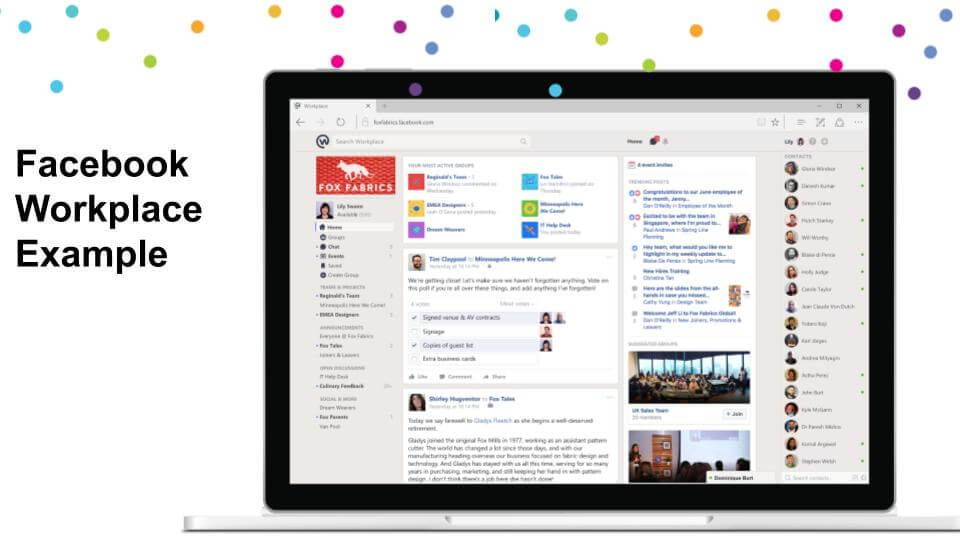 Facebook's Workplace product leverages much of the technology they've developed for public use to give companies a business option and full admin-level controls. The best way to think about Facebook Workplace is a Facebook experience where the only users on the platform are employees of a single organization. The entire Facebook newsfeed is used for company updates, with comments, groups, live streams, instant messaging, and video calling.
While Facebook Workplace does not offer the same type of productivity applications as the G Suite and Office365 it does offer a compelling collaboration space that over 2.5 billion people already know how to use.
So where is Facebook headed? Some would say world domination of online communications. Let's take a quick look at the Facebook Messenger tool to better understand how the private and group communication tool works on the platform. Because Messenger is inside of Facebook, you will need to start by creating an account or logging in with an existing account.
Getting Started with Facebook Messenger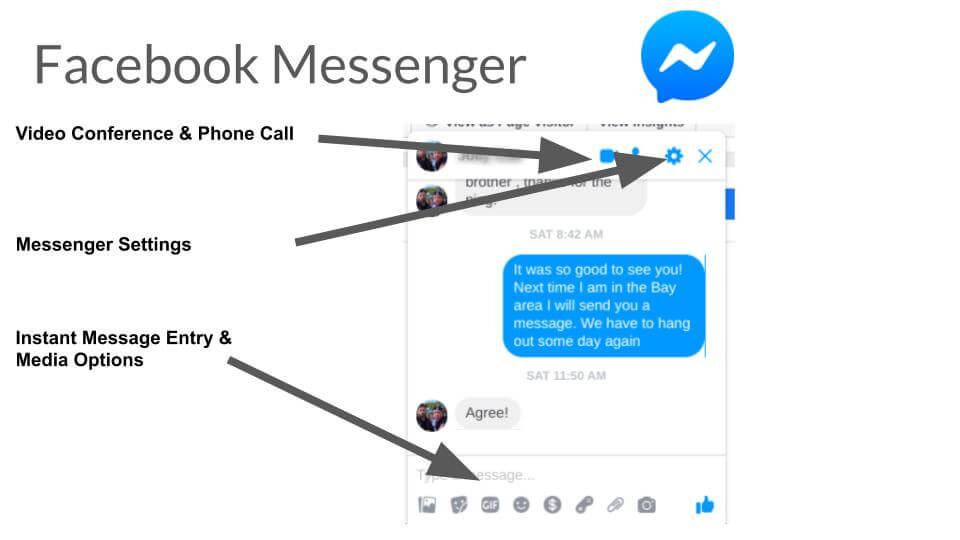 Create an account directly on Facebook.com by filling out the short form. Once you have created an account and gained access to Facebook, connect with other contacts that you wish to communicate with. To find friends you can use the search bar at the top of Facebook. Type in a friend's name and click the search button . To send someone a friend request, click on their picture to view their profile page. On most profile pages users see an Add Friend button at the top of their profile page. The button can also display inside of search results. Add Friend may not display on all user accounts depending on individual user privacy settings. Next to the Add Friend button are three dots that let you send a message directly or send money. Connecting with someone via Messenger doesn't require being friends on Facebook.
Type in a friend's name and click the search button . To send someone a friend request, click on their picture to view their profile page. On most profile pages users see an Add Friend button at the top of their profile page. The button can also display inside of search results. Add Friend may not display on all user accounts depending on individual user privacy settings. Next to the Add Friend button are three dots that let you send a message directly or send money. Connecting with someone via Messenger doesn't require being friends on Facebook.
Messenger is nested at the top of the main Facebook application. By clicking the Messenger Icon users can easily start new messages with their connected friends and with groups of up to 250 members. Messenger can also be used to host video and audio calls for up to 50 members. Click the New Group in the dropdown menu or by clicking the compose buttons from the messenger dashboard to create one.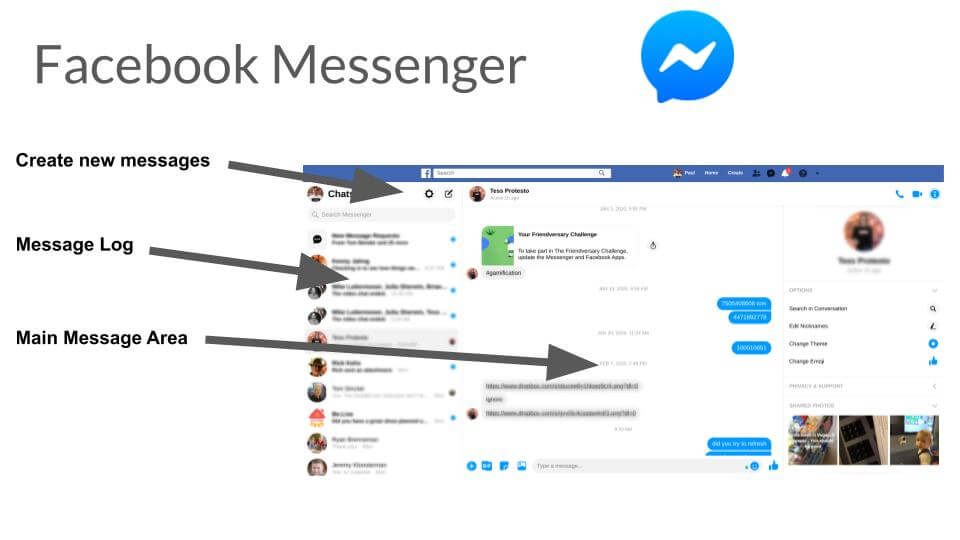 The Messenger dashboard is accessed at "https://www.facebook.com/messages" or by clicking See all in Messengers on the Messenger dropdown menu. The Messenger dashboard lists all of your recent conversations on the left side panel. The center panel is used to display the selected conversation. Messenger can be used to communicate with others directly or in groups with a variety of media types. The most common form of messaging is text messages sent by simply typing into the message area and pressing enter.
Messenger also offers polls, pictures, games, sending money, voice messages, gifs, stickers, and files. Polls are a great feature for learning more about how groups of people feel about a specific question. Games are an informal way to play with friends from around the world. Facebook includes Words with Friends, Quiz Planet, Solitaire, and more. Voice messages are another great way to share media inside of a private message group. If you're familiar with the Facebook newsfeed, Messenger includes almost all of the same options for sharing media.
Messenger is built off of Facebook's friend connection system, but you can also message someone without becoming their friend. Messages sent to users who are not already friends show up in an area called "Message Requests." By responding to a message request you're allowing that person to communicate with you, see your status, and know when you have read messages. You can also click a link in the chatbox to enable I don't want to hear from ______ to and permanently block someone from messaging you.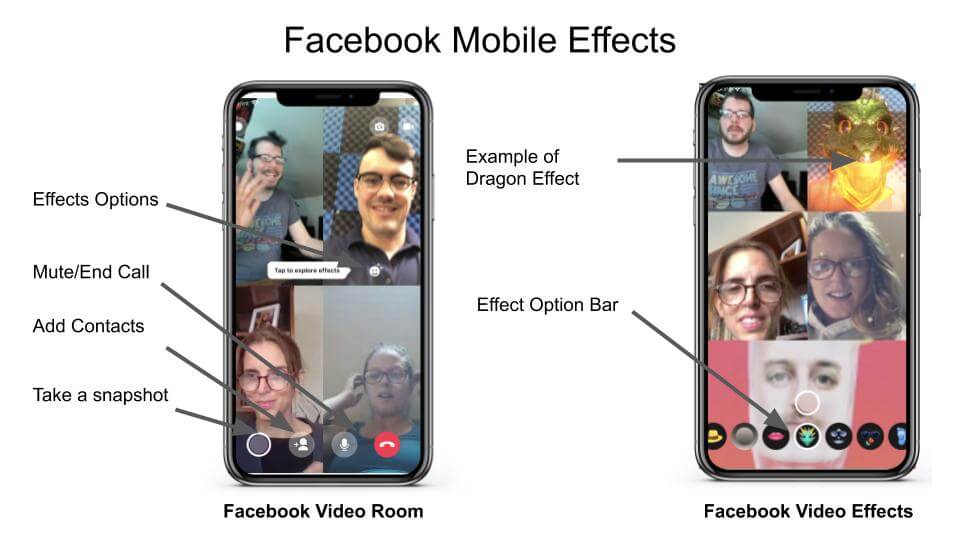 Over one billion active users of Facebook use it on mobile devices. Facebook positioned access to the Messenger platform in the top right corner of its main mobile app. In a web browser, Messenger is accessed directly through Facebook. On a mobile device, access to Messenger is delivered in a separate app so users can switch between the main Facebook experience and a dedicated, direct communications experience. Having two dedicated applications gives mobile users the ability to go directly to Messenger without opening the main Facebook app.
Facebook Rooms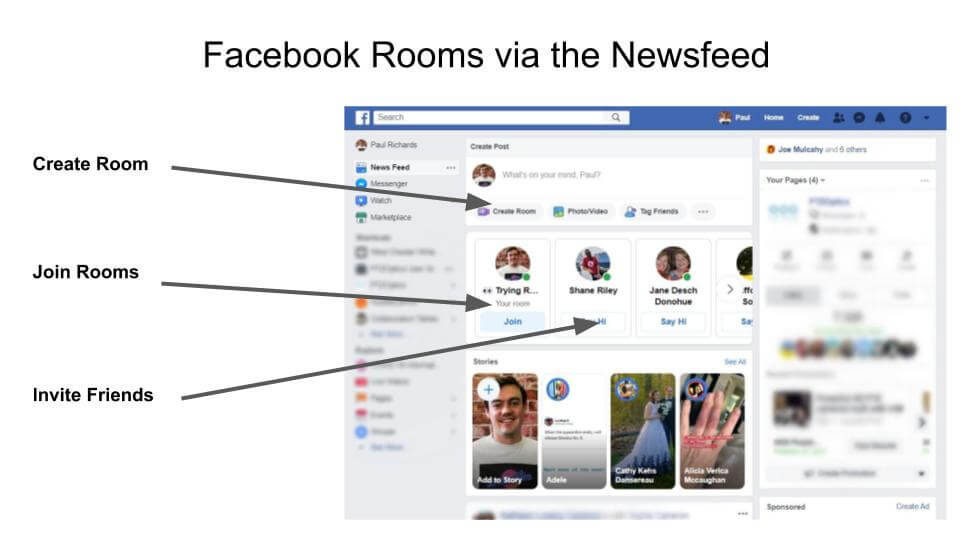 Facebook's latest video communication feature is called Rooms. Rooms are essentially group video and audio chat areas where up to 50 connected friends communicate. As of the publication of this book, Rooms are being rolled out as a feature for Facebook users. Facebook has announced that you can "Create a room right from Messenger or Facebook, and invite anyone to join the video call, even if they don't have a Facebook account. Rooms will soon hold up to 50 people with no time limit." Facebook has also announced functionality to "Start and share rooms on Facebook through News Feed, Groups and Events, so it's easy for people to drop by. "
Creating a Facebook Room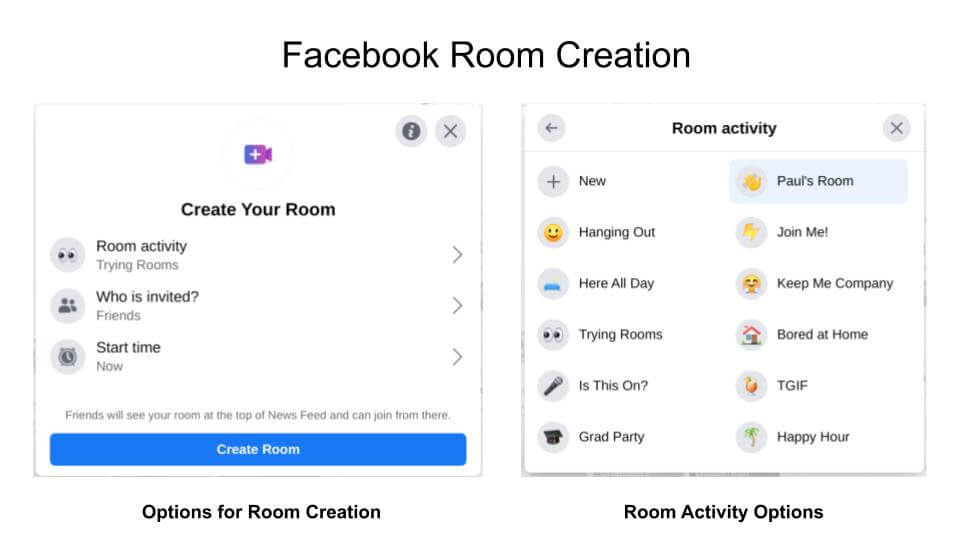 Facebook Rooms has the opportunity to completely change the way video communications happen around the world. Facebook Rooms include the necessities for online meetings such as screen sharing, muting, chat, and two-way communications, but the features that set Rooms apart are designed for consumers.
For example, when joining a room from a mobile device user are prompted to Tap to explore effects. While these effects would be inappropriate for a business meeting, they are highly engaging for friends and family in a casual setting. Effects range from augmented reality filters to interactive mini games. An example of this is the basketball mini game that attaches a basketball hoop to your face and drops basketballs from the top of the user's screen. Users can move their heads to catch falling balls and the game keeps track of the score.
A quick look at Facebook's suggested "Room Activity" options demonstrates some of the popular use cases which include hanging out, grad party, keep me company, bored at home, and happy hour. Once you create a Facebook room, Facebook gives you a link you can share to invite your friends. Facebook can also automate the meeting invitation process allowing you to simply invite all of your Facebook friends or choose specific friends.
Conclusion
From a technical standpoint, Facebook has designed one of the easiest ways to conduct face to face video conferencing. The settings area is simplified into three options: select a camera, a microphone, and an audio output. Next to these options you quickly monitor your microphone levels and choose to play a sample audio clip to test your speakers. At the time of launch, there are six simple keyboard shortcuts. Using the Alt key and a letter key to quickly end a call, enter full-screen mode, share your screen, open the settings, toggle mode, and toggle video.
From a security standpoint, Facebook has designed this tool with three easy to understand security measures. First, Facebook is very clear about who is being automatically invited to your Room. Invite all of your friends or choose specific individuals. Beyond these invitation options, the only way people can find out about your Room is through a secure link that you choose to share. Facebook Rooms also includes a lock room feature, to block any incoming people from joining. Finally, you can also block people from entering your room in the future.
In 2016, Facebook put a "Go Live" button into the hands of billions, completely changing the live streaming and broadcast industry. In 2020, Facebook released a video conferencing solution that is unique in the way it blends social media with online video calling. By allowing users to share video conferencing spaces inside of social media feeds, Facebook automated the invitation process most other video communication solutions required. Similarly, Facebook Rooms can be started in a newsfeed to automatically open invitations to friends in a user's network. Rooms can be started in public groups or events to disseminate invitations even further.
While Messenger remains useful for private messaging and video calls, Facebook's social sharing ability is the reason Rooms is poised to revolutionize video communications. There are few companies in the world with the user base or platform to connect friends, families, peers, and connections the way Facebook can. While Facebook Rooms may seem like a consumer tool, there are numerous business use cases for it as well. Look for updates to this book as Facebook releases enhancements and new features to Rooms.
In the next section, you will learn how to become more productive in online meetings.
[xyz-ihs snippet="Online-Meetings"]