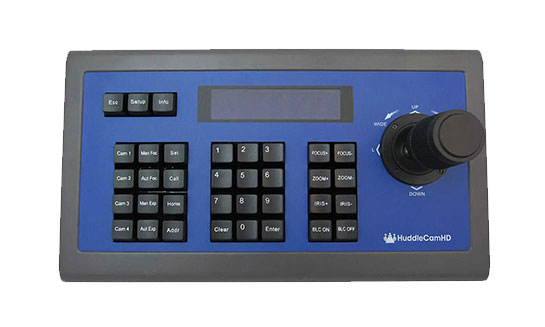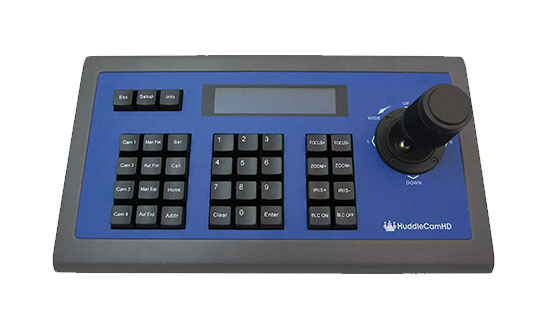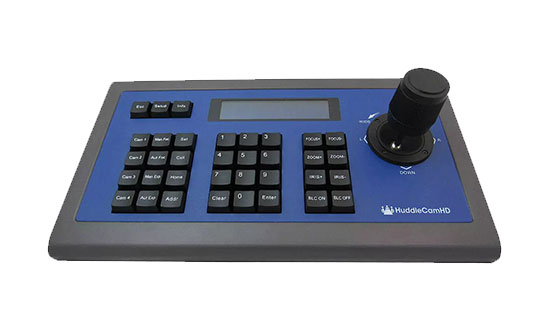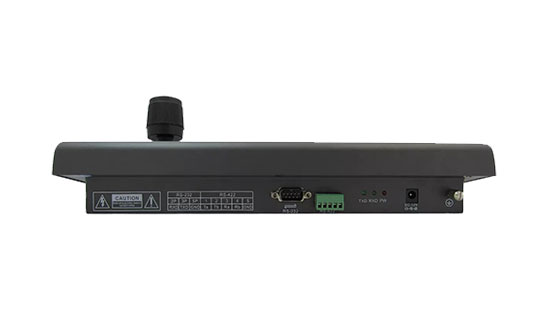 Introducing the new
HuddleCamHD Joystick
Introducing the re-designed HC-JOY-G2 PTZ joystick controller from HuddleCamHD. This second generation joystick includes everything you loved about our 1st generation joystick with signifigant improvements for user experiences.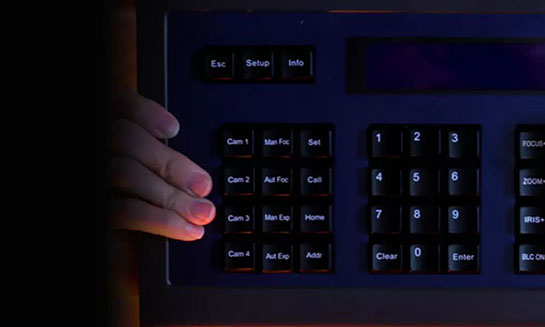 Four Quick Camera
Select Buttons
Designed with a wide variety of PTZ camera operation environments in mind, the second generation joystick now features four quick camera select buttons on the left hand side.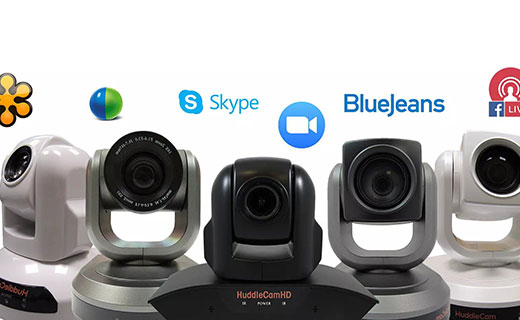 All HuddleCamHD cameras have been designed for plug and play compatibility with web-based video conferencing software such as: Skype, GoToMeeting, WebEX or Zoom. Enjoy seamless integration even with live streaming applications such as Facebook Live.
Durable Metal Housing
VISCA, PELCO-P & D
RS-232, RS-422, & RS-485
On Screen Display
Variable Speed PTZ control
Iris, Focus, Home, Backlight, & Preset controls
4 Camera quick select buttons
Activity LEDs
Easy setup
Three-Axis Joystick
No more useless buttons!
2 year warranty
Technical Specifications:
Connections: RS-232, RS-485, RS-422

Baud Rate: 1200-19200 bps

Interfaces: DB9 RS-232; 5SCT RS-485/RS-422

Maximum Cameras: Control up to 255 Cameras

Maximum Presets: Up to 255 Presets

Maximum Distance: 3,937′ (1200m) using 24 gauge twisted pair

Power: 6W (12VDC)

Working Temp: 14°F – 122°F (-10°C – +50°C)

Working Humidity:

Weight: 3.4 lbs | 1.6 kg

Dimensions (in.): 12.6″(W) x 7.1″(D) x 4.3″(H)

Dimensions (mm.): 320mm(W) x 181mm(D) x 110mm(H)
Windows 7/8/8.1/10

Mac OS X

Acano

Adobe Connect

Blue Jeans

Cisco Jabber

Cisco WebEX

EasyMeeting.net

Facetime

Fuzebox

Google Hangout
GoToMeeting

Lifesize

Microsoft Lync

MeetFree.US

Polycom RealPresence

Radavision

Spontania

Skype

TurboMeeting.US

Vidyo

VSee

Zoom.US
Please welcome our newest addition to the HuddleCamHD family, the HC-JOY-G2!  We added multiple upgrades to it's predecessor. Take a look below!
HuddleCamHD cameras are the perfect cameras for professional video conferencing. Designed with a wide variety of conferencing setups in mind, there is a HuddleCamHD solution that will work for most situations. Offering superior quality at an affordable price, the entire HuddleCamHD line of cameras is easy to setup and ready to use in a matter of minutes.
PTZ Camera Operation

2 Year Warranty

Low Latency

Power Supply Included

Plug and Play

Universal Compatibility

So far I really like the camera – we use it for streamed classes in a room of 20-30 people. It allows our teacher online to see everyone in the class without me getting up to 'steer' a camera angle
- Keith Melaas, Oxford, MI USA

Easy setup, works a treat (very clear) with Vidyo, Skype etc. Lots of useful functions, pan, zoom etc. with a good sized remote.
- Alan Courtenay from Auckland, New Zealand

We've been installing these for a couple of years so far, and they've been great. These nicely fill that niche between the clip-on 'skype' cams and the super high-dollar cameras that are simply more than many offices require. Always speedy delivery and we have yet to see a defect with a single camera.
- Dave - Metro A/V from Herndon, VA United States