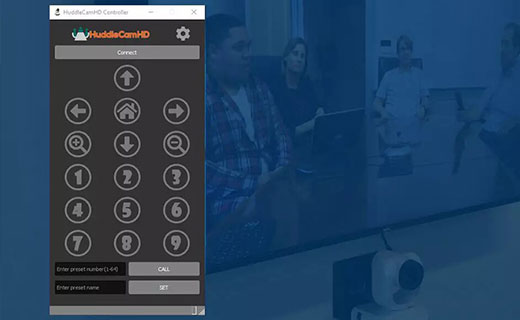 HuddleCamHD PTZ
Camera Control Application
Requirements for Installation:
20 Mb of available hard drive storage
Windows 7/8.1/10 OS
Mac OSX (NOTE: When using a Mac computer with a HC3X-xx-G2, HC10X-720-xx or HC10X-USB2-xx, be sure to install this "CH341SER" driver. This process is outlined in the application's manual.
Pan, Tilt and Zoom Controls
Includes individual speed adjustments
Invert controls for ceiling mounted cameras
Set & Call up to 64 Presets
Name first 9 Presets
Option to run at start up
Option to run as administrator
Option to start on preset
Manual selection of COM Ports for camera swapping
Adjustment of Baud Rate
This software lets you control most features from inside a HuddleCamHD camera. It utilizes the camera's VISCA over USB capabilities, giving you a reliable connection to control your camera(s) over the same USB cable used for video.