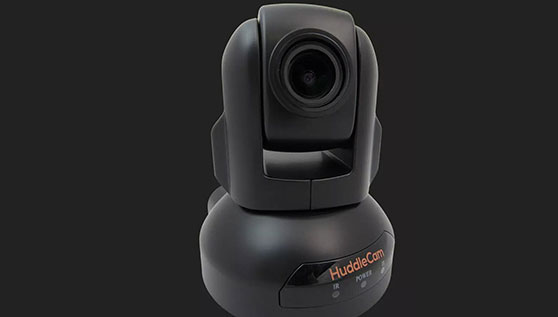 Introducing the new
HuddleCam 3X
Totally re-designed with a wide 82° field of view and 3X optical zoom. With a USB 2.0 video connection, this conference camera is ideal for virtually any meeting software used in a small to medium sized room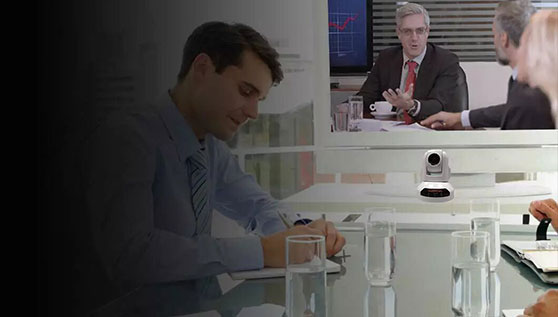 Affordable Video
Conferencing is Here
Designed with a wide variety of conferencing setups in mind, the HuddleCamHD 3X is ideal for small to medium sized conference rooms using a Mac or PC computer with web-based video conferencing / live streaming software.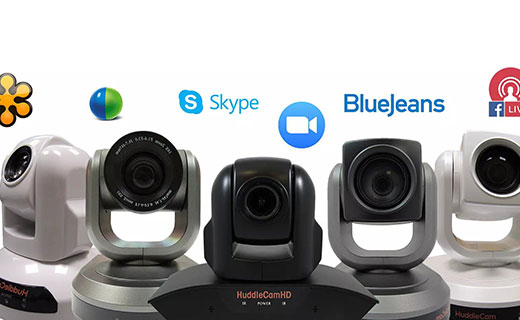 All HuddleCamHD cameras have been designed for plug and play compatibility with web-based video conferencing software such as: Skype, GoToMeeting, WebEX or Zoom. Enjoy seamless integration even with live streaming applications such as Facebook Live.
Frame Rate: 30fps 1920 x 1080p
Lens Zoom: 3X Optical Zoom f=3 – 10mm F1.6
Video CMOS Sensor: 1/2.7" CMOS, 2.1 Mega Pixel
Pan Movement: ±359°
Tilt Rotation: Up: 90°, Down: 45°
Presets: 64 Presets
Video Signal: USB 2.0
Field of View: 36°(tele) to 82° (wide)
Power LED: Blue LED to signal power
Control: IR Remote, RS-232 in, & RS-485
Color: Black or White
Warranty: 2 Years parts and labor
Technical Specifications:
Baud Rate: 9600 bps

Controller Signal Config: Dip-Switch Pin 8/TTL Signal

Input Voltage: 12V DC (10.5-14V DC)

Input Power: 24W (Max)

Power Supply Adapter: 12V DC 2A

Operating Temperature: 32°F to + 113°F (0°C to 45°C)

Material: Aluminum, Plastic

Weight: 1.66 lbs (.75 kg)

Dimensions: 4.88"W x 5.5"H x 4.75"D (6" H w/ tilt up)

(W x H x D) mm: 124mm x 139mm x 120mm (152mm H w/tilt up)

Boxed Weight: 3.66 lbs (1.66 kg)

Box Dimensions: 8.75" x 8.88" x 7" (222mm x 225mm x 178mm)
Windows 7/8/8.1/10

Mac OS X

Acano

Adobe Connect

Blue Jeans

Cisco Jabber

Cisco WebEX

EasyMeeting.net

Facetime

Fuzebox

Google Hangout
GoToMeeting

Lifesize

Microsoft Lync

MeetFree.US

Polycom RealPresence

Radavision

Spontania

Skype

TurboMeeting.US

Vidyo

VSee

Zoom.US
SKU
UPC
MSRP
HC3X-BK-G2 (Black)
615953137392
$439
HC3X-WH-G2 (White)
737993157762
$439
HuddleCamHD cameras are the perfect cameras for professional video conferencing. Offering superior quality at an affordable price, the entire HuddleCamHD line of cameras is easy to setup and ready to use in a matter of minutes.
High Definition

2 Year Warranty

Wide Angle Lens

Power Supply Included

Plug and Play

Universal Compatibility

So far I really like the camera – we use it for streamed classes in a room of 20-30 people. It allows our teacher online to see everyone in the class without me getting up to 'steer' a camera angle
- Keith Melaas, Oxford, MI USA

Easy setup, works a treat (very clear) with Vidyo, Skype etc. Lots of useful functions, pan, zoom etc. with a good sized remote.
- Alan Courtenay from Auckland, New Zealand

We've been installing these for a couple of years so far, and they've been great. These nicely fill that niche between the clip-on 'skype' cams and the super high-dollar cameras that are simply more than many offices require. Always speedy delivery and we have yet to see a defect with a single camera.
- Dave - Metro A/V from Herndon, VA United States