Hybrid Learning Gets Leg Up with HuddleCamHD & Epiphan
Hybrid learning and high-flexibility classrooms are likely not going away, especially for higher education students who will continue to look for a variety of ways to complete coursework. As a technologist, I love getting into the nitty gritty tech of the gadgets and gear that help us all better connect. However, I recognize that for educators, their mission is to teach and connect with their students. With this in mind, I make it my mission to make technology understandable and easy to implement.
On the first Friday of each month, my team and I host a live-streamed technology show to educate our viewers, while highlighting some of the interesting integrations we've been working on for our customers. Recently, we worked with our friends at Epiphan to showcase the Epiphan Pearl Nano, a video hardware encoder that integrates nicely with our HuddleCamHD SimplTrack2 auto-tracking camera. These two products provide valuable, easy-to-implement solutions for schools of all sizes.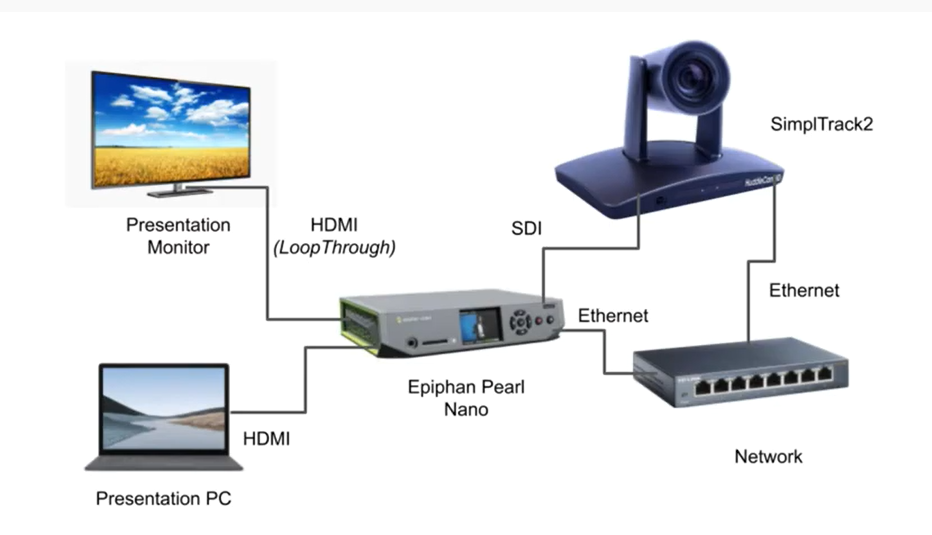 Simple Solutions for Education
Today, as K-12 and higher education institutions throughout the world continue to rely on hybrid learning environments, this duo provides a simple, effective yet strong solution. For educators and hosts of live, virtual events, automation is possibly one of the most appealing selling points. These two products provide users with the ability to professionally live stream, record, schedule and deliver content. For hybrid events that will likely be here for the foreseeable future, these solutions will remain integral for production teams.
Let's break down both and their ease of use for a variety of scenarios.
HuddleCamHD SimplTrack2
Designed to simplify lecture capture, town hall meetings, conference recordings or worship streaming, the SimplTrack2 is the most advanced and reliable auto-tracking camera on the market. SimplTrack2 is a pan, tilt, and zoom USB camera that provides robotic auto-tracking of a presenting subject. We know that solutions for the education market need to be simple, and this solution provides that simplicity. No camera operator is required for the SimplTack2 to track and follow a presenter from up to 55 feet away.
The SimplTrack2 uses 3G-SDI or IP streaming for crystal clear video. Equipped with 20X optical zoom, the camera was designed to reliably track subjects at distances up to 55 feet away. The SimplTrack2's set-and-forget programming allows users to place and configure the camera once, and thereafter completely automates camera control. Users can easily set up zones that they don't want the camera to track, such as entryways, televisions, or other areas where distracting motion occurs.
Offered at $2,999, the HuddleCamHD SimplTrack2 comes with a one-year warranty, an IR Remote, USB 3.0 cable, RS232 control cable, power supply and User Manual.
Epiphan Pearl Nano
The Epiphan Pearl Nano is a full HD encoder with professional audio support via dual XLR, RCA, and USB inputs. The Epiphan Pearl Nano, offered at $1,495, is the most compact of the Pearl family, providing:
Professional video and audio inputs (HMDI, SDI) and (XLR, embedded audio)
A two-inch touch screen on the device to use for confidence monitoring
Flexible storage options for recording (SD slot: storage)
Power over PoE Plus (power over Ethernet)
Record and stream with the Pearl Nano, while scheduling lecture capture through popular lecture capture systems, Panopto or Kaltura. This creates a nearly automated experience. Once configured, commands can be triggered, making it an easy set-and-forget solution. This provides professors with the best capabilities to deliver their lectures to either in-class or remote students.
To learn more about live streaming and recording classes, sign up for SimplTrack2 demo here.