Enhancing Online Meeting Experiences
Transformational experiences have been studied for many years, especially in the events industry where consumers regularly pay to attend experiential events. Joseph Pine, the author of The Experience Economy, writes about the process of capturing attention to cultivate a transformative. The highest level of meeting engagement invokes a transformational experience for attendees. While this may seem like an experience reserved for a weekend of inspirational seminars or a retreat, this chapter will encourage you to think about meetings as mini-transformational opportunities.
Focus on the Experience during Online Meetings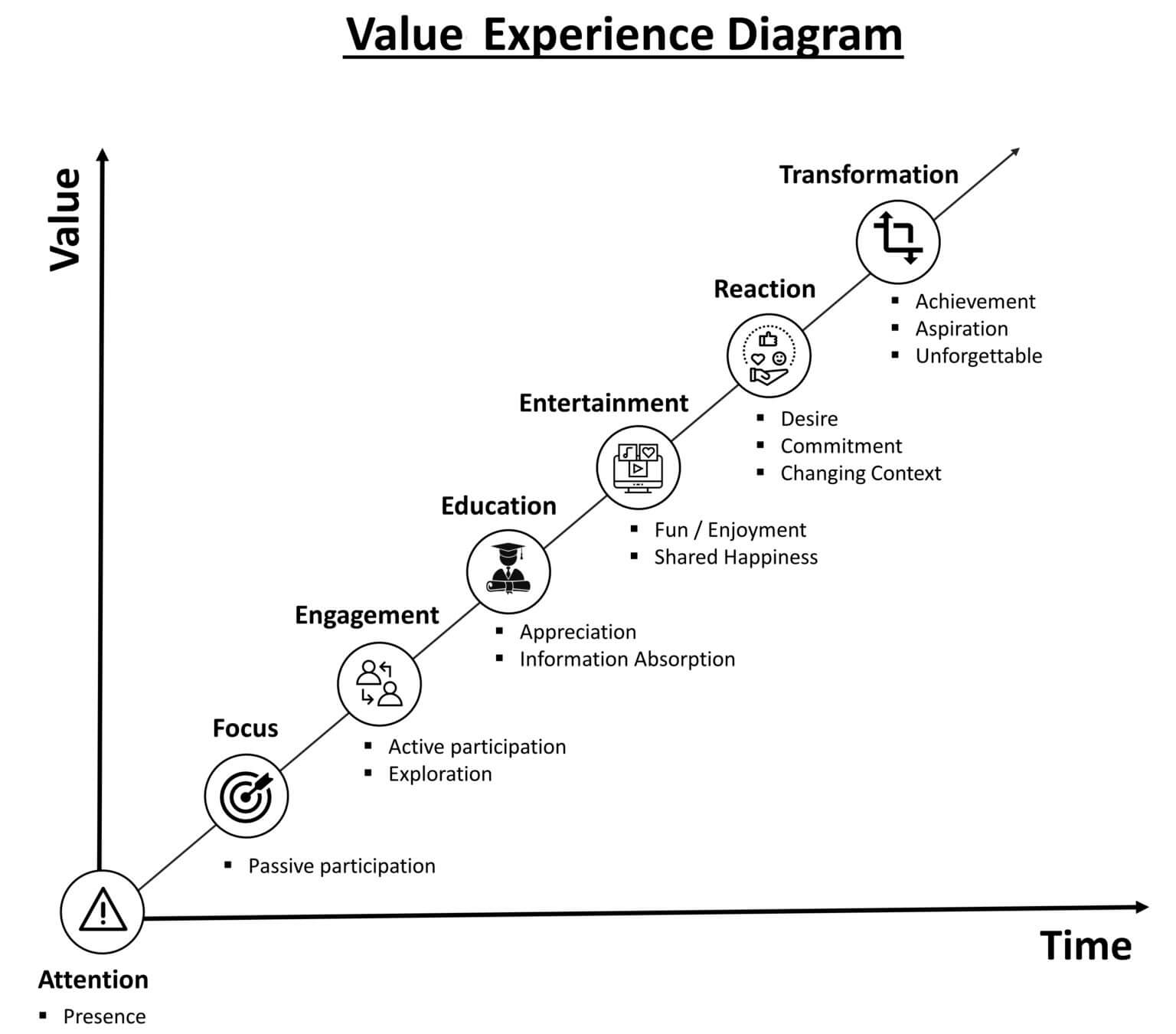 Online Meeting Experience Values
As meeting members spend time together, attention and focus are foundational to engagement. Perhaps the easiest way to conceptualize the idea of invoking engagement in an educational setting is a new term, Edutainment. Edutainment is a process of education that uses entertainment to engage audiences to educate them in the process. This magical intersection between education and entertainment is where meeting participants are inspired to make a change in their own lives. As meetings progress, a good host will encourage engagement and may tailor their approach depending on the type of education that is planned. A good meeting host will plan out simple, but engaging points that have the power to edutain. For example, a short quiz with a funny but relevant question can help to "edutain" an audience.
Most meetings will start with passive participation which can naturally evolve into active participation as the meeting progresses. For example, passive meeting engagement may start with a personal notepad in which attendees write down ideas about questions they may want to ask later in the meeting. Active participation involves asking questions about the content. New collaboration tools can push active engagement to the forefront of meetings with whiteboarding and annotation.
As the educational process in a meeting naturally progresses, a reaction from meeting participants can take multiple forms. A positive reaction from meeting participants involves a feeling of connection and shared vision. Leaders can reinforce a sense of shared vision by the equity of voice inside a team conversation. Another positive reaction is a feeling of inspiration which could lead to an internal commitment to change for the better.
For example, houses of worship may deliver a Sunday service to a large group but afterward break out into smaller groups for spiritual sharing. Inside of these smaller groups meeting attendees can get to know one another better and feel more comfortable opening up. All transformations are personal experiences. Productive meetings can use personalized context to unveil positive reaction opportunities for meeting participants. If a transformation in meeting participants is reached, it will likely include the feeling of achievement and the sharing of aspirations for the future.
This could be described as the "AHA" moment that helps you turn a corner with the help of a new perspective that was shared during the meeting. In an upcoming chapter, you'll learn how social facilitation can be used to share positive feelings and increase an individual's responsibility to perform in a group setting.
Online meeting experience stages
While transformations are highly personal experiences, they are shareable. If meetings take place in a comfortable setting and context, personal experiences can have a significant impact on others when shared. Many people may not feel comfortable sharing their personal experiences in large groups. Consider the use of breakout sessions to break larger groups into smaller, more intimate gatherings.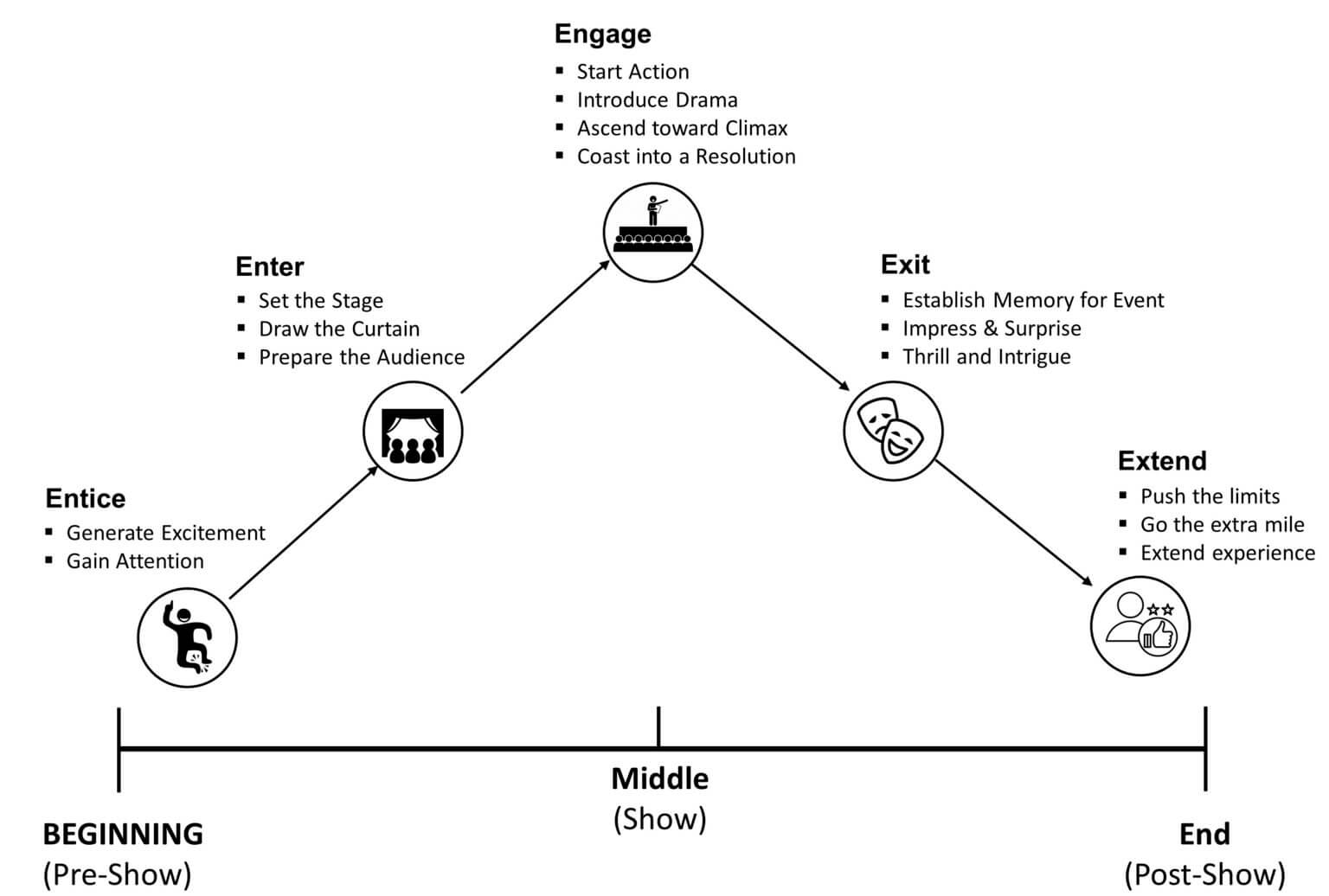 online meeting experience stages
Structure meetings with a distinct beginning, middle, and end to facilitate the possibility of transformation. The beginning of a meeting starts long before everyone gets together for a video conference. The official beginning of a meeting starts with the meeting invitation to all participants. The invitation is your opportunity to entice meeting participants with an exciting agenda and set the tone for the meeting.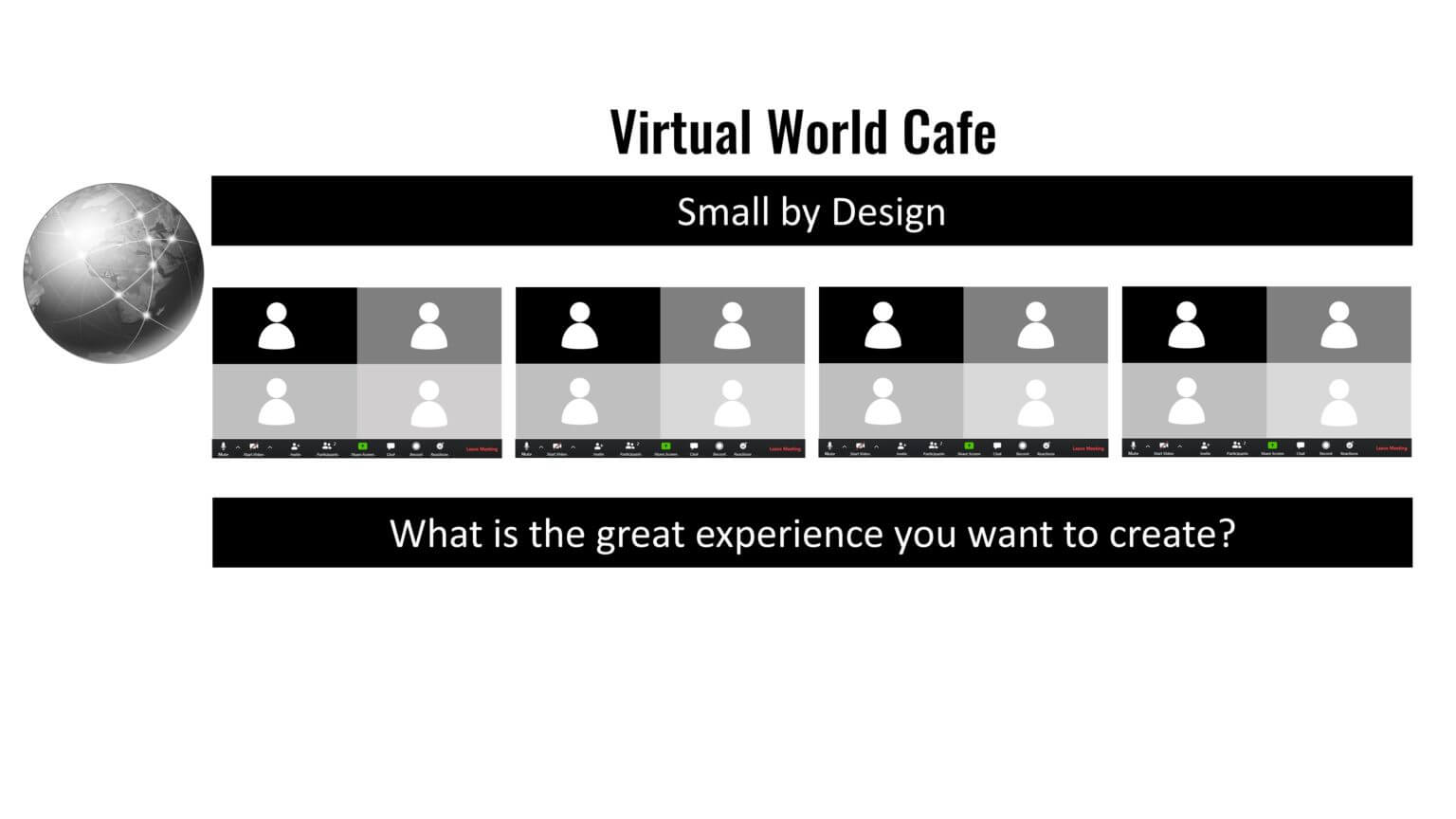 One exercise that's used in many virtual events is called the "Virtual World Cafe" which breaks large meetings down into smaller groups of four people. The idea is to have one meeting host who can have three people join them in a set number of rounds. The idea is a little bit like speed dating in groups. Every 15 to 20 minutes three meeting attendees are rotated between new break out-groups. The host of each small group is responsible for sharing the most powerful ideas from their previous world cafe experience. This way, new people can meet in small groups, and the best ideas are continually shared from past meetings.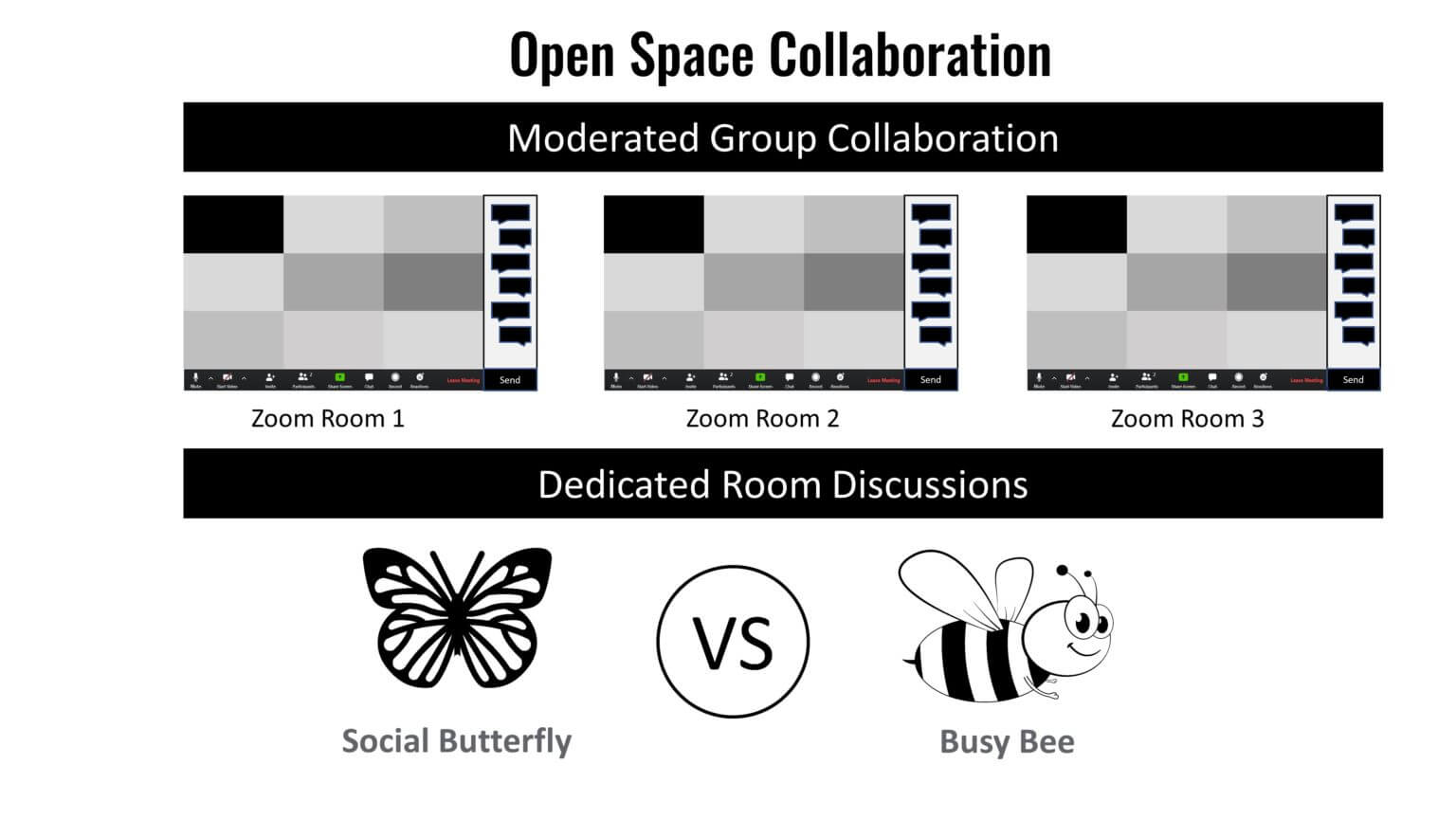 Open Space Collaboration Groups
Another popular collaboration meeting experience is called "Open Space Collaboration" which is an organization of multiple independent meeting spaces that attendees are encouraged to jump between. The idea of having multiple conversations going on at the same time allows participants to join each meeting like a social butterfly or dig into a meeting like a busy bee.
Both collaboration meeting concepts, Virtual World Cafe and Open Space Collaboration, are modeled off of in-person group experiences. As you will already know, reviewing the same weekly or monthly business-related presentation can naturally become boring over time. Trying out new innovative ways to stimulate collaboration is a great way to get groups to use the technology productively. In psychological studies, this is known as the Goldilocks effect.
Many traditionally boring aspects of a business are being reinvented to promote education through entertainment with a process called gamification, a highly effective way to promote active learning through the use of a game. Gamification takes the competitive elements of a play and applies content into a fun activity. For example, large meetings and conferences often utilize live trivia events to promote active learning. Live trivia is a great way to leverage a healthy level of competition during meetings.
Two companies that offer online trivia management systems are Crowdpurr and Kahoot. They can be used to host live voting, quizzes, competitions, and much more. Competition has a motivational influence on people by resetting the way they reference themselves against the larger group. Sales competitions, for example, are a proven tool for motivating sales employees to reach their goals using a reward system.
While gamification and sales competitions may motivate some, Jonah Berger, the author of Nudge, notes that "if not carefully designed, social comparisons can lead people to get disheartened, give up and quit." The winner-take-all model can motivate people who have a chance of winning, but it can often leave the rest of the pack behind. Tweak your gamification efforts by breaking up groups of people into smaller breakout session meetings. This way, you can moderate and manage comparison sets that employees use to gauge themselves. The focus should be on healthy competition that encourages productive engagement. Bringing together specific sets of people in small groups helps motivate people to work harder without ostracizing anyone for staying at the bottom of the leaderboard. Peer pressure can be a tool used for good, but it needs to be managed.
Social facilitation helps teams build commitment for shared projects and responsibility for showing up and getting the job done. Berger's research clearly shows that peers can help motivate each other to work harder. The mere presence of peers can make it harder for someone to give up on a project. Managers can leverage the power of group presence with online communication to maintain social facilitation even with far-flung teams spread around the world.
Use a scorecard during meetings to keep teams accountable while keeping the process light and fun. Custom scorecards can be created for managers who work with their teams on specific projects. Managers can use scorecards with five to ten data points to keep track of team goals and organize progress reports that can be shared with online collaboration platforms.
For example, you may archive your meeting notes in a folder on Google Drive or Microsoft OneDrive. Inside of your meeting notes you can include data from your meeting scorecards and reference historical data for learning purposes. Then, when you share your meeting notes using an online collaboration platform such as Google Chat, Discord, Microsoft Teams, or Slack, the information is already organized and ready for collaboration.
You can also streamline collaboration by organizing meeting notes and sharing information in team communication channels. Collaborating efficiently requires an upfront understanding of who may benefit from the collaborations and who may not. Information like meeting notes and scorecards should be shared with stakeholders' managers deem essential to the collaboration process.
Once your meeting is coming to an end, it's ideal to plan a memorable meeting exit. A well-planned "exit strategy" should support or reinforce the goals established by your meeting agenda. The end of the meeting is a great time to give co-workers validation for a job well done. If you have a compelling call to action that you are saving for the end of your presentation, consider revealing it within a specific unified collaboration channel. For example, perhaps you have a blog post that summarizes your thinking on a particular subject you're meeting about. Consider posting a summary in a Slack channel with a link to the entire blog post right after your meeting. For example: "A summary of our findings will be posted in the 'blank' Slack channel. Please feel free to push the conversation forward there if you have additional thoughts over the next couple of days."
Thinking through your exit strategy is a great way to conclude meetings with purpose. Consider promoting forward-thinking ideas that can be used to summarize your meeting's purpose and encourage collaboration on priority projects.
The role of small group meetings
Malcolm Gladwell expanded upon the idea of social facilitation in his book The Tipping Point in a few important ways. Gladwell studied Methodism's founder John Wesley, and his 4,000-mile journey over horseback meeting with small groups. Wesley traveled from town to town and stayed in each town long enough "to form the most enthusiastic of his converts into religious societies, which in turn he subdivided into smaller classes of a dozen or so people," according to Gladwell. Each small group was encouraged to attend weekly meetings and live by the strict Methodists standard. Gladwell notes that "Wesley realized that if you wanted to bring about a fundamental change in people's beliefs and behaviors… you needed to create a community around them."
In the next chapter, you'll learn why small groups are so effective for communications and you can learn how to organize your online communication channels.
Get More Out of Your Meetings