Priced at Only $339 for affordable video conferencing!
The HuddlePod Air provides high quality audio conferencing without cumbersome wires draping over your conference room floor. With 256 channels of echo cancellation and full duplex audio conferencing, your conference calls will sound crystal clear.
SKU: HP-AIR-BK (Black)
UPC: 053176516271
MSRP: $339

SKU: HP-AIR-WH (White)
UPC: 737993158592
MSRP: $339
Wireless USB Connection
Completely wireless USB 2.0 connection with a 30′ range over 2.4 GHz (Up to 10 times more bandwidth than Bluetooth!)
Easy Set Up
With HuddleCamHD you are getting the easiest solution possible. Simply plug your camera into your computers USB port and start your video conference.
Echo Cancellation
256 channels of echo cancellation to ensure your system will work flawlessly.
Long Lasting Battery
Talk for up to 7 hours on a single charge with your HuddlePod Air.
Use your favorite software

Works with virtually every online video conferencing software with no need for additional drivers or proprietary connections.
12′ Microphone Pick Up
Pick up your entire table with a 12'x12′ pick up range with crystal clear audio.
Robust Audio Output
Hear the far end clearly with our intelligent noise cancellation, digital EQ and powerful audio output.
3 Year Warranty
Take advantage of the industries best 3 year warranty.

Download the HuddleCamHD camera catalog!



 Features
Connection: Wireless USB 2.0 receiver
Noise Cancellation: Intelligent NC up to 16db
Echo Cancellation: 256 Channel echo cancellation
Battery Life: 7 Hours, 4-5 hour charge time
Warranty: 3 years
Technical Specifications
RF frequency range: 2.400 GHz~2.4835 GHz
Audio Output: 1/8" TRS headphone
Power LED: Blue LED to signal power
Digital EQ: Built-in Digital EQ for stable audio
Working environment: Temp 0~40°C, Humidity 20%~85%
"This wireless speaker phone has been very easy to use and setup. The sound quality on the speaker and microphone is excellent."

− Steve Burgess from Lewisville, TX United States
"Purchased these wireless speakerphones for our conference rooms. Highly recommended, outstanding.."

− Ken Moody, from Seattle, WA United States
"This microphone solves a huge problem for us when it comes to cabling in our rooms. The audio sounds great and it's a really reliable unit."

− Phil Shoop from Coatesville, PA United States
"The audio quality is great and this microphone can take a beating without breaking! It's a rock solid design!"

− Jonathan Vineyard from Millville, NJ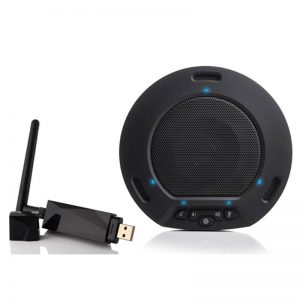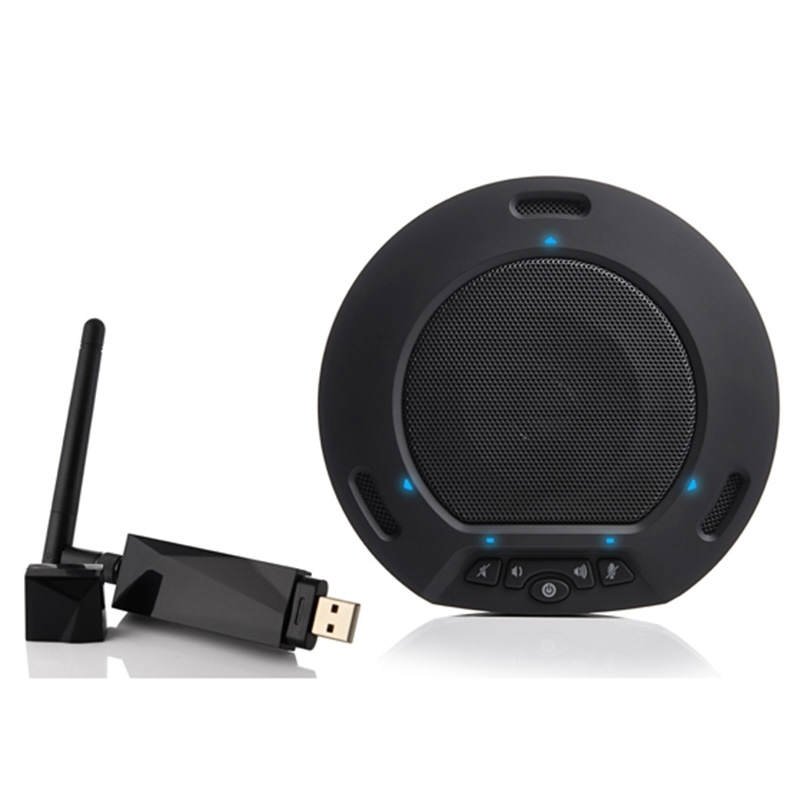 The ideal wireless plug and play microphone
Get the clutter off your conference room table! The HuddlePod Air is a 2.4 GHz wireless audio conferencing speakerphone, designed to work with any UAC compatible software (e.g. Skype, Lync, Webex, GoToMeeting, Zoom.US, Jabber, Spontania, etc…). Whether Win 7, 8, 8.1, or 10, connect the receiver antenna to a USB port and you are ready to go with Full Duplex audio for all of your conferencing needs. Ideal for 1-10 person tables. Built-in automatic DSP and EQ: 256 channel acoustic echo cancellation, up to 16dB noise cancellation and auto level control. 360 degree, omni-directional pickup. Ships with wireless receiver and antenna, neoprene travel case, protective cap for receiver USB plug and USB charging cable. Simultaneous 3.5mm audio output jack on speakerphone for headphones or additional amplification (of far-side) by an external system.
Perfect with the HuddleCamHD 3X!
The HuddleCamHD 3X and the HuddlePod Air provides the perfect companion items for any video conferencing set up. The Gen 2 HuddleCam 3X now has a ultra wide 74 degree field of view and 3 times optical zoom. Pair that with a completely wireless USB 2.0 speakerphone with a 12′ pick up range and you have everything you need for a easy to use video conference system. Both devices plug directly into your computer via USB and you have a high power camera and microphone for GoToMeeting, WebEX or Skype for Business. Together the HuddleCamHD 3X and the HuddlePod Air cost only $698!


Join our live Webinar this Friday!



Compatibility:
*The HuddlePod Air is compatible with Linux, OS X, & Chrome OS as long as the speakerphone is constantly connected to USB power for charging.
Acano
Adobe Connect
Blue Jeans
Cisco Jabber
Cisco WebEX
EasyMeeting.net
Facetime
Compatibility:
Fuzebox
Google Hangout
GoToMeeting
Lifesize
Microsoft Lync
Polycom RealPresence
Radavision
Skype
Vidyo
VSee
The HuddlePod Air is the ideal portable and wireless USB microphone. With a full-duplex omni directional microphone the HuddlePod Air takes advantage of a direct 2.4GHz wireless USB receiver. No more work pairing bluetooth devices with a low quality audio connection. This wireless connection will change your opinion on "Wireless USB Microphones". Simply turn on the speakerphone, plug in your wireless USB receiver and you are ready to go. Your favorite web video conferencing software will automatically recognize the "HuddlePod Air" as your USB microphone device. It's time to get rid of those messy cables and use a wireless USB speakerphone that works reliably!
Video Conferencing Accessories
7 Hour Talk Time | USB 2.0 Wireless Receiver | Full Duplex w/ echo cancellation

Professional Wireless USB 2.0 Speakerphone using a discreet 2.4GHz connection for high quality performance during online video conference calls... Much better than Bluetooth!
7 Hour Talk Time | USB 2.0 Wireless Receiver | Full Duplex w/ echo cancellation & audio extension unit

Professional wireless USB 2.0 speakerphone using a discreet 2.4GHz connection for high quality performance. Includes a wireless audio extension to feed audio into existing amplifiers or audio systems.
Complete Broadcast Camera Controls | Patented PresetVisualizer | RS-232 to USB Control Software

Rocosoft Virtual Control Software provides broadcast level controls for PTZ cameras. The patented PresetVisualizer allows for camera preset controls with the click of a mouse to any position in view.
Physical 3D Joystick Controller | Control any VISCA Camera | Durable Metal Housing

The HuddleCamHD Joystick Controller provides 3D Pan Tilt and Zoom controls along with fine tune settings for iris, focus and more. Control up to 255 cameras using RS-232 and VISCA protocol
Check out our new complete systems!
Designed for small conference rooms with users in mind.
TEAM VCS kit designed for huddle rooms with 1-6 users
Designed for medium sized conference rooms with users in mind.
TEAMPLUS VCS kit designed for conference rooms with 4-10 users