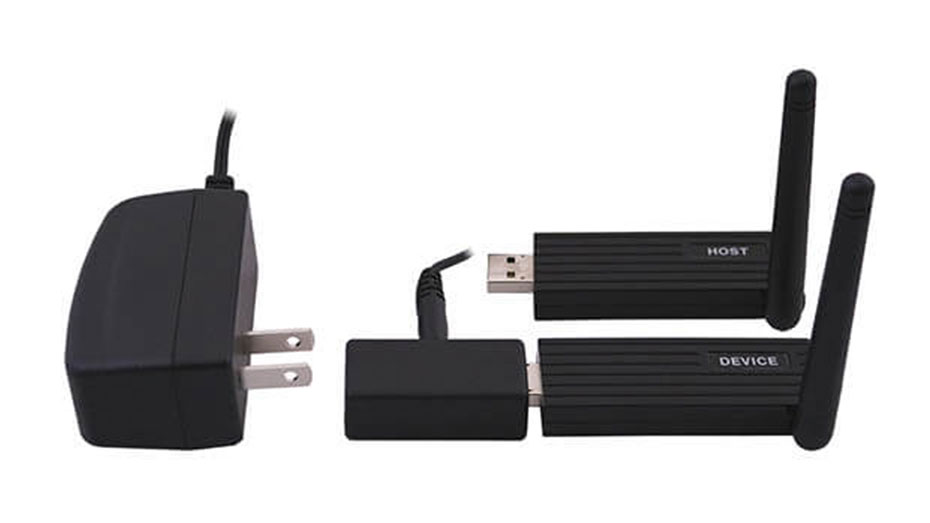 Wireless
USB 2.0 Extension
Designed with a wide variety of conferencing setups in mind, the USB2Air is ideal for small-to-medium-sized conference rooms extending USB 2.0 signal up to 25′.
FCC Certified to wirelessly transmit 1080p video, audio and/or data up to 25′ between wireless transceivers
30Mbs of available bandwidth (shareable between multiple devices – See Bandwidth Chart below)
Less than 1ms of latency (ideal fo video conferencing, virtual reality, image magnification and other real-time applications)
Works with any Windows 7, 8, 10 computer
Eliminates the need for expensive USB extension cabling in small/medium sized rooms
Includes a 1-year warranty from HuddleCamHD

Wireless USB 2.0 vs USB 3.0
Lead engineer Matthew Davis released the HuddleCam Air in 2015  providing a 1080p 30fps wireless USB 3.0 video signal up to 50 feet between a camera and a wireless receiver. The HuddleCam Air was well received, confirming the demand for wireless USB video products in the ProAV and video conferencing market. Now, Davis takes the same technology, with major improvements, to market as a stand alone wireless USB 2.0 adapter. The USB2Air features just 1-millisecond of added latency for a truly "latency free" wireless USB backbone. Davis designs Point-to-Point (P2P) systems that support a one Host module and a one Device Module that include a USB hub (usage limited by overall bandwidth). Up to four USB2Air devices can operate in a single room without interference because of the wireless USB 2.0 channel hopping technology that's built-in to every unit.
Wireless USB 2.0 Video Adapter
USB 3.0 and USB 3.1 are becoming the standard for super fast bandwidth speeds. Yet, USB 2.0 is still commonplace for millions of devices manufactured today. The USB2Air supports high definition 1080p video products like webcams and virtual reality headsets and also lower bandwidth products like USB audio conferencing phones. The use cases for Wireless USB 2.0 are clearly wide open: from video conferencing, telemedicine, virtual reality, immersive technology and professional technology integration. The USB2Air supports up to 30 Mbps of bandwidth and multiple 1080p USB devices. We suggest determining the USB 2.0 devices you plan to use and referring to the device manuals to calculate the required bandwidth.
What does the USB2AIR package include?
Our FCC Certified Wireless USB Link Technology adds only 1-ms latency, ideal for real-time applications like video conferencing, virtual reality gaming and visual collaboration. The USB2Air package includes a USB Host adapter (connects to PC), a USB "Device" adapter (connects to provided USB HUB), a 2-Port USB hub which provides power, a 5VDC 2A Power adapter and a 5VDC to USB Power cable. The Wireless USB2Air includes a 1-year warranty and support from a dedicated HuddleCamHD team located outside Philadelphia, Pennsylvania, USA. Please refer to our knowledge base for updated information available at http://help.huddlecamhd.com.
Windows 7/8/8.1/10

Mac OS X

Acano

Adobe Connect

Blue Jeans

Cisco Jabber

Cisco WebEX

EasyMeeting.net

Facetime

Fuzebox

Google Hangout
GoToMeeting

Lifesize

Microsoft Lync

MeetFree.US

Polycom RealPresence

Radavision

Spontania

Skype

TurboMeeting.US

Vidyo

VSee

Zoom.US
The New USB2Air Wireless USB Extension System
The USB2Air wireless USB extension adapter from HuddleCamHD is designed to wirelessly transmit high-definition video up to 25 feet between device transceivers. HuddleCamHD created the world's first wireless-USB conference camera with pan, tilt and zoom, the HuddleCam Air. Now, we're releasing the same technology for use with any USB 2.0 video product. HuddleCamHD once again delivers on wireless USB technology for professional use, without sacrificing quality. The USB2AIR is available through existing distribution partners, enhancing current, web-conferencing focused product lines.
1080p Video Support

1 Year Warranty

Low Latency

Power Supply Included

Plug and Play

Windows Driver

When I found this product was 'new to the market'… I was expecting either to have massive workarounds or a RMA. Observatories are renown for using fringe hard/software. I have not finished but what I have done so far is amazing. It's refreshing to have something that actually works…. first time, right out of the box
- Roy Clingan - Ridgway, CO