See how EPTZ works
| Zoom level | Pixel width | Pixel height | HFOV | VFOV | Epan range | ETilt range |
| --- | --- | --- | --- | --- | --- | --- |
---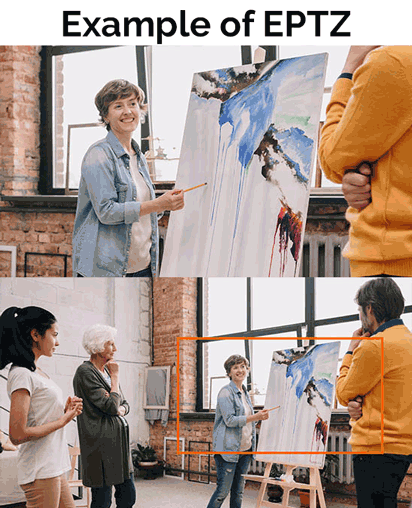 Auto Framing Feature
Turn auto-framing on to allow the camera to automatically use EPTZ presets to frame subjects in view. The new auto-framing feature takes full advantage of the 4K image sensor and applies intelligent decision making for the camera to call PTZ presets based on the location of moving objects. This feature is designed to work in meeting room environments. A demo mode is provided for simple set up.
SIMPLE CAMERA CONTROLS
Take manual control of your camera with the included IR remote. Or use any video conferencing software that supports UVC like Zoom. Did you know the PTZOptics Camera Control app announced support for our ePTZ cameras?
EASY SETUP
Find the perfect place for your 4K webcam. You can easily clamp this webcam to any monitor, attach to a tripod, or use a wall mount.

Wall mount picture here is the HCM-2-BK.
Wide Angle 4K Ultra-HD Lens (108° Field of View)
Built-in beamforming dual-microphone array
NDI®|HX Network connectivity
Webcam clamp mount with 1/4-20 mounting screw
COMPLETE SYSTEM
Ultra-HD lens. Check. Dual-microphone array. Check. Industry standard IP video. Check. Flexible mounting options. Check.

Freedom & Ease of Use

Forget about running long USB extenders. One single ethernet connection can allow any computer on your network to access the camera for video conferencing, live streaming, or remote management.

NDI tools from NewTek are free, but other hardware and software solutions such as vMix, Wirecast, and Apple TV are paid solutions.

Expand your conferencing capabilities

With NDI Virtual Input you can select any NDI source on your local area network and switch between them without changing your webcam source.

This application creates a virtual USB webcam driver wtih a untility tool you can use to virtual switch the video source without having to switch webcams in your video conferencing software. . Use NDI Virtual Input with any video conferencing software on Windows computers.

Product Overview Video

A new world of video conferencing, recording and production capabilities have been opened up with a whole new price point.

HuddleCamHD NDI EPTZ Webcam
| USB Model: | NDI Model: |
| --- | --- |
| SKU: HC-EPTZ-USB | SKU: HC-EPTZ-NDI |
| UPC: 737993162407 | UPC: 737993162391 |
| MSRP: $499 | MSRP: $499 |
Easily bring video and audio into any video application whether you are video conferencing or live streaming this 4K webcam can enable you to take your next project to new levels. This webcam includes PoE (Power over Ethernet) functionality. Enjoy the industries top IP video tools which include the Virtual NDI Input (for Windows) used to connect any NDI to software that uses USB webcams.


Other useful NDI software includes the NDI studio monitor used for camera controls, Adobe Creative Cloud for digital media, and many more. NDI integrates into hundreds of software applications including OBS, xSplit, Wirecast, vMix, Tricaster and Skype.

Ultra-HD
3 Year Warranty
Wide Angle Lens
PoE Ready
Plug and Play
NDI Compatible
4K Resolution
Crystal clear Ultra High Definition 4k video can create 2X lossless zoom in 1080p and 3X in 720p. Digitally zooming into 1080p and 720p create digital pan and tilt areas up to ±33 additional degrees.
Easy Set Up
With HuddleCamHD you are getting the easiest solution possible. Simply plug your camera into your computers USB port and start your video conference.
EPTZ
EPTZ functionality provides the ability to quickly cut between camera presets using an IR remote or multiple IP connected software and hardware solutions.
Power Over Ethernet
Easily connect this camera to your network to provide power without the need of an outlet using a PoE capable network switch.

HDMI 2.0
Use the HDMI 2.0 output for resolutions up to 1080p at 30 frames per second.
Ideal Field of View
Our new 4K webcams feature a wide 108° Field of View lens. This is perfect for small huddlerooms or streaming spaces.
Use your favorite software

Works with virtually every video conferencing, recording or streaming software with no need for additional drivers or proprietary connections.
Camera Presets
Access camera presets with the included IR remote control. Easily control your cameras pan tilt and zoom along with other fine tuning setting from your remote control.
Frame Rate: 30fps
Resolutions:3840×2160, 1920×1080, 1280×720, 1024×576, 960×540, 960×480, 640×360
Lens Zoom: 8X Digital Zoom, EPTZ
Video CMOS Sensor: 1/2.5" CMOS 8.51M Mega Pixel
Compression: MJPEG, YUY2
Min Lux:0.05 Lux @ F1.8, AGC ON
Connections: Ethernet
Working Environment: Indoor
Power LED: Blue LED to signal power
Color: Gray
Warranty: 3 Years parts and labor
Dimensions: 7.63"W x 2.36"H x 3.66"D – 194mmW x 60mmH x 93mmD
Box Dimensions (in): 9.375"W x 4.3125"H x 4.625"D
Box Dimensions (mm): 238mmW x 109.5mmH x 117.5mmD
Boxed Weight: 2.4 lbs | 1.1kg
Input Voltage: 5V (USB 3.0 Power)
Dimensions: 7.63"W x 2.36"H x 3.66"D – 194mmW x 60mmH x 93mmD
Windows 7/8/8.1/10
Mac OS X
Acano
Adobe Connect
Blue Jeans
Cisco Jabber
Cisco WebEX
EasyMeeting.net
Facetime
Fuzebox
Google Hangout
GoToMeeting
Lifesize
Microsoft Lync
Polycom RealPresence
Radavision
Spontania
Skype
TurboMeeting.US
Vidyo
VSee
Zoom.US
EPTZ – (Electronic Pan Tilt and Zoom)
With electronic pan, tilt and zoom functionality, camera operators can simulate camera pan and tilt movements between areas inside the 4K resolution area between digitally zoomed presets. EPTZ functionality provides the ability to quickly cut between camera presets using an IR remote or multiple IP connected software and hardware solutions.

Take control of your cameras EPTZ functionality with almost any NDI application. Try out the free and powerful NDI Studio monitor which includes Xbox controller support or the PTZOptics camera control app.
This camera captures an 8' span at 4'. That's incredible!

Don Pawlowski from Lakewood, OH United States
Camera works great and picture is very clear. PTZ is very quiet. Note: Use Siig 3.0 USB cable to extend USB cable lengh. 15m works

Roberts AV Solutions from Jupiter, FL United States
Best 3x wide camera out there for the money. The 3x wide is idea for larger conference rooms so you can see the width of the room. It really gives you a clear image and the ability to pan tilt and zoom is fantastic.

Garon Smith, Olathe, KS United States
I have tried other PTZ cameras. This camera has a very wide field of view and can connect to nearly any computer with a USB2. No additional software is required. I can't complain with 720p resolution. It can mount upside down to a ceiling if needed. I highly recommend this camera.

Doug Blagriff, Kaneohe, HI United States
NDI® is a registered trademark of NewTek® Inc.